Donnie Yen and his wife Cissy Wang
Eddie Cheung would go skiing abroad during the Lunar New Year
Grace Wong
courtesy of on.cc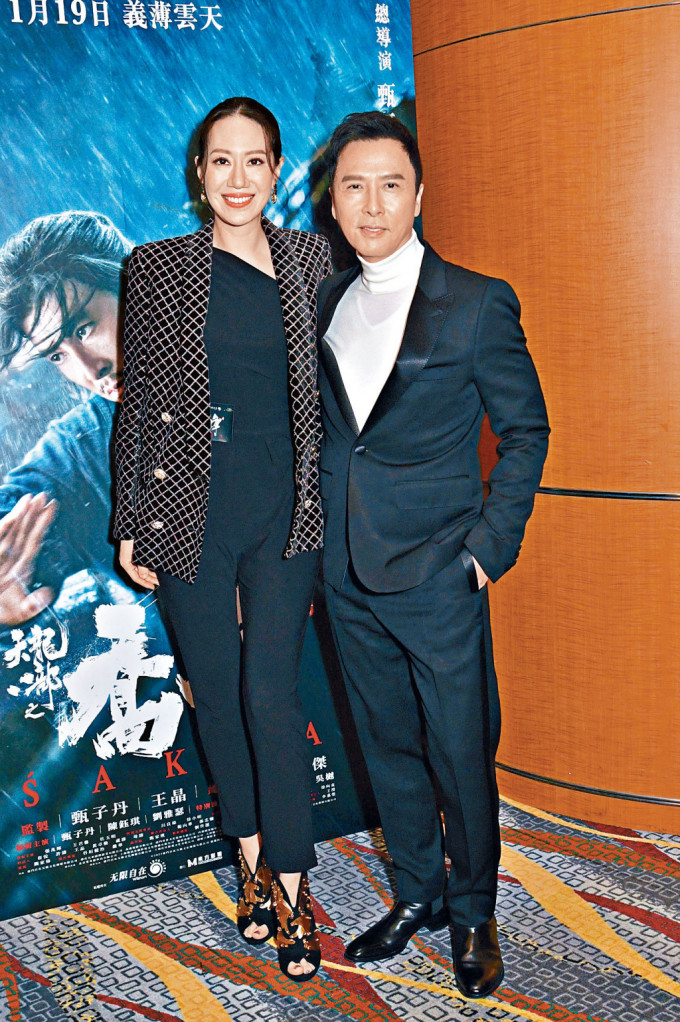 courtesy of singtao.com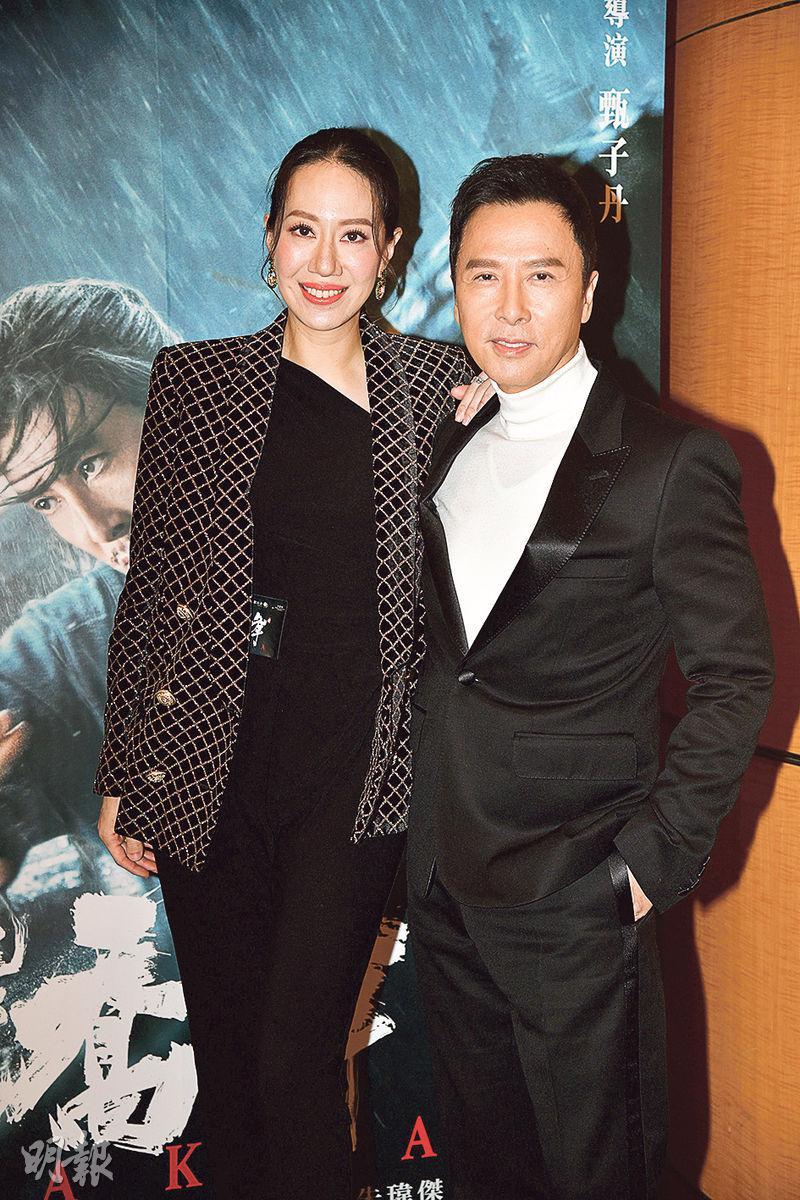 Cissy Wang praises her husband Donnie Yen's new film is like watching a Marvel movie. Donnie Yen says that the most important is for his wife to like it.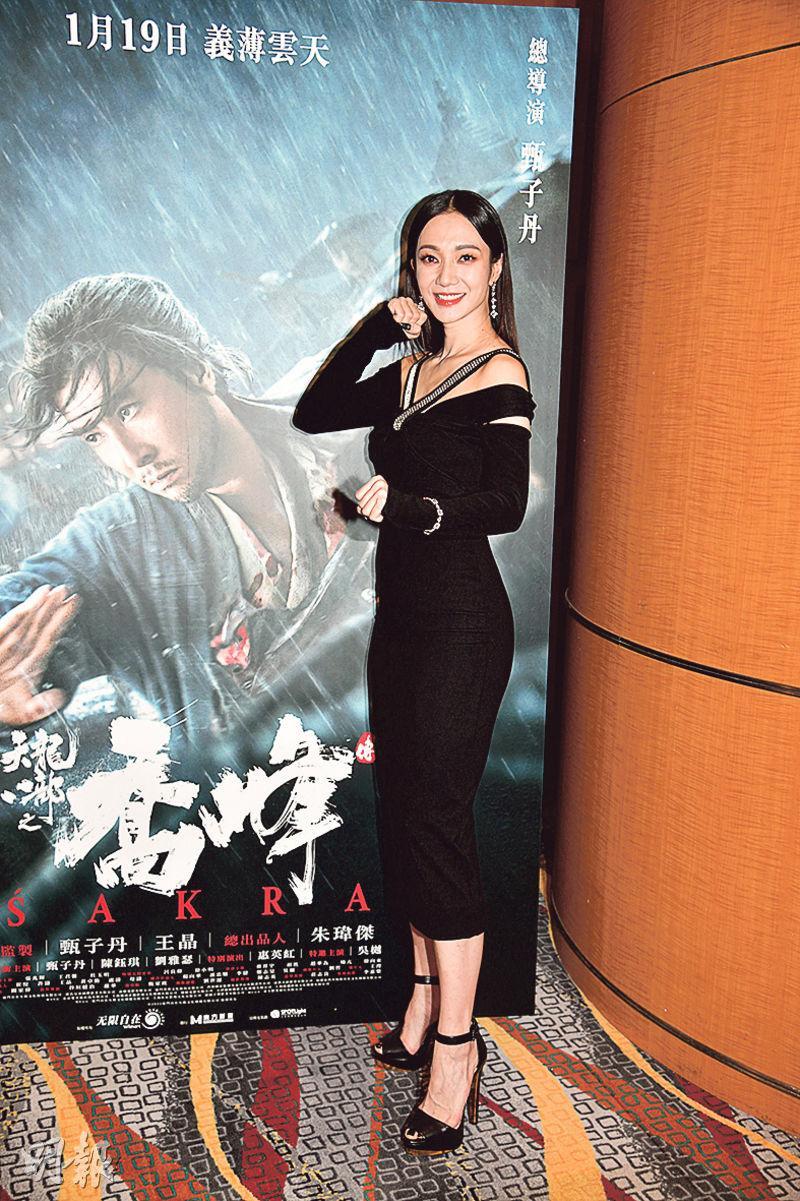 Grace Wong says being in SAKRA was a surprise. Without a fight scene she looks forward to working with Donnie Yen again and wants to fight the "Strongest in the Universe"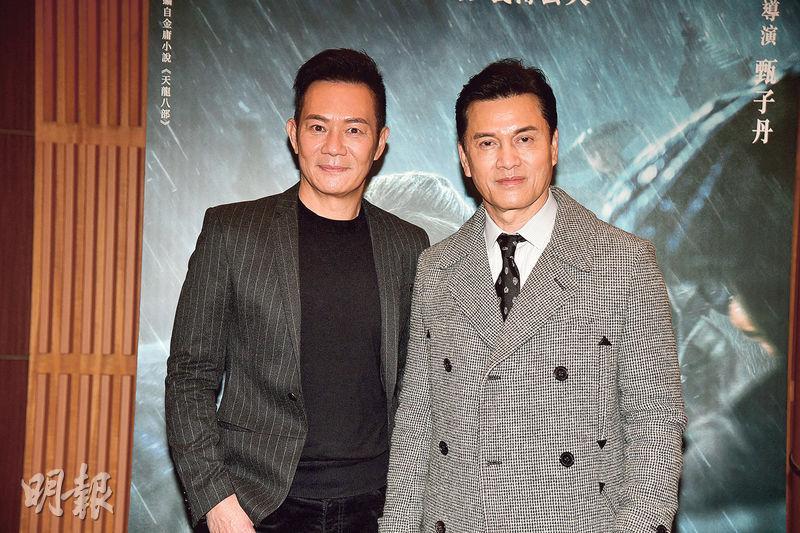 Eddie Cheung and Ray Lui lament that they do not have any scene together and hope to have a chance to work together again
courtesy of mingpao.com
The film SAKRA (TIN LUNG BAK BO ji KIU FUNG JUEN) two nights ago held a charity premiere. As the producer, the chief director and the star Donnie Yen Chi Tan, producer Wong Jing, actors Tsui Siu Ming, Ray Lui Leung Wai, Eddie Cheung Siu Fai and Grace Wong Kwan Hing dressed up for the occasion. Chi Tan was very happy to hold a premiere in Hong Kong, feeling that finally we have walked out of the darkness and he was very happy. He believed that the Hong Kong economy would be revived anew!
Yen Chi Tan appeared with his wife Cissy Wang. Sister in law Wang Yuan Yuan also attended. He revealed that he just returned to Hong Kong from promoting SAKRA in Singapore and Malaysia. The overwhelming response from the audience there made him very happy. "I sense that the film market seemingly has not been affected by the pandemic and the economy. Several tens of thousands of people filled the shopping center, as I got back the cheerful scenes from before." He also pointed out that fans in Singapore and Malaysia were very passionate and asked him to make more movies. Chi Tan was also very happy to hold the premiere in Hong Kong. "Due to the pandemic I haven't held a premiere at the Convention Center, it feels like finally we were out of the darkness and I am very happy. I believe the Hong Kong economy would be revived anew!" Would a sequel be made? He admitted that he already had a story in mind and how to continue the characters. He stressed that this time was not a remake, but a 2023 costume wuxia film. "Overseas there is THE AVENGERS, we too have our very strong wuxia films!"
Was he confident about the box office? He said that of course he would be happy about a good box office performance, but people would always have highs and lows. He would try to make the movie great. "With words of mouth (the movie) naturally would be good. Doing something with confidence, sincerity, hard work, passion and love, it already wouldn't be bad. I want to thank the cast and the crew for risking their lives to support me." Cissy Wang also praised this movie as her favorite among her husband's films that she has seen. "I grew up overseas, so I am not too familiar with costume films. I was like a blank piece of paper when I watched it, but I very much got into it and wanted more." Chi Tan joked, "After my wife watched IP MAN, she only said it's OK. Thus the box office isn't important, the most important is my wife likes it. That already beats everything!"
Lui Leung Wai and Cheung Siu in SAKRA did not have any scene together. Brother Lui joked that Brother Fai as the "romantic" King Duen would have to handle many women. Brother Fai said that they were not too numerous, as he was only between Grace Wong Kwan Hing and Kara Wai Ying Hung. Also because of the tight shoot schedule, in the end his emotional scene with Wong Kwan Hing was removed. Brother Fai would rather work on fight scenes than intimate scenes. "Romantic scenes aren't easy to shoot, the lines are very hard to draw. I would rather work on fight scenes." Brother Lui said that this time he would appear as a mystery character, his fight scenes would be saved for the next film. Brother Lui pointed out that two to three years ago he has already begun training. When he took his mark he could be even more agile. "In addition I had to be in a duel with Yen Chi Tan. His punches and kicks were fast and hard, if I waited until the shoot to train it would be too late."
Earlier at the TVB Anniversary Awards, Brother Lui and Brother Fai were guest presenters and praised as being even better maintained than the ladies. Brother Lui stated, "Men would have a little advantage, as we aged we would become more and more mature. Although I look older than when I was younger, but the charm and the flavor would come out." Would they be interested in working on a series again? Brother Fai admitted that if he would return to TVB to make a series he mainly would want to see his former co-workers. The feeling would be very familiar, but the most important would be a suitable screenplay and a schedule that he would be able to coordinate with. Brother Lui during the award presentation joked that if Kenix Kwok Ho Ying would return to make a TVB series then he would. He pointed out that the general manager Eric Tsang Chi Wai has spoken to him about it. For him too it would depend on the script and the schedule. Recently when he worked on movies he had to work several night shoots. He said that he was not what he used to be and needed time for sleep and rest.
Grace Wong Kwan Hing in the film SAKRA (TIN LUNG BAK BO ji KIU FUNG JUEN) played Madame Ma. In the film she had to seduce people in the Beggars Gang. Grace said that she has not seen her own performance, but this time would preserve the sassiness from THE RIGHTEOUS FISTS. Was she worried that her husband would be jealous? She said that her husband came to the premiere with her, but he already was used to it so she would not worried. Instead she did not dare to let Papa see her.
Grace this time felt very honored to have received Yen Chi Tan's invitation to perform. She said that when Wong Jing said that the production would begin, she already sent her information to him without knowing her role. Overnight she was already cast. Being able to work with Yen Chi Tan, she admitted that she was a little surprised. Unfortunately this time she did not have too much kung fu performance and she was unable to trade blows with the "Strongest in the Universe". "However I mustered up the courage to show him my action videos. He truly taught me unique ways to fight. I hope to have a chance in the future to fight with him a little, I would faint from how happy I would be!" In the film Cya Liu had to step on Kwan Hing's hand. Because her palm was thinner, during the shoot she had to tough out her tears to finish the scene. However Yen Chi Tan told her to be careful and was very protective of actor safety. Before the shoot he arranged for protective paddings to be in place.
Grace has left the nest of TVB for a year already, during which she did not lack employment3 opportunities. She stated that after leaving her comfort zone, she made new attempts with different people and in different environments. By chance she went to the Mainland to work on a variety show and got to work on this film, because if she was in Hong Kong she would have needed to be in a quarantine and miss the opportunity. "People like me who started on television would have more difficulty with getting into the film industry, so this time I started anew like a newcomer in a strange environment, learned different culture and benefit a lot." Would she continue to work in the Mainland in the future? Grace said that now she would stay in Hong Kong. Because earlier she was away from her husband for too long, now she would need to make time to keep him company. Thus she would welcome job offers for everyone.