Carlos Chan promises to work hard to give the best of everything to Shiga Lin
Macy Ma looks very heroic in a bullet proof vest
Albert Yeung faithfully prays for a smooth production
Carlos Chan, Alex Fong Chung Shun, Louis Cheung, Andy Tien
courtesy of on.cc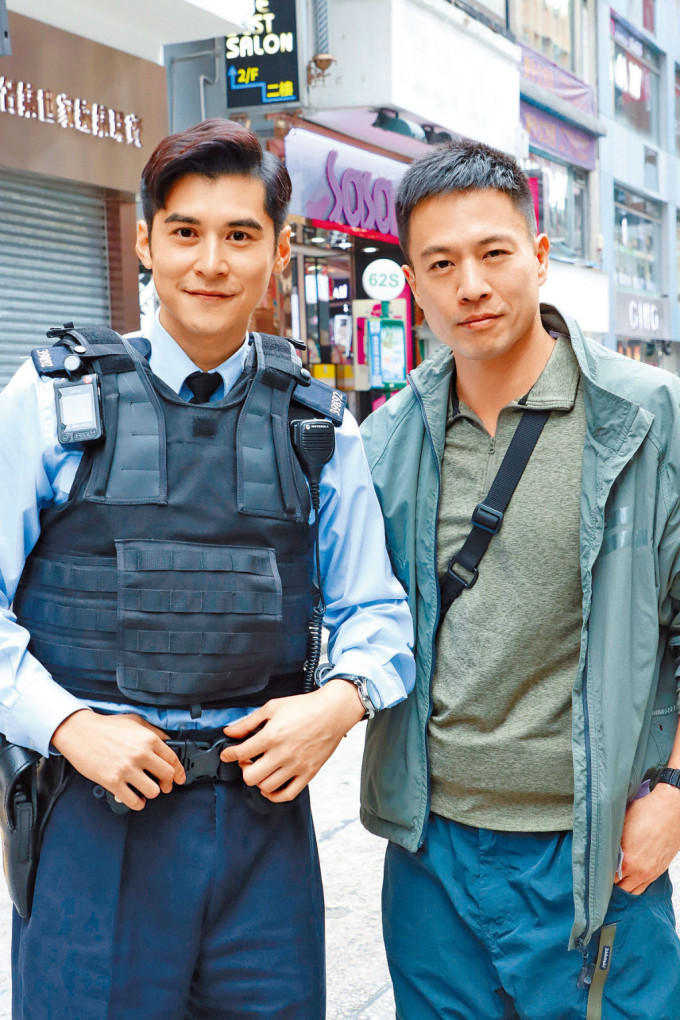 Soon to be husband Carlos Chan is already getting fatherhood advice from Andy Tien
courtesy of singtao.com
Carlos Chan sees how cool Andy Tien looks with a gun after taking gun lessons in the U.S. and wants to take a class too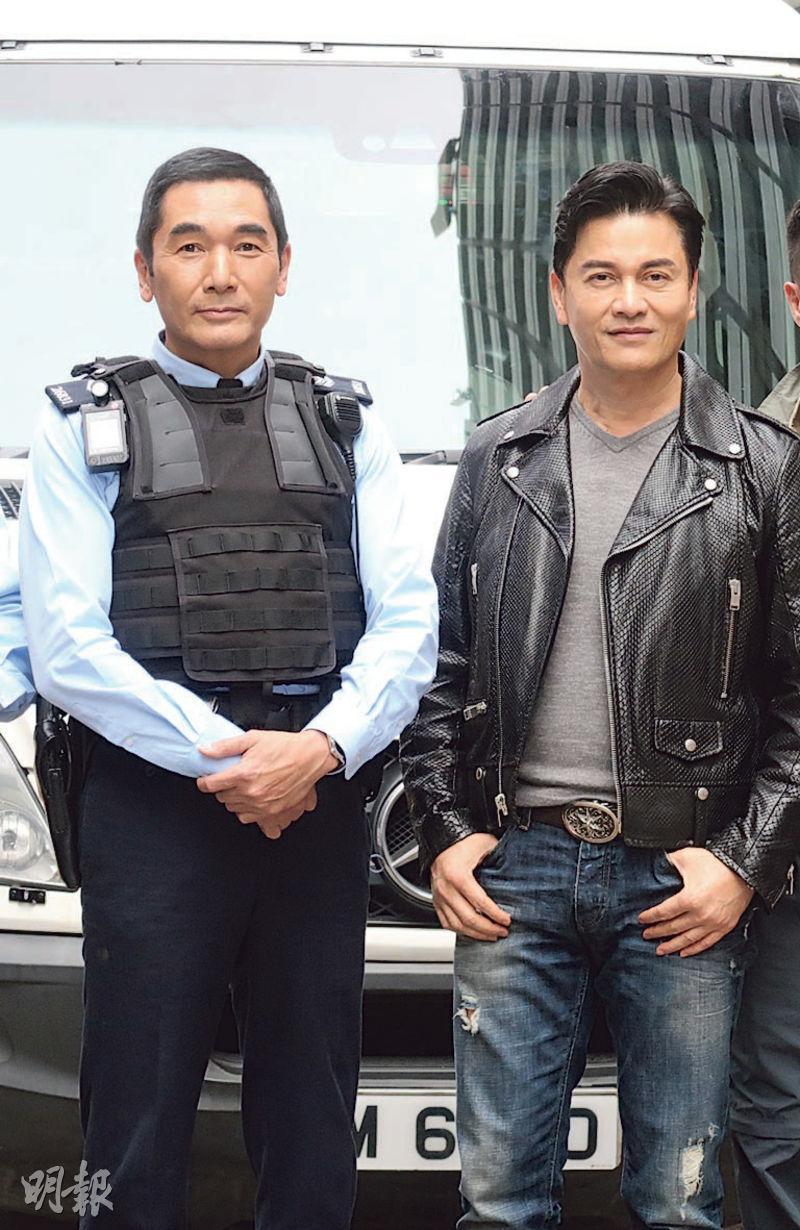 Alex Fong Chung Shun and Ray Lui trade pleasantries
courtesy of mingpao.com
The film CHUNG FUNG yesterday held a production start ceremony and shot at the blocked off Granville Road in Tsim Sha Tsui. The Emperor Group chair Dr. Albert Yeung Sau Sing led a group of actors including Ray Lui Leung Wai, Alex Fong Chung Shun, Andy Tien (On Chi Kit), Louis Cheung Kai Chung, Carlos Chan Ka Lok, Chin Kar Lok, Chan Kwok Bong, German Cheung Man Kit, Macy Ma Sihui and others to the production start worship ceremony. Lui Leung Wai and Fong Chung Shun worked together again after 20 years, both remained in very good shape. Fong Chung Shun even praised thee 66 year old Lui Leung Wai for being well maintained, even he was jealous.
Lui Leung Wai and Fong Chung Shun would work together again after 20 years and they exchanged compliments. Fong Chung Shun praised Lui Leung Wai for still being handsome, and so well maintained that he was jealous. Lui Leung Wai praised Fong Chung Shun for still being cool and said that they each held their own.
In the film Fong Chung Shun played a the Emergency Unit captain and opposed Lui Leung Wai. They revealed that the film would have car crashes, explosions, gun fights and a series of action scenes. Earlier they have already begun work. Speaking of memorable scenes, Fong Chung Shun pointed out that earlier they shot overnight at an old shopping center. "Everyone's hearts were pounding. Because of live sound recording the ventilation system had to be turned off. Everyone was afraid of catching COVID. Luckily in the 3 days that followed everyone was fine."
The film would shoot on location in Hong Kong. Lui Leung Wai was the happiest that everyday after work he would be able to go home and rest, spend Christmas and the New Year holidays with his family. He said that the sense of happiness was even stronger. They revealed that the shoot would close on the Lunar New Year's Eve, then four days of Lunar New Year holidays and resume on the Lunar 5th.
Speaking of blocking off the road for production, they both felt that it could add to the realism. Because the road block could only take place one day a week, the production time would be dragged longer. Fong Chung Shun pointed out that the difficulty would be during the shoot elements like car sounds and pedestrians taking photos would affect the progress.
The Mainland and Hong Kong yesterday opened up the border without any quarantine requirement, but they for now would not go to the Mainland. Fong Chung Shun said that after the movie he would visit friends in Shanghai. Lui Leung Wai said that he would head north in about three months.
On Chi Kit worked on a Hong Kong film again after three or four years. He would play a gun firing robber and have a lot of action scenes. He said, "Being a robber can shoot a gun and rob, normally you can't do that. It's a lot of fun. Due to the lack of work during the pandemic, I have been learning to use a gun in the U.S., which could be used in the shoot this time." On Chi Kit also revealed that earlier during Christmas he returned to Los Angeles to spend the holidays with his wife and children.
Chan Ka Lok joked that he knew he would have to fight On Chi Kit, he has suspected whether he would be enough to fight him. Before the shoot began he had special boxing training in preparation, thus the resulting action would be very smooth. He and Cheung Kai Chung would also be opponents. He would have to rely on the action director to make him look even better at fighting. He also said that on the set he saw how cool On Chi Kit looked with a gun, which he too wanted to learn.
Lately because of being busy with the movie, his fiance Shiga Lin has been helping him with the care of his dog and cooking. Speaking of their wedding date, Chan Ka Lok revealed that he has already asked a master to pick a good day. They would make the announcement later. He also said, "It would be in the first half of the year, soon after the Lunar New Year." As the big date approached, Ka Lok revealed that he was very nervous, actually the event would have a lot of matters to handle. Luckily his fiance had a lot of ideas and gave a lot of suggestions. He also thanked his married friends like Cheung Kai Chung and Kaki Sham for sharing their secrets of getting along. As the man I am pretty useless, just follow the 3:1 ratio in providing suggestions to satisfy the fiance's sense of ceremony. Chan Ka Lok also admitted that he longed to be a Papa, hoping to have a child after marriage as soon as possible. If he would be able to, have eight to ten children. Thus he would work very hard at making money. On Chi Kit also said that his wife wanted more children as well.