Ivana Wong and Hins Cheung are super confident about their film's box office, as they already plan to celebrate
Jeffrey Ngai and Kaho Hung joke that whether they would take off their clothes or not they would follow Hins Cheung's lead
courtesy of on.cc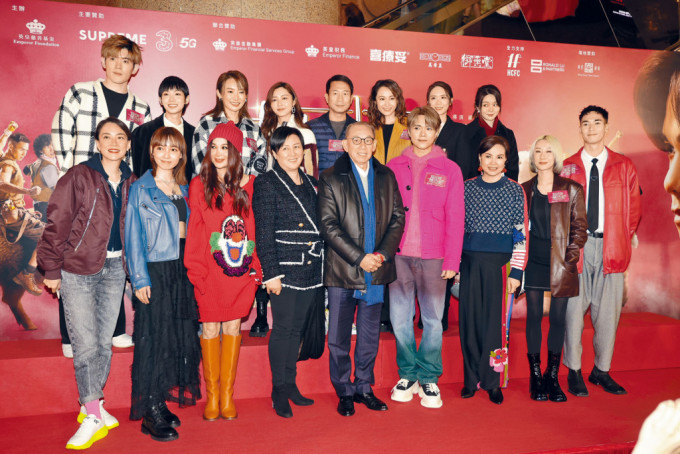 Albert Yeung leads the stars of Emperor in support of Lord Hin's film premiere
courtesy of singtao.com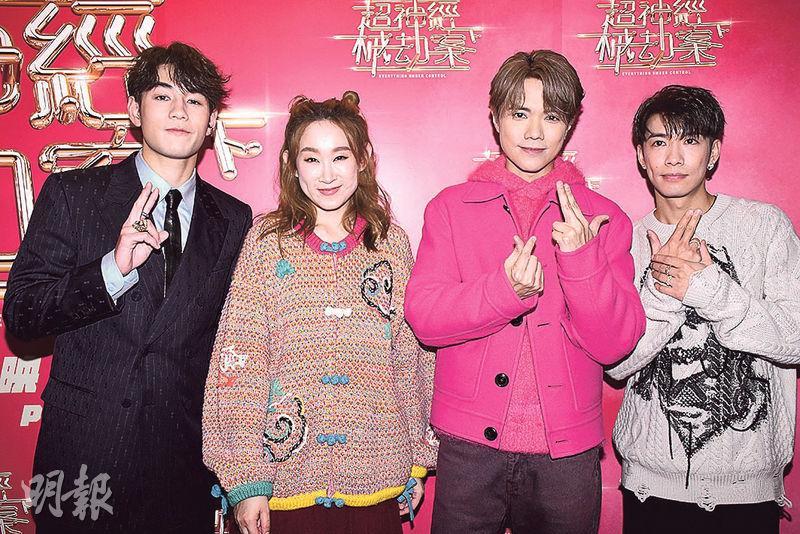 Jeffrey Ngai, Ivana Wong, Hins Cheung and Kaho Hung attend their film premiere
courtesy of mingpao.com
The Emperor Motion Picture EVERYTHING UNDER CONTROL (CHIU SUN GAING HAI GIP ONG HA) last night held a charity premiere. Emperor Group chief Albert Yeung Sau Sing and wife Luk Siu Man led the film's actors Hins Cheung King Hin, Ivana Wong Yuen Chi, Jeffrey Ngai Chun Sun, Kaho Hung and others in attendance; even more artists came to show their support, including Irene Wan Bik Ha, Catherine Chau Ka Yi, Michelle Wai Sze Nga, Kathy Yuen (Tong Yee), Vincy Chan (Wing Yi) and others. Hin Jai also boldly said that if the box office would reach HK$ 50 million, he would go fencing to celebrate.
Hin Jai said that the night before he could not fall asleep. Because this time would be the premiere for his first movie lead in his life, it felt like a wedding banquet. He was very pleased to have so many other halves, but he was very nervous that whether everyone would like this baby (movie). Speaking of the box office, Hin Jai joked that he would stick the HK$ 80 million actress (Ivana). He would be very happy with half that box office number. He also already thought of how to celebrate. When they would reach HK$ 20 million, he and Jeffrey would train for 3 months then show off their muscles. Would they go full frontal? He suddenly was reminded of Kaho, who was the only one had to show front and back in the movie. He said that he was like a fish in the frying pan, having to keep flipping between the front and the back. He continued, if the box office would reach HK$ 50 million they would go fencing; if they would reach HK$ 60 million they would even beat each other with sticks, but only with the actors in the movie.
Ivana followed up and said that if they would want box office success, she would have no difficulty with wearing a swimsuit. She did not know whether the audience would want to see her or not. However speaking of the nonstop fighting with Hin Jai in the movie, she suggested that with HK$ 70 million they could sell tickets and stream their fight live online. Hin Jai said, "Ivana has studied Muay Thai kickboxing, but I too have studied Wing Chun. I am especially great at 'sheep-clamping stance', because since I was little I was able to stand for a long time and hold back from going to the bathroom. I have already achieved real kung fu." Ivana joked, "During the shoot I couldn't tell you had any real kung fu!" Hin Jai replied that the real deal would not show off.
When the duo mentioned that it would be the first time they worked the film's premiere version, has Ivana's husband come to show his support? She said that her husband was afraid of the crowd so this night he did not attend; he has made a habit of booking a show to watch with the whole family, including her father in law and mother in law, whenever she was in a movie. That way they would be able to watch it even more comfortably.
On the other hand, Hin Jai revealed that Kaho had a frontal nude scene in the film. Kaho said that he was half naked but actually he worse several pairs of nude underwear and had censor pixelization. However in the story he fainted, due to the environment restrictions he could not move. When shooting this scene the assistant director removed his pants for him, which made him feel very small. He said that it was the first time a man took off his pants in his adulthood. Was it awkward? He joked that since he already signed the contract, he could not go back on his word so he had to tough it out. He would not get to regret anything either, as long as everyone would watch the movies a few more times then he would be the effort would be worth it. Speaking of Hin Jai boldly stated that when the box office would reach the goal all the guys would have to beat each other with swords and staffs to celebrate, Kaho and Jeffrey both agreed that Hin Jai was so daring to set a trap for them. In the film Hin Jai also lead the team, so they would still follow Hin Jai.