Donnie Yen admits that he is more open minded when faced with gossip
Chi Tan is very popular on his Southeast Asia promotional tour
courtesy of on.cc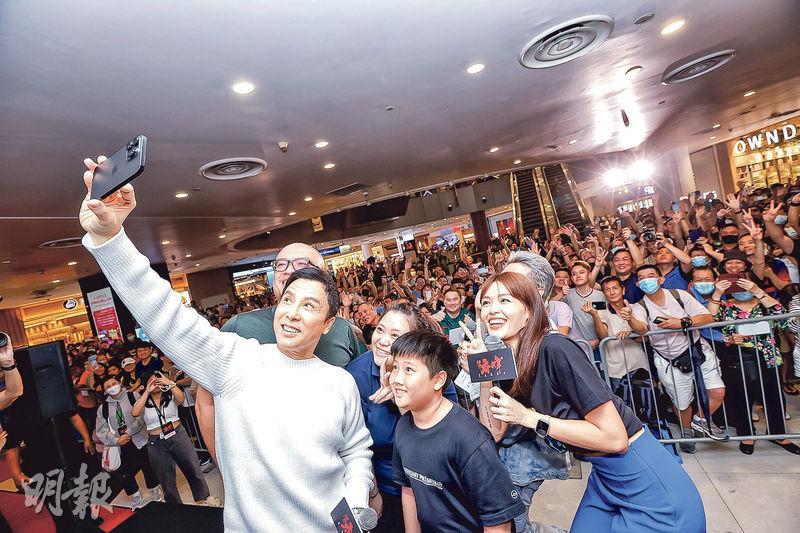 courtesy of mingpao.com
SAKRA (TIN LUNG BAK BO ji KIU FUNG JUEN) was very important to Chi Tan. Although the film in Mainland has only been arranged for video streaming platform release, he still promoted hard. Aside from making one after another surprise appearances at the Hong Kong advanced screenings, he recently even flew to Singapore, Malaysia and Korea to promote. Currently in Singapore and Malaysia, he began his first close contact with Southeast Asian fans for the first time since the pandemic began. Fans' passion only increased.
Before deciding to make SAKRA, Chi Tan did not know much about Kiu Fung. Later looking up information and watching past related television series, he gradually formed an image of the character. "Actually many years ago people already said I resembled him. Kiu Fung is very able to reflect the pressure modern people faced, when he ran into unfair condemnations he would undertake them with a very open mind. He would be indifferent to face unreasonable accusations people piled on. (Just like you?) In my 40 years in the business I had highs and lows, as a celebrity I stood at the tip of the storm. If I told you I had none (gossip) I would be lying to you, but as I grew older I would face it with more and more maturity. I understood that life was short, the most important was to have a clear conscience. Should I run out to clarify every time? (Now nothing can get to you?) Yes, maybe I would have a momentary reaction. I am still human, but it wouldn't have any enduring effect on me!"
Speaking of this film not being able to be released in Mainland cinemas, Chi Tan said, "I feel every movie would have its own life, which is beyond my control. Movies would either lose or win, I have won more so many years. If I win I win, if I lose I lose! This movie from the beginning already had 3 video platforms' investments. Online development is a trend, something on television might not necessarily be bad. As a creator, I just want more people to see my work!"
He described making SAKRA as successfully climbing a tall mountain, as the 2 hour long film would try to balance the rich colors of the original novel. Was he satisfied? He said, "Film would have always regret, satisfaction wouldn't be 100%. I am the happiest about being able to go 90% without using slo-mo, now costume films often lacked the wuxia realism. Martial artists' special features would be squandered, everyone would just make some poses. I would insist on giving the realest feeling that the audience is after."