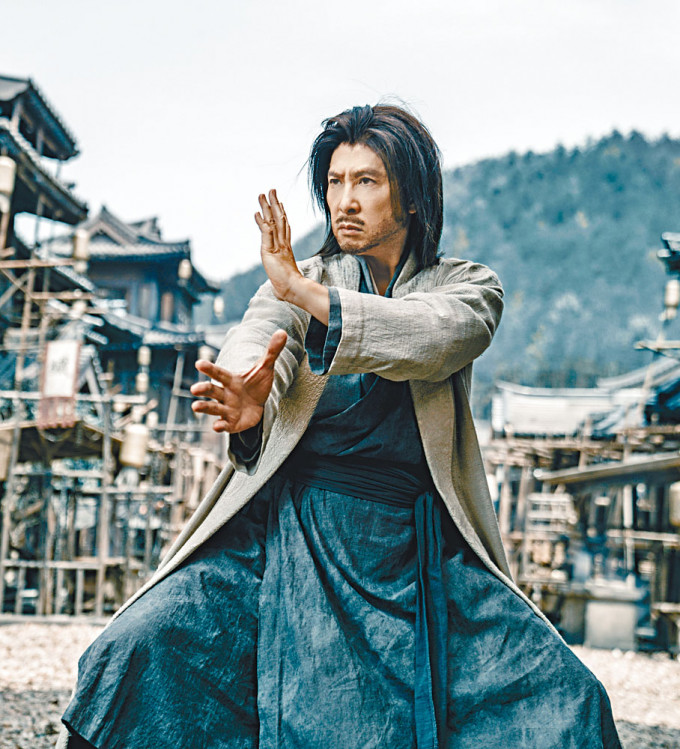 courtesy of singtao.com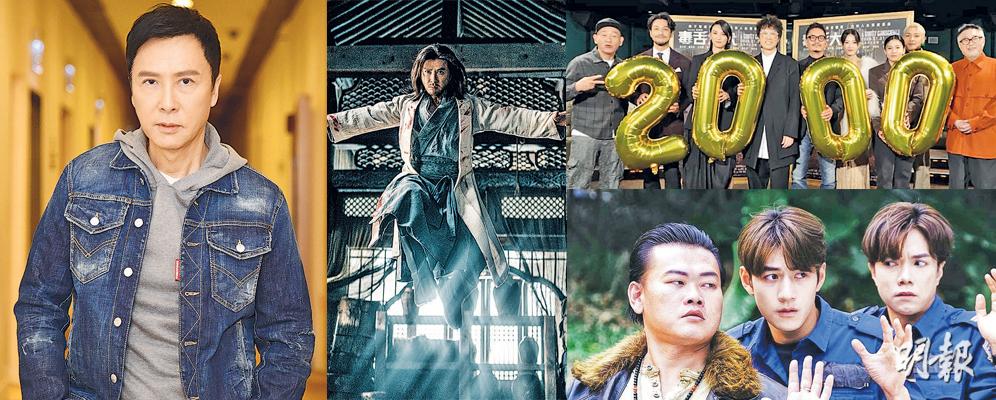 Turning 60 this year, Donnie Yen jokes that since he can still fight a little he would continue to make fight scenes to thank viewers who like him

The Donnie Yen directed and starred SAKRA faces the Dayo Wong starred A GUILTY CONSCIENCE and Hins Cheung's EVERYTHING UNDER CONTROL. He stresses that he does not mind a box office defeat, the most important is for the film industry to be at a full bloom.
courtesy of mingpao.com
The Donnie Yen Chi Tan produced, directed and starred wuxia epic SAKRA (TIN LUNG BAK BO ji KIU FUNG JUEN) opened in Malaysia on January 16th on top of the box office. Chi Tan two weeks ago promoted the film with a whirlwind tour of Malaysia. After 8 days in release, it successfully defeated other film releases of the same period and firmly sat atop of Malaysia Lunar New Year box office. Its box office headed straight for 3.2 million RM (over HK$ 5.84 million). In addition, SAKRA also was the Singapore Hong Kong Lunar New Year film box office champion and the most searched for film on the Mainland video channels like iQiYi, Tencent Video and Youku. Yen Chi Tan said that in July this year he would turn 60, so he would openly face any box office victory or defeat. After over 40 years of making action films, he has tried to transition to drama and no longer be the "Strongest in the Universe". Unfortunately the audience did not accept it, a fact that Yen Chi Tan gladly accepted. He would continue to be an action actor until the audience no longer liked to watch him, then he would retire.
Yen Chi Tan admitted that now he would face gains and losses as openly as Kiu Fung in the movie. He would not mind box office loses or wins. With A GUILTY CONSCIENCE (DUK SIT DAI JONG)'s Dayo Wong Tze Wa carrying his previous film TABLE FOR SIX (FAN HEI GUNG SUM)'s HK$ 77 million box office momentum, would he be worried that he would pale in comparison, losing out at the box office and being criticized? Yen Chi Tan felt that he would not get to be afraid, and he did not mind losing or winning. "Everyone's genres are different. Tze Wa of course has his substance, with the accumulated TABLE FOR SIX box office success everyone would want to see A GUILTY CONSCIENCE. Those who don't like watching Yen Chi Tan action films would never watch them. Those who like them would come to see what would Yen Chi Tan be doing this time? I hope everyone would watch all the movie in the Lunar New Year, as the Hong Kong film full bloom of the past would return."
Really minding defeats in the past, Yen Chi Tan admitted that at the time he was not yet mature. "My movies have won before, so what's the big deal about losing a little. SAKRA is a product of three major online platforms. My intention is hoping for the entire world to be able to enjoy Yen Chi Tan's new action film. (It doesn't matter even if it would lose?) It doesn't matter, it would either lose or win."
Yen Chi Tan admired this character of Kiu Fung for his ability to withstand any condemnation and tolerate pressure. He could not be bothered with what others say. "Actually history has always been like this, people might not be able to see it so transparently. They may hear some information and believe it is real, just going along with it like sheep." In real life, Yen Chi Tan admitted that when he was younger he minded facing criticism and pressure very much. In particular when something was made out of nothing, ultimately people have emotions and desires. They would get mad and they would laugh, but as he grew older and turning 60 this year he now would face things with a much more opened mind. "I can say I am completely open minded, but it has unknowingly gradually accumulated. I am pretty glad that I turn 60 this year, but very luckily I still have movies to make. The audience hasn't abandoned me yet." He felt that gratitude was very important, when he learned to be grateful and cherish things he have, live in the moment, he has already let go.
As for various previous setbacks like the last film he produced and starred in, COME BACK HOME (SAU GAU) bombed at the box office, and SAKRA being forced from the big screen to the internet, Yen Chi Tan was not angry at all. "I laugh them off, how can I explain them? This film from the beginning has been a internet investment. I don't feel an online release is shameful, the goal of making a movie is hoping for even more people to be able to watch my work. The internet has a great ability of broadcasting. I try to look at it from a positive angle, then I would be a little happier."
Yen Chi Tan has made action films for over 40 years, accumulating exhaustion and injuries. When asked about retirement from action films, he admitted that he has thought about it but regretted that the market would not permit him to do so. "I am not taking a negative approach to talk about COME BACK HOME, but the audience doesn't like my dramatic performance. They like to watch action films that I fight very strongly in. I can completely accept that, I don't have any reason to deliberately keep that from the audience." How old would he think he would be able to keep going to? He said, "Earlier I have told my wife many times, that at age 55 I would retire. Several years ago when I made BIG BROTHER (DAI SI HING) I already had that in mind. I would perform a little less and bring up some newcomers, but the fact proved that the market still wanted to watch Yen Chi Tan fight. Thus I don't necessarily have to stop fighting. Now I can still fight a little. When I feel the audience no longer like to watch me, then I wouldn't keep the world from spinning."
Yen Chi Tan has never thought about playing the Louis Cha (Jin Yong) wuxia novel DEMI-GODS AND SEMI-DEVILS (TIN LUNG BAK BO)'s Kiu Fung. Completely by chance, without any mental preparation and desire Wong Jing suddenly mentioned to him to play the character. Yen Chi Tan said, "Several years ago Wong Jing asked me to be in CHASING THE DRAGON (JUI LUNG) and play Crippled Ho. At the time I was working on a foreign film in Toronto. Because I couldn't think of a new angle to interpret but I had the desire inside, I considered it for 3 full months before agreeing to perform."
Was it because the Ray Lui Leung Wai played Crippled Ho was too classic? He said, "Yes, also because it was too classic I wanted to play this character even more. Thankfully the response was decent." He felt that as an actor or a director he still had to dare to try and explore. While success was not guaranteed, shrinking and curling into a ball would keep him from moving forward. Thus after he decided to make SAKRA, he kept thinking about how to make the movie and how to play the role.
Yen Chi Tan was not worried that releasing a costume wuxia film now would be criticized being outdated. He felt that the most important was to be fresh. He said that SAKRA completely was not the past classic wuxia films. "Past wuxia films, everyone have seen them. Even with the Tsui Hark directed ones I have been in several. This time with the all new production, I put myself into the audience's state of mind and think why young people now like to watch Marvel movies. It is because it is direct, so in my action scene designs it was enough for me to feel whether the fight was powerful enough, entertaining to watch, making hairs stand on their ends, and have new visual enjoyment. I never thought about making a world rocking epic. It's too complicated. The message would be so dep that no one would understand the movie."