Xin Zhilei and Eddie Peng
courtesy of on.cc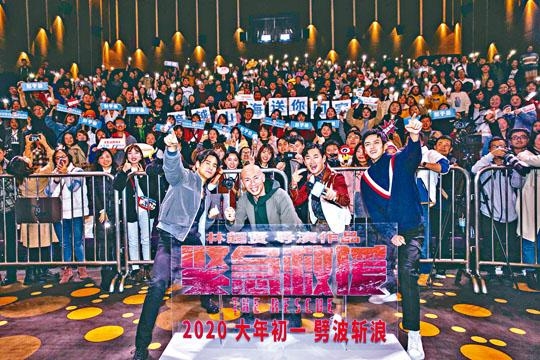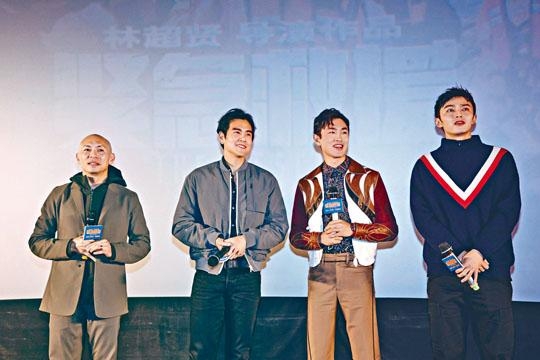 courtesy of singtao.com
The first Chinese film to focus on at sea rescue, THE RESCUE (GUNG GUP GAU WOON)'s director Dante Lam Chiu Yin led three stars Eddie Peng Yu-yan, Ian Wang and Xu Yang at the movies to personally experience the most realistic response from the audience. The audience included many firefighters and other first responders. They all said that they "knew how they felt"!
Director Lam Chiu Yin said, "The movie's protagonists are a group of heroes who ensures safety at sea. They directly face the fear of nature. They overcome all difficulties with their courage!" The first audience gave the film generally good reviews and applause. The rescue at sea as usual was awe inspiring, but the character relationships this time absolutely should not be missed either! The first audience strongly agreed, "Each character is incredible realistic! With both comedy and tragedy, the film while gets the blood pumping also remembers its warmth and emotions!"
This was Peng Yu-Yan and Lam Chiu Yin's fourth collaboration. In the past they have displayed different visual impact and ferocious image. This time Eddie stated that he experienced "fear" for the first time! "Our clothes could withstand several hundred degrees of heat, but they still needed another layer of fire retardant coating. While waiting for the shoot, I experienced fear for the first time! We had oxygen tanks. Each time I had to inspect it once myself. Unknowingly I was already in (the actual) condition. Thus for each shot in the fire, none of us were performing as we were experiencing it with our bodies! When the fire burnt on my body, I could sense the heat on me for five minutes without being able to leave. It was still burning all over my body!"
Lam Chiu Yin is known as the "demon director" in the industry. His latest production special "high level training chapter" showed the cast in order to transform into the most professional rescue team had to accept a series of difficult special training before the shoot, including above and under water rescue basic training, helicopter rescue skills, theories and planning, deep water rescue diving training, deep and shallow water rescue obstacle training, deep water physical extreme training. Peng Yu-Yan, who director Lam praised as loving to challenge himself, remained fully focused in all the training and attended many different courses. He kept learning rescue team skills and safety precautions from the instructors. He admitted, "The training actually was the most exhausting. During the shoot I showed all of the past training fully on film!"