Kayee Tam
Aka Chio
Joey Thye
Sukie Shek
Chelffy Yau has an unique fashion sense
Ken Hung
Everyone make room for Vincent Wong
courtesy of on.cc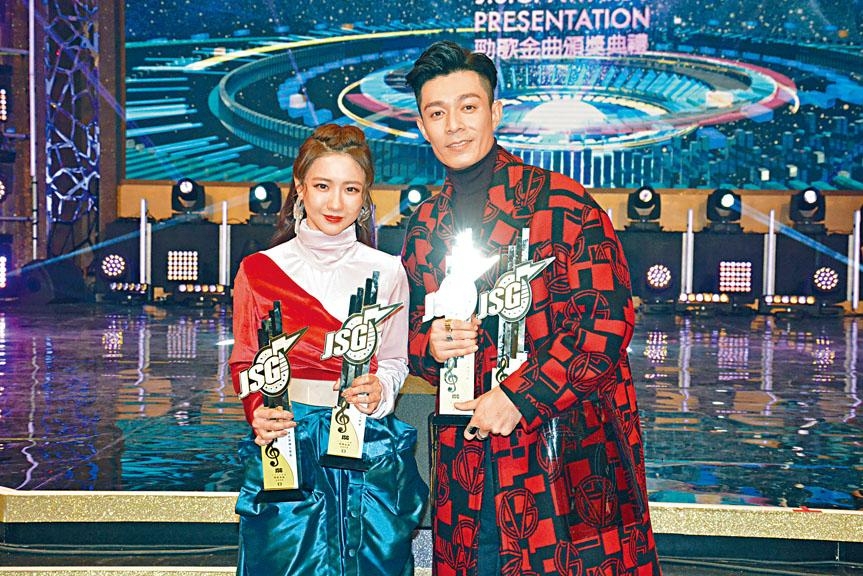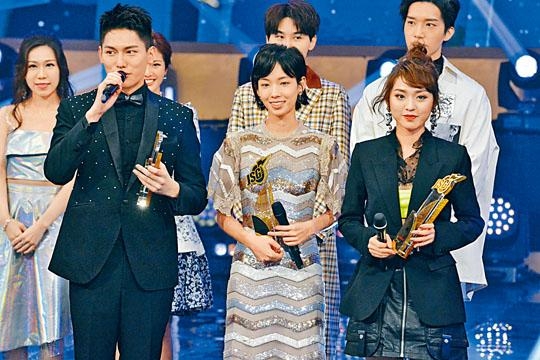 Most Popular Rookies Zac Liu, Gladys Li and Bella Lam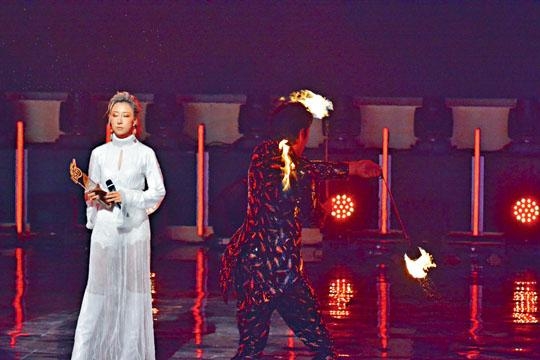 courtesy of singtao.com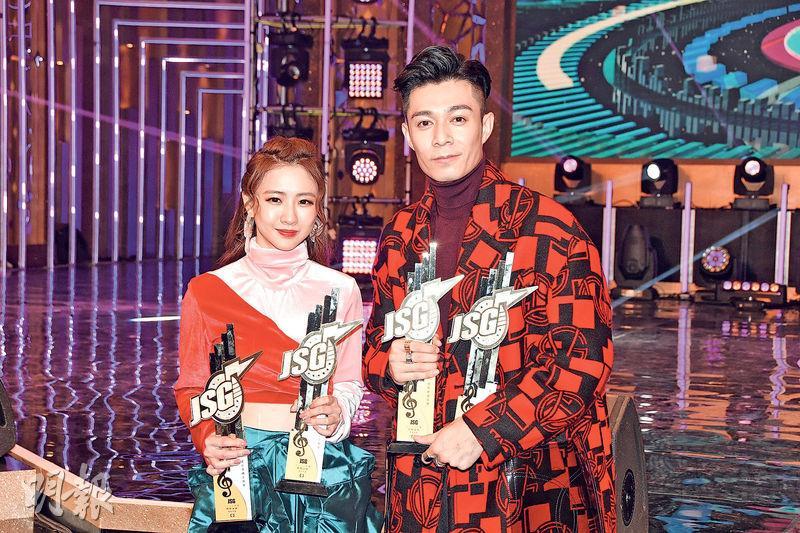 Most Popular singers Hana Kuk wins six awards and Pakho Chau wins five
Hubert Wu, James Ng and JW all wins Jade Solid Gold song awards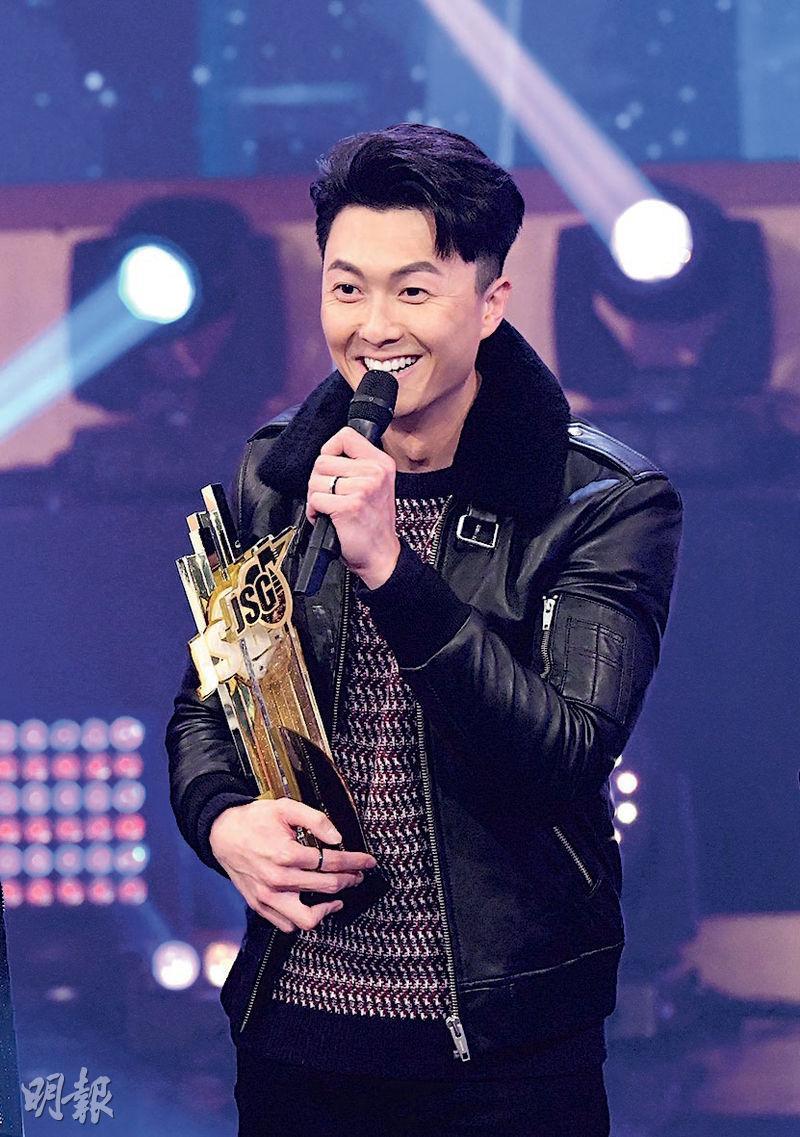 Vincent Wong wins two awards and hopes to sing more songs to thank his fans
Jinny Ng is pleased with three awards and has no interest in competing with Hana Kuk for the Voice top spot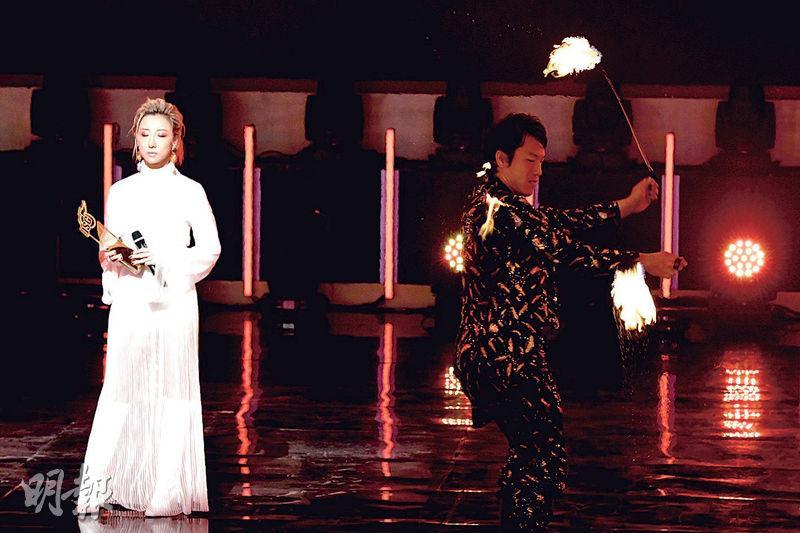 While Vincy Chan performs WILD MAGNOLIA, the dancer sets the floor and the clothes on fire but puts them out on time.
courtesy of mingpao.com
The 2019 Jade Solid Gold Awards yesterday was recorded at the Television City. According to the event, for the convenience of the live audience the award show was taped in the afternoon so the audience would not get home too late. This year Pakho Chau and Hana Kuk Chi Kiu were the male and female singer big winners with five and six awards respectively. Kuk Chi Kiu even successfully repeated as the "Most Popular Female Singer" and solidified her top diva position as her performance pulled away from elder Jinny Ng Yeuk Hei's. Pakho Chau after receiving his award declared his love for his daughter. As for record companies, the Voice won 27 out of the 48 awards, Emperor won 7 song awards and fell far behind.
Kuk Chi Su aside from three Solid Gold awards also won the record sales award, the best performance and the most popular female singer awards -- six in all. Pakho Chau won two Solid Gold song awards, the remaining three were record sales award, most popular male singer and Solid Gold Gold prize. Rushing back from just finishing a series for the award show, Vincent Wong Ho Shun also received two awards: Popularity King award (male singer) and Best Original Song Gold prize.
Hana admitted that she has never thought about becoming the big winner, because after winning three song awards and the performance award she stopped thinking about it already. Now that she repeated as the most popular female singer, she felt even greater pressure. She said, "Because when I won last year I didn't respond, I could only put my life into improve myself. I am very happy and grateful about the award. I also have to thank the team for creating another miracle."
As for defeating her elder colleague Jinny Ng Yeuk Hei again, hana said that she was very scared and did not dare to name herself the top diva. It was just a label that the outside gave her. She said, "When I won three song awards in one breath, I felt like the first time I returned to sing on television. When I was little I never thought that I would have a chance to sing on stage. Now my dream has come true, I have a lot of old footage that flooded back into my head."
Pakho Chau yesterday won five awards and admitted that he has completed the 2019 grand slam, as he won awards, has a daughter and his wife was healthy. He wished to have even better performance next year. he said, "I am very happy that a character has won my awards, actually last year I didn't produce much. At first I was afraid that the audience would forget about me. Luckily after the release the series had decent response and the support of fans."
Pakho agreed that his daughter has been very lucky for him. "It is very good. Earlier I went to the hospital for two and a half days. After I got home I realized that my daughter already looked different. I had to quarantine myself and I couldn't hold her. So I am the most upset about missing watching my daughter growing up, all of which money can't buy back."
Flying abroad later for work, Pakho said that he would miss his daughter. He would have to discuss with his wife whether they could take their daughter with them. He completely understood how much new parents miss their children. Speaking of only thanking his daughter and not his wife on the stage, Pakho said, "She doesn't need to be, because we share the same life she knows. Actually I want to save more videos for my daughter to watch after she grows up. Now with the advanced technology I can do more. Instead I don't know what my Papa has done, since I only have a few black and white photos."
Performing well in both music and television, Pakho said that this year he would develop in multiple sectors. In the middle of the year he would start a new series. The film that he made last year would be released as well. He would continue to work in music, film and television.
Despite her Most Popular Female Singer defeat, Ng Yeuk Hei still won three wards. One of them was the "Popularity King" consolation prize. She was pleased with her performance and stated that after getting off the stage, she thanked her boss right away because she has already has been in the business for ten years. Aside from Papa her boss was the man she has been with the longest. Was she disappointed about not winning the Most Popular Female Singer? She said, "The female award is too stressful, I am not someone who follows the rule. I am afraid after winning the award I can't control myself and make everyone look bad. Because I am not someone who can easily withstand stress, off stage I would be happier than on stage." Did she mean that she handed the top spot to Hana? Ng Yeuk Hei said, "I have never been the top diva, never won the female singer award. In my heart she would always be the top diva."
Last year after Hana's award was announced, Ng Yeuk Hei was caught with an exaggerated expression that did not return this year. She joked that she has practiced her expressions before. She discussed what to eat with other singers after the show. She said that this year she would not have any meme for everyone to collect.
Rushing back to attend the award show, Wong Ho Shun joked that he was a singer who has not been forgotten. He already felt very honored to receive an award, as he deeply knew that he did not work as hard as other singers. Speaking of all the singers welcoming him and offering their seats on his way in, Wong Ho Shun said, "I don't dare, I started attending award shows since 2004. I am older in terms of experience, they are more concerned about me."
When Wing Yi performed her award winning song, a dancer's back accidentally caught fire and almost got her too. Fortunately she was not injured. She said afterward that she did not know how dangerous the situation was. She was already told not to be moved casually before hand, she just closed her eyes and felt the heat. She also appreciated the dancer's effort.
One of the Rookie Award winners Li Ching Kwan has already won her third Rookie award. She was grateful and did not think that she would win for sure. She was also very pleased with her performance last year. The award gave her a shot of confidence to her journey in music. For her next step she would like to challenge for the creative singer award.
2019 JADE SOLID GOLD AWARDS WINNERS
JADE SOLID GOLD GOLD PRIZE:
LET LOVE FLY HIGH (Pakho Chau)
JADE SOLD GOLD AWARDS:
FINAL CALL (Pakho Chau)
LIET LOVE FLY HIGH (Pakho Chau)
CHOOSE KINDNESS (Fred Cheng)
WILD MAGNOLIA (Vincy Chan)
TAKE CARE TONIGHT (Kayee Tam)
FLY AGAINST THE LIGHT (Hana Kuk)
STEEL HAS TEARS (Hana Kuk)
UNWILLING HEART (Hana Kuk)
EACH LOVE IS STILL WRONG (Jinny Ng)
LOVE IS PRICELESS (Jinng Ng)
BOW RULER (Deep Ng)
BREAK UP BEFORE DAYLIGHT (Joey Thye)
OPPOSING STREAM BECOMES A RIVER (Angela Hui)
ADVENTURE OF LOVE (Hubert Wu)
SAY GOODBYE TO REMEMERANCE (James Ng)
EMERGENCY EXIT (JW)
FOREVER ADOLESENCE (Tsang Lok Tung)
WALKING ALONE (Shiga Lin)
STUBBLE (Ken Hung)
CAN YOU HEAR (Kayee Tam)
MOST POPULAR MALE SINGER:
Pakho Chau
MOST POPULAR FEMALE SINGER:
Hana Kuk
BEST PERFORMANCE MALE SINGER:
Hubert Wu
BES PERFORMANCE FEMALE SINGER:
Hana Kuk
POPULARITY KING (MALE SINGER):
Vincent Wong
POPULARITY KING (FEMALE SINGER):
Jinny Ng
BEST ORIGINAL SONG GOLD:
CAN'T AFFORD TO LOVE (Vincent Wong)
BEST MANDARIN SONG GOLD:
TAKE CARE TONIGHT (Vivian Koo)
JADE SOLID GOLD RECORD SALES AWARD:
MAY LOVE ENDURE (Hana Kuk)
ALL ABOUT LOVE (Pakho Chau)
STARLIGHT (Fred Cheng)
MOVING FORWARD (Sukie Shek)
V TOUCH (Vivian Lai)
FIRST TIME PUBLISHED SINGER EXCELLENT SALES RECORD:
90+90 (Judas Law)
BEST STAGE PERFORMANCE GROUP GOLD:
BOP (Birds of Paradise)
MOST POPULAR ROOKIE
Zac Liu
Gladys Li
Bella Lam
BEST CREATIVE SINGER ROOKIE AWARD:
Terence Lam
THE MOST IMPROVED AWARD
GOLD:
Bella Lam
SILVER:
Snow Suen
BRONZE:
Judas Law
OUTSTANDING PERFORMANCE AWARD
GOLD:
Stephanie Cheng
SILVER:
Sukie Shek
BRONZE:
Aka Chio
BEST CREATIVE SINGER GOLD:
Adason Lo
MOST POPULAR INTERNET SINGER:
Kayee Tam