Juno Mak shares his music concepts
Dear Jane goes to a school to jam with students
courtesy of on.cc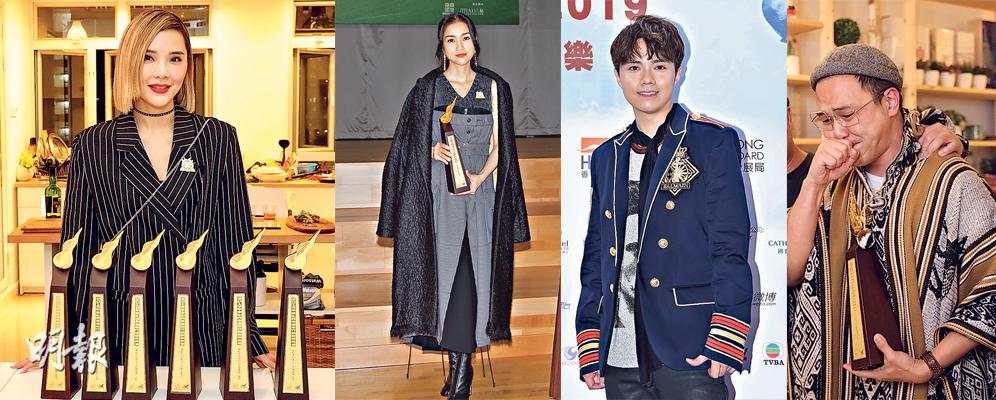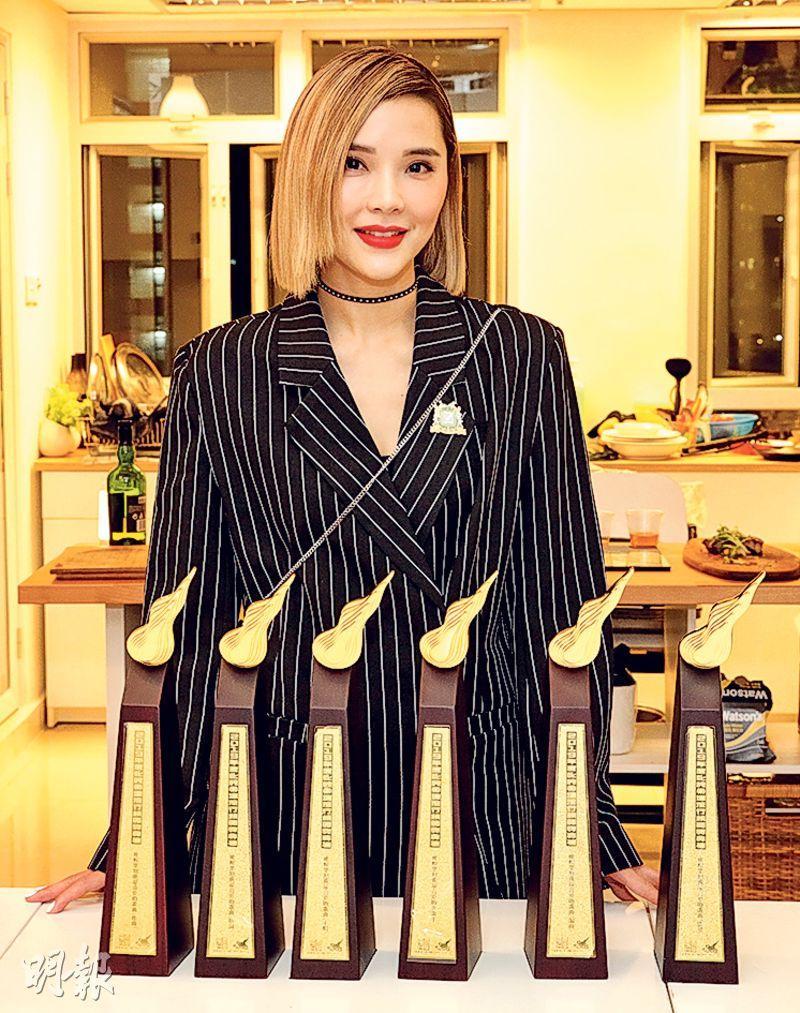 Charmaine Fong wins My Favorite Female Singer and My Favorite Song Awards as the favorite and becomes the big winner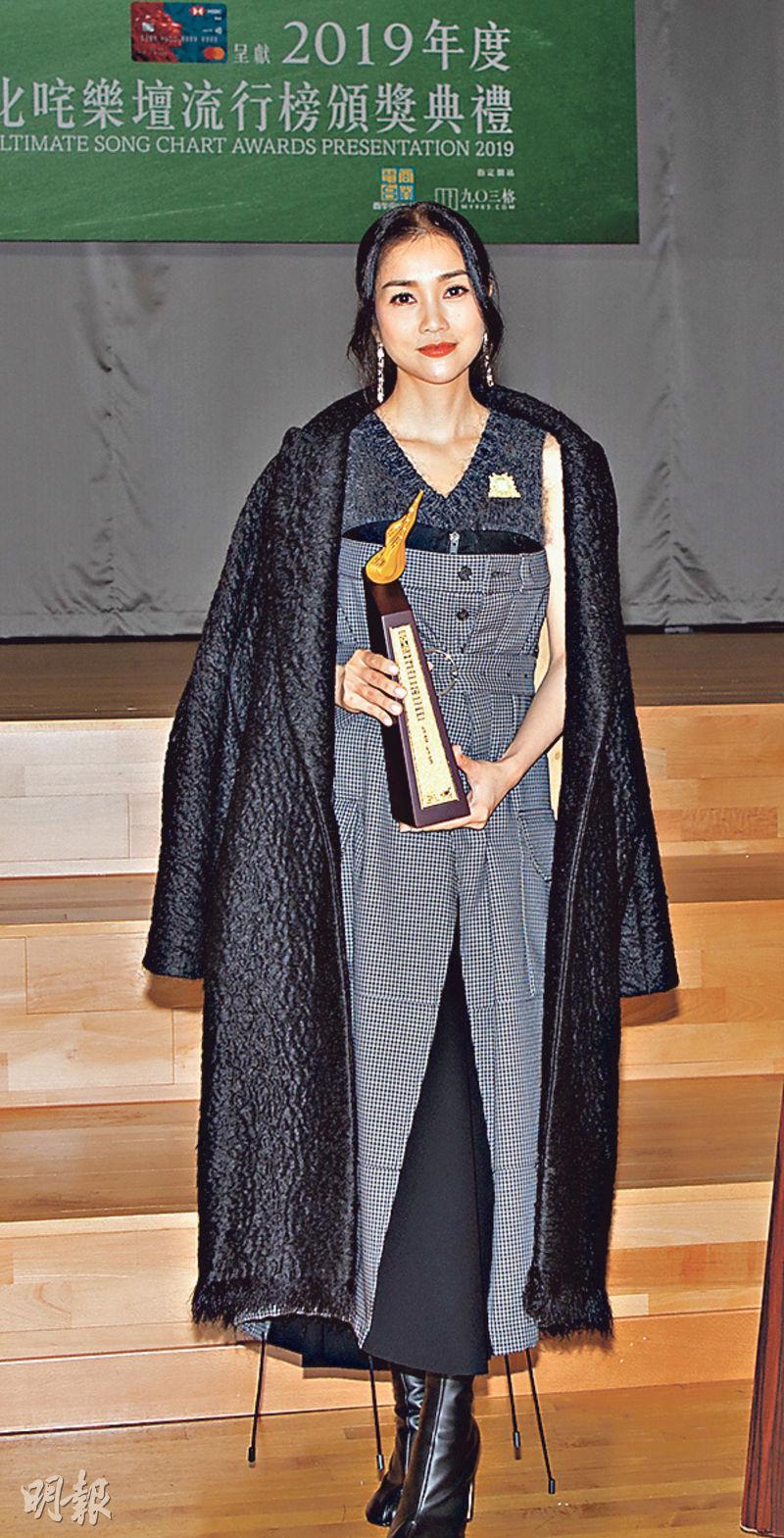 Kay Tse is happy about winning the Ultimate Female Singer Gold Prize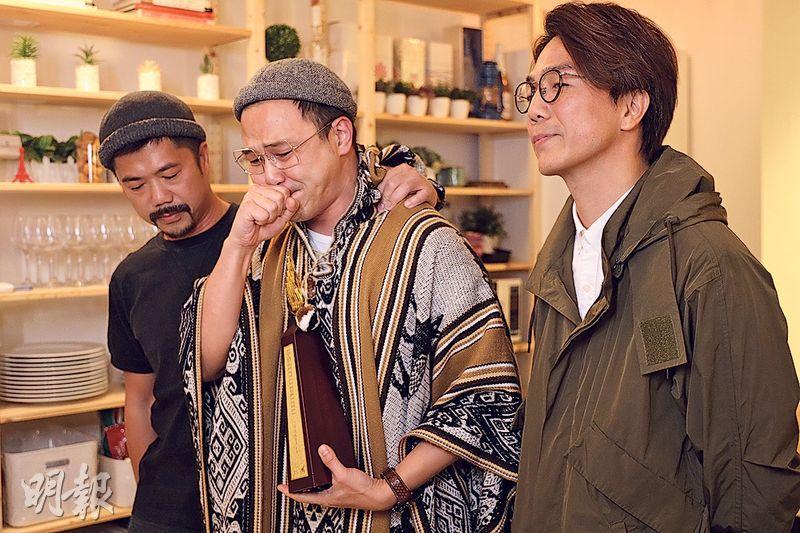 RubberBand lead vocalist Number 6 (center) gets emotional with the award in hand and succumbs to tears as he remembers his ailing mother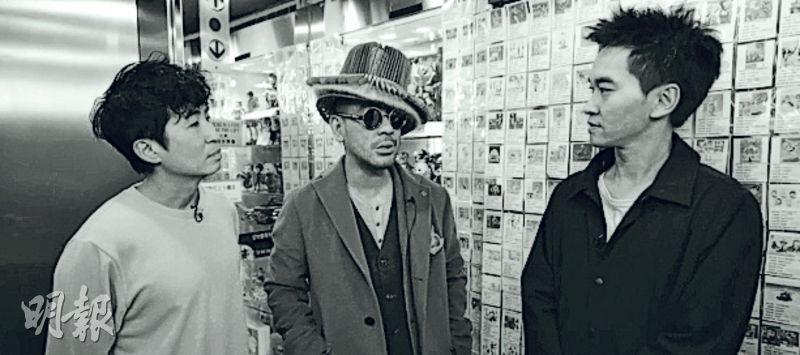 ILUB asks Juno Mak for a walk in Mongkok but has not told him about the award yet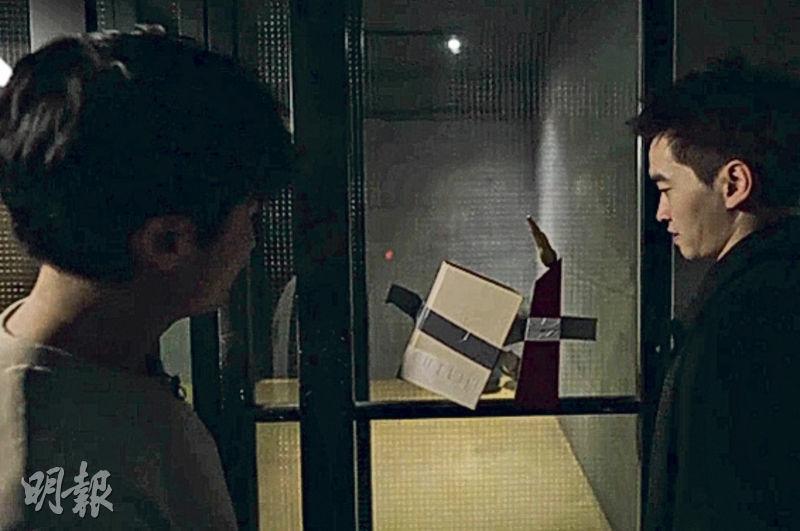 ILUB tapes the Ultimate Album Award on the door of Juno Mak's company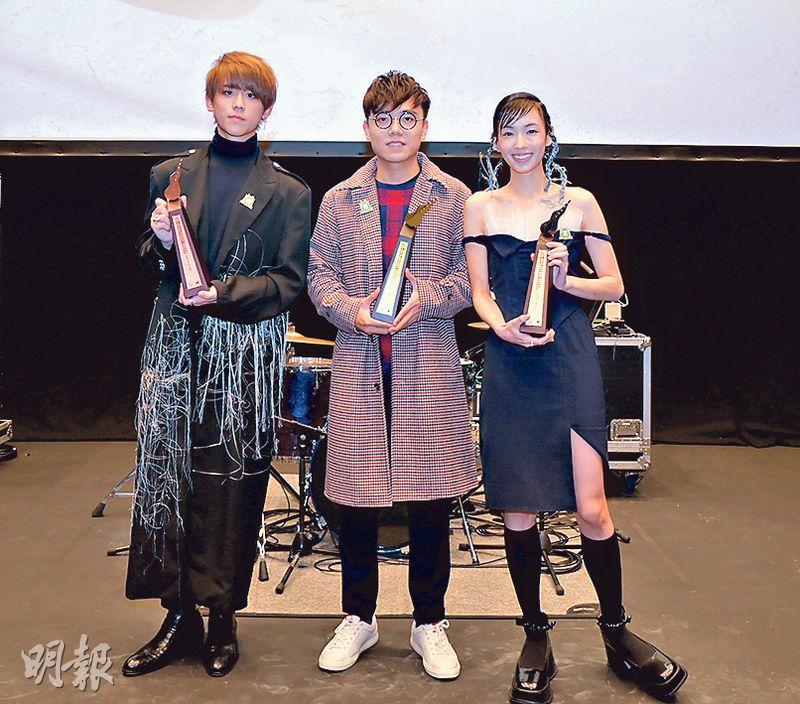 Keung To, Terence Lam and Gladys Li with their "New Power" awards
Dear Jane gladly accepts their Ultimate Group award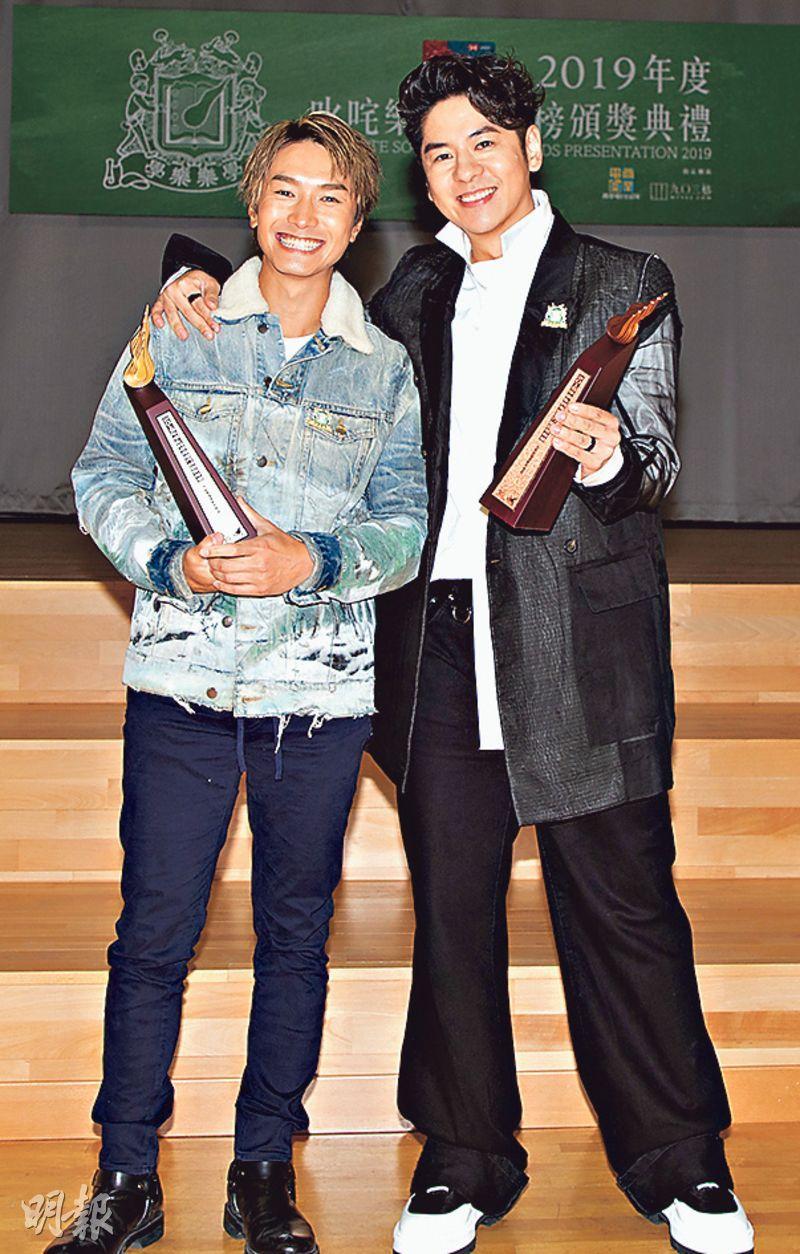 Jason Chan and Alfred Hui with their Ultimate Male Singer silver and bronze award
courtesy of mingpao.com
The 2019 Ultimate Music Pop Chart Award presentation earlier announced that it would be unable to ensure the safety of participants and those in and outside the venue, thus canceled its large scale award show at the Convention Center last night. Later it announced that it would take place as scheduled but air on ViuTV and online instead. Last night Commercial Radio in alternative recording format presented 43 awards. Charmaine Fong Ho Man became the big winner, as the favorite she won My Favorite Female Singer with the social topic song HUMAN LANGUAGE won My Favorite Song. When she accepted the award she wished peace and joy for the people of Hong Kong in 2020. She would continue to fearlessly sing and write songs. My Favorite Group winner RubberBand also urged everyone to keep their faith. Hins Cheung King Hin and Sammi Cheng Sau Man did not participate in the taping as he won the Male Singer gold prize and she the Ultimate Song award. Kay Tse On Kay repeated as the Female Singer gold prize winner.
Commercial Radio last night aired videos that DJs shot in advanced or music videos to announce awards. Most singers were arranged to participate in the recording in groups. Charmaine Fong Ho man's controversial song HUMAN LANGUAGE qualified for the nomination last year in time and had the deep support of many listeners. She became the favorite in both My Favorite Female Singer and My Favorite Song awards, as expected she won both.
Commercial Radio arranged for Fong Ho Man and RubberBand to perform together after the presentation. She sentimentally said after accepting the award. "Thank you to all those who voted for me. I feel 2019 for me was a huge challenge, whether in life and creatively. No one knew how Hong Kong's future will be, but I always reminded myself I had to bravely take every step forward in order to be able to answer to my original intend to create. Thank you to all the musicians I worked with. My abilities are limited, and we went past a lot of highs and lows. With the passing of 2019, I wish peace and joy for the people of Hong Kong in 2020. I will keep fearlessly sing and create, write what I want to write."
RubberBand's SEE YOU IN THE FUTURE lost to Fong Ho Man but received My Favorite Group. Lead vocalist Number 6 said thank you to the people of Hong Kong. After June this year everyone has been very perturbed and unhappy. He once thought when it would be better, but he had to persist in his belief. When he remembered his ailing mother he succumbed to tears. Endy Chow Kwok Yin received My Favorite Male Singer but was not in Hong Kong to personally accept the award.
As for the Ultimate Music Male/Female Singer Gold Prizes, Hins Cheung King Hin and Kay Tse On Kay repeated as winners. Cheung King Hin did not appear to accept the award. Male Singer silver prize went to Jason Chan Pak Yu and Bronze to Alfred Hui Ting Hung. Female Singer silver prize went to Tang Siu Hau. She broke down emotionally. The Bronze award went to AGA. Sammi Cheng Sau Man with WE ALL GREW UP LIKE THIS won the Ultimate Song award. She also did not attend to accept the award.
The very popular Keung To only won the "New Power" bronze award. The winner was Terence Lam Ka Him and the runner up was Gladys Li Ching Kwan. Keung To in the My Favorite Final Five was arranged to play the piano with Tse On Kay. When he sang Tse On Kay played the accompaniment for him. Singers shared their impressions of 2019 with DJs during the presentation. Because how long they took, many online called the segments dull.
Before presenting the Ultimate Album award, ILUB asked winner Juno Mak Chun Lung for a "walk in Mongkok" and went to a Mongkok record store for the shoot. Yet at 4AM on January 1st they finally reached Mak Chun Lung's company and taped the award on the door. Those who paid attention noticed a lot of shots and words that had political metaphor, for example the music video a man and a woman held hands while holding tightly to a pen as their connection. It reminded people of the secondary school student started "human chain" to express their plea. Jan Lamb Hoi Fung's narration before presenting "My Favorite" award mostly started with "how". Finally it ended with "2019 how to end", "2020 vote with you".
2019 COMMERCIAL RADIO ULTIMATE MUSIC AWARDS
ULTIMATE MUSIC MY FAVORITE SONG:
HUMAN LANGUAGE (Charmaine Fong)
ULTIMATE MUSIC MY FAVORITE MALE SINGER:
Endy Chow
ULTIMATE MUSIC MY FAVORITE FEMALE SINGER:
Charmaine Fong
ULTIMATE MUSIC MY FAVORITE GROUP:
RubberBand
ULTIMATE MUSIC MALE SINGERS
GOLD:
Hins Cheung
SILVER:
Jason Chan
BRONZE:
Alfred Hui
ULTIMATE MUSIC FEMALE SINGERS
GOLD:
Kay Tse
SILVER:
Tang Siu Hau
BRONZE:
AGA
ULTIMATE MUSIC GROUP
GOLD:
Dear Jane
SILVER:
Nowhere Boys
BRONZE:
Lil'Ashes
ULTIMATE MUSIC CREATIVE SINGER
GOLD:
Chan Kin On
SILVER:
AGA
BRONZE:
Panther Chan
ULTIMATE MUSIC NEW POWER
GOLD:
Terence Lam
SILVER:
Gladys Li
BRONZE:
Keung To
ULTIMATE MUSIC ULTIMATE ALBUM:
the album and the rest of it...(Juno Mak, Kay Tse)
ULTIMATE MUSIC SONGWRITER:
Cousin Fung
ULTIMATE MUSIC LYRICS
Wyman Wong
ULTIMATE MUSIC PRODUCER:
Edward Chan
ULTIMATE MUSIC SONG ARRANGEMENT:
Edward Chan
PROFESSIONAL RECOMMENDED ULTIMATE TOP TEN
ULTIMATE MUSIC ULTIMATE SONG:
WE ALL GREW UP LIKE THIS (Sammi Cheng)
2
FINAL RELIGION (Eman Lam)
3
TO ME ON THE JOURNEY (Nowhere Boys)
4
DREAM MY DREAMS (Wong Suk Man)
5
WORK HARD STRUGGLE GO (Jan Lamb)
6
FORGET AND REMEMBER (Juno Mak featuring Leon Lai)
7
THE DISTANCE BETWEEN US AND LOVE (Alfred Hui)
8
28 DAYS (Andy Leung)
9
A KISS THAT CROSSES 46 BILLION YEARS (Chan Kin On)
10
ONE SECOND (Mag Lam)