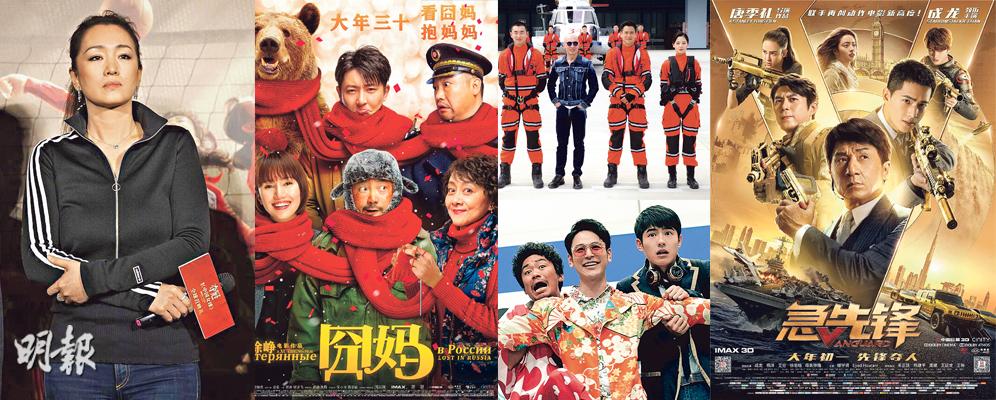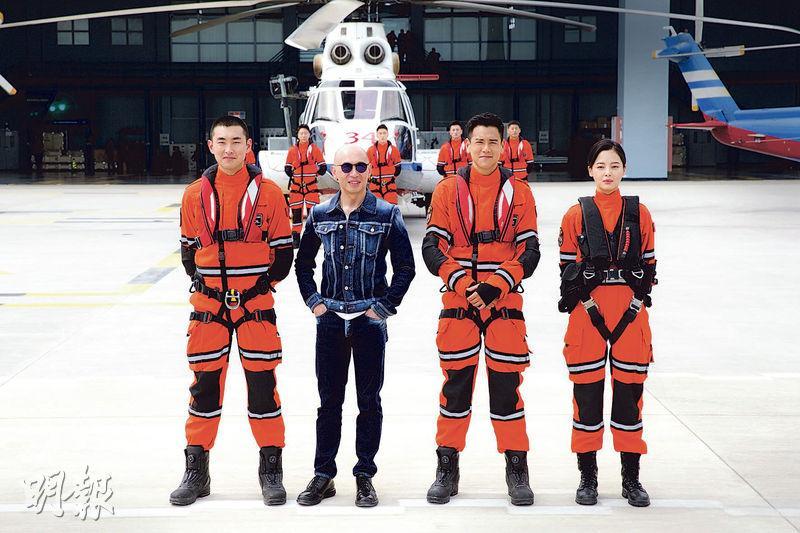 DETECTIVE CHINATOWN 3 backs out of the Lunar New Year in the Mainland and delays its Hong Kong release
LOST IN RUSSIA and VANGUARD also retreat
courtesy of singtao.com
Director Dante Lam and Eddie Peng promoted THE RESCUE earlier
courtesy of on.cc
As Wuhan, Hubei's new corona virus pandemic persisted, in order to get it under control and reduce risks, seven films DETECTIVE CHINATOWN 3, LEAP, THE RESCUE, LOST IN RUSSIA, LEGEND OF DEIFICATION, VANGUARD, BOONIE BEAR: THE WILD LIFE have announced that they would back out of the 2020 Spring Festival slot and change their Mainland release dates. In addition, Taiwan singers Jolin Tsai, Jonathan Lee and Penny Tai have also announced that their Mainland concerts would be postponed.
This year's New Year and Lunar New Year slots would be less than a month apart. Two major film golden period would be in a relay to continue to ignite the passion of film viewers. As the most important slot of the year, the 2020 Spring Festival period the Mainland had seven film releases. Each one was a big production, as the industry joked that it was the strongest "deity fight" in history with LEAP, DETECTIVE CHINATOWN 3, THE RESCUE, LOST IN RUSSIA VANGUARD and animated films LEGEND IN DEIFICATION and BOONIE BEAR: THE WILD LIFE. According to data, as for January 20th at 8PM, the Lunar New Year's Day advanced ticket sales have already reached 275 million yuan RMB. Among them DETECTIVE CHINATOWN 3 came in first in advanced sales and created the fastest advanced sales to break 100 million in Chinese film history. Some organizations predicted that many films would accumulate over 7 billion yuan RMB at the box office.
However, as the new corona virus pandemic persisted, the aforementioned seven films have announced schedule changes. Film companies said that with the pandemic, everyone would put prevention and life first. Film companies expressed that they would launch a ticket refund process through various channels to reduce viewers losses to its minimum. BOONIE BEAR: THE WILD LIFE issued a statement. "We don't want to see our viewer friends in order to watch BOONIE BEAR: THE WILD LIFE to bear any risk to their health, we want even less to see the possibility of the pandemic spreading further. To BOONIE BEAR, nothing is more important to the safety of family and children! We hereby announce that BOONIE BEAR: THE WILD LIFE will officially drop out of the Spring Festival slot and be released on a later date." Because THE RESCUE will drop out of he Mainland Spring Festival slot and postpone its release, its Hong Kong release will also be postponed. The January 31st premiere in Macau will need to be delayed.
In addition, due to the persisting Wuhan pneumonia pandemic, many Taiwan singers including Jolin Tsai, Jonathan Lee, Penny Tai and others who originally planned to perform in the Mainland during the Lunar New Year have postponed their shows.
Jolin Tsai and Jonathan Lee's Mainland concert organizer recently issued a statement on Weibo that in response to the pandemic management request, Join Tsai's Ugly Beauty concert tour Wuhan stop on March 7th and Jonathan Lee's Hubei concert on March 8th have been postponed. Once the date and time have been confirmed further notice will be made. The original tickets would still be valid after the delay and the organizer would accept refund request.
Penny Tai's February 14th Chengdu and February 16th Wuhan concerts have been postponed according to their organizer's Weibo announcement. Refund requests will begin after the Lunar New Year.
As for Andy Lau Tak Wa's April Wuhan show, Wa Jai's company is in communication with the Wuhan organizers. As soon as they have any news they would make an announcement to everyone.