courtesy of on.cc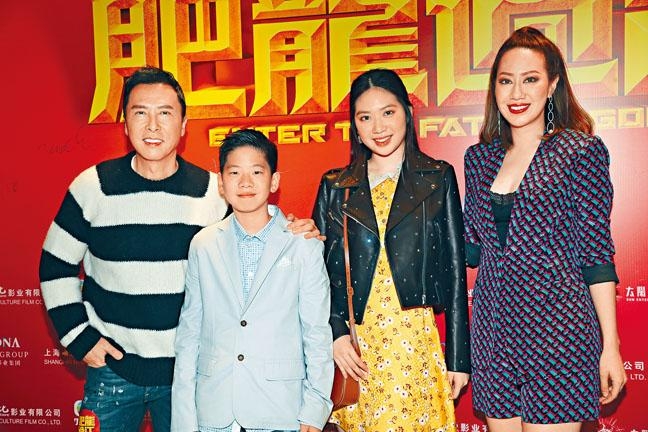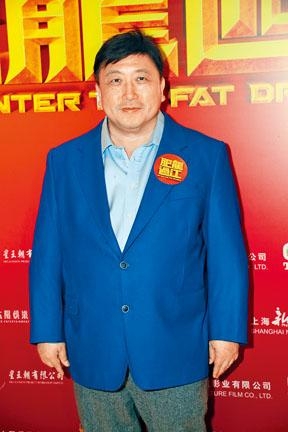 courtesy of singtao.com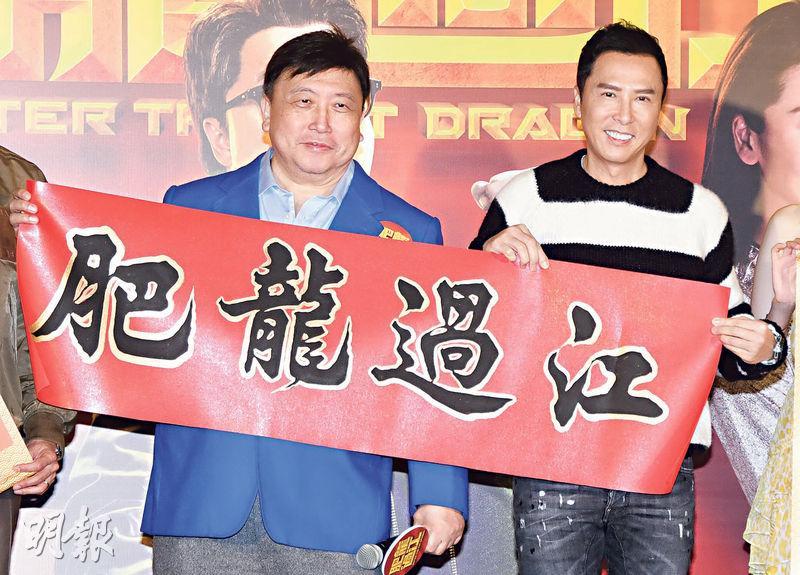 Wong Jing gladly listens to Donnie Yen's suggestions
courtesy of mingpao.com
Donnie Yen Chi Tan, Wong Jing, Louis Cheung Kai Chung, Jessica Jann Kei Ching, Jerry Lamb Hiu Fung, Tyson Chak and Lawrence Chou Tsun Wai two nights ago attended the ENTER THE FAT DRAGON (FEI LUNG GOR GONG) premiere. Chi Tan's wife and children showed their support, as did his friend Ray Lui Leung wai and his wife Yang Xiaojuan. One of the lead actresses Niki Chow Lai Kei was absent due to pregnancy. Chi Tan said that he has already congratulated her early on, and told her to hurry up and have a few more.
On the stage Chi Tan talked about working with Wong Jing again. He said, "I feel Brother Jing actually has a lot of potential, he doesn't have to make so much toilet humor!" Wong Jing responded, "In this industry only two people could get me to act, one was (Stephen) Chow Sing Chi and the other one is Chi Tan."
That night one of the lead actresses Chow Lai Kei was absent due to pregnancy. Has Chi Tan congratulated her? He said, "I congratulated Niki awhile ago, several days ago I already knew. I was able to guess it because she called me and said, 'Lord Tan, I have something to tell you.' She was humming and hawing, of course something was up. During the shoot I didn't know she had someone, as the shoot went on she had someone. After the shoot I told her to hurry up and have a few more. This is something that is very important in life. I told her to take care." However Lord Tan said that he was not her spokesman, and everyone should wait for Niki to make the announcement herself.
Speaking of all the Lunar New Year films this year, would Lord Tan have any pressure? He said, "Not really, a movie's cost isn't the decision of one person. I hope every movie is a hit. The best would be for viewers to go to everyone movie and everyone have a happy New Year." He said that for the Lunar New Year his family would fly to Hollywood as he would meet with the producers there and take some time off as well.
In the film Lord Tan played a fat guy, which he stated was stressful because earlier Andy Lau Tak Wa's fat guy in the film LOVE ON A DIET (SAU SUN NAM NUI) was very sharp. He also joked that in the film he asked Brother Jing to use the "fat mantis style" in the film and could not catch his breath. Because the shoot was tough he instead ate even more, thus the more he worked the fatter he got.
Speaking of rumors that he would make Wong Jing's KUNG FU CULT MASTER (YI TIN TOH LUNG GEI), Lord Tan did not deny it. "People like us just show our faces and prop up the show, Brother Jing and I aren't about money. However he would know what to do, the most important is we are happy." He also revealed that later he will work on a dramatic film.
Wong Jing revealed that the film had many action scenes. He said that working on fight scenes below zero Celsius was very difficult. The film would open on the Lunar New Year, would he feel any box office pressure? He said, "Does it matter? If everyone coordinates then it is releases. Hong Kong is the first place to release it in the entire world. In the Mainland it wouldn't open until Valentine's Day."
Speaking of an online boycott, he said, "I would always ignore the politics. If because of politics another choice is made, we wouldn't count it."
When asked about his new film KUNG FU CULT MASTER's planning progress, he played coy and said that it had to be kept confidential. Otherwise it would have no promotional value.
Teresa Mo Shun Kwan was traveling around the world with the entire family so she was unable to attend the premiere. Niki Chow Lai Kei due to pregnancy was absent.
The 40 year old Chow Lai Kei announced online on December 2018 that she and Mainland actor Fu Hongming (formerly Fu Chengpeng) got married and stated the she hoped to have a baby at age 40. Recently she had more good news as she expected to become a mother this year. She posted earlier, "Stepping into the year of the rat soon, I will have another identity. I am very grateful that I was blessed with such a gift. The entire family looks forward to the arrival of the baby mouse."