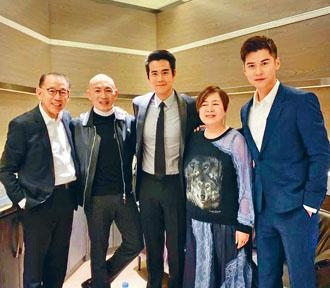 courtesy of singtao.com
Carlos Chan Ka Lok earlier attended the film THE RESCUE (GUNG GUP GAU WOON)'s Beijing premiere and shared the experience. He hoped through the film to show everyone the strength and warmth of the rescue team. THE RESCUE was Dante Lam Chiu Yin directed, the film was based on actual sea rescues. It was story of an ace special duty team member and other rescue team members facing a major disaster challenge and together execute a thrilling rescue at sea.
Playing the captain in the film, Eddie Peng Yu-Yan and Carlos Chan Ka Lok have worked together on the Lam Chiu Yin directed film TO THE FORE (POR FUNG). Ka Lok was severely injured last time and Peng Yu-Yan has been concerned for him since. With THE RESCUE he remained the same, which moved Ka Lok very much. "He really treats me like a good friend. This time fortunately I wasn't hurt. The team's safety precaution was very well taken. Everyday we had to apply fire retardant paste for our bodies to have ample protection. Thus when the fire rushed our faces, what we had to overcome was that fear."