courtesy of on.cc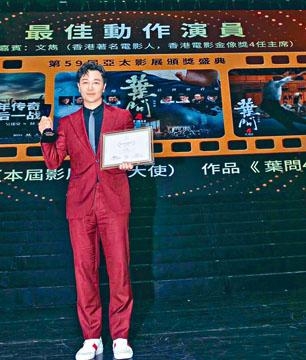 courtesy of singtao.com
IP MAN 4: THE FINALE broke the 1 billion RMB mark at the box office. Playing the Tai Chi master, Wu Yue with the "one handed duel' scene with Donnie Yen Chi Tan instantly left a deep impression with the audience with detailed style and fast and fierce punches. The "real kung fu" performance also made Wu Yue more popular.
Wu Yue as a national athlete level wushu actor excelled in many martial arts. This time with his IP MAN 4 character successfully won the 59th Asia Pacific Film Festival Best Action Actor and reached his career apex. No wonder Wu Yue could not hide his excitement after winning the award, "I am very excited! Because Siu Yat Fu (Sir Run Run Shaw) started this Asia Pacific Film Festival years ago, it has a long history. In addition it covers the entire Asia Pacific's nations and a variety of excellent filmmakers and films, to be able to win I am very happy inside." He also revealed that when he won he immediately called his daughter to share the joy.
In the film Wu Yue traded blows with Yen Chi Tan, which was poised to become a classic scene in the IP MAN series. As Lord Tan's fan Wu Yue was nervous and excited when reliving the rare "exchange" with his idol. "Everyone knows Brother Tan indeed performed very well. I too am his fan, to be able to work with him I feel very honored; Tai Chi and Wing Chun are very hard to fight well with, the speed is very hard to match. Yet Brother Tan would yield and coordinate, in order to make the result especially good." Actually the "one handed duel" scene took two full days to shoot, but Wu Yue felt it absolutely was worth the effort. He said, "Actually any action scene would take longer time wise, everyday would be very exhausting physically."
In addition, Wu Yue's past films either was lucky enough to win awards or be box office hits. Three years ago when he worked with Louis Koo Tin Lok on PARADOX, Koo Tin Lok with the film won the Hong Kong Film Award Best Actor. This time IP MAN 4 was a box office bonanza. No wonder the Mainland media dubbed him the "film industry lucky star". Wu Yue said, "I haven't felt any pressure from this nickname. I only hope to be able to make good movies, whether they are dramatic or action. When good movies approach me to participate I would feel happy. (Which actor would you like to work with?) I would like to work with many actors, especially Jiang Wen because I really like him!"