courtesy of on.cc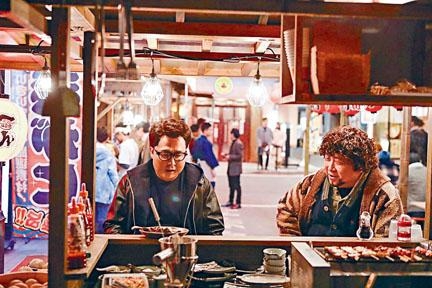 courtesy of singtao.com
The Kenji Tangiaki directed, Donnie Yen Chi Tan, Teresa Mo Shun Kwan, Niki Chow Lai Kei, Wong Jing starred action comedy ENTER THE FAT DRAGON (FEI LUNG GOR GONG) will open for the Lunar New Year. This film's bright spot will not only be on Lord Tan's rotund "Fat Dragon" look but also Japanese locations that many people would be familiar with. In the film's latest series of stills, the Kabukicho set was extremely realistic and showed how serious the production was.
The film would bring the audience to many Japanese landmarks, including Tokyo's most famous former wholesale seafood market Tsukiji fish market, Shinjuku district's Kabukicho, and the Tokyo Tower. Brother Jing said, "We have considered going to Europe and the locations would also be very pretty, but to the Hong Kong audience they may not be as familiar. So in the end we decided on Japan as the backdrop, I believe the audience would be able to relate more."
The production team's 2017 CHASING THE DRAGON Kowloon Walled City set received a lot of love from viewers. Thus the ENTER THE FAT DRAGON team also constructed one of the few large scale red light districts in Japan -- Kabukicho. Lord tan revealed that the team not only personally went to shoot on location in Japan but also built a Kabukicho set in the studio. "Most of the Kabukicho stunts were shot on the set, so when I fought I wouldn't be afraid of breaking anything. It was a lot of fun." Lord Tan even said that because the production team put a lot of effort into the construction the set was very realistic. Sometimes he would not be able to tell whether the shoot was on the streets of Japan or on the set.