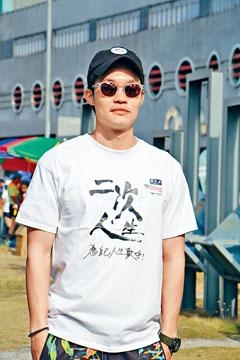 courtesy of singtao.com
The film YI CHI YUN SUN (SECOND TIME LIFE)'s actors Tony Wu Tsz Tung, Choi Yui Tung, Jocelyn Choi Chung Sze and others went to the Kwun Tong Promenade to cheer on the Run Our City runners. Run Our City fully supported the film YI CHI YUN SUN's production and found a group of long distance runners for the cast of the film. Thus this film the cast and the crew returned the favor. however Wu Tsz Tung said, "Long distance runner actors were used to run for several hours at once, but for one shot in a movie, they often had to run for a dozen or so seconds and come back. Then they had to wait for half a hour, which they were not very used to."
Wu Tsz Tung's character in the film originally was a wasted youth, running changed his entire life! Choi Yui Tung carefully spoiled the film. "Choi Chung Sze and I played two secondary school students and star chasers, with Wu Tsz Tung we might have a 'relationship', but what kind? You have to watch the movie and see!" Choi Chung Sze revealed that the most memorable scene in the film was eating with Choi Yui Tung. "She is amazing, she can eat ten bags of potato chips at once, haha."
Why did Wu Tsz Tung not run? He said that fortunately he did not register because he just finished another movie the next before. He came after a little sleep, physically he might not be able to handle it. Next time he would participate. He was coughing a little. "On New Year's Eve while shooting in Weizhou I caught the flu. I have seen a doctor and I am fine. After this week's promotion, next Monday (the 20nd) I would be able to shut down. However I would rather be working, I would stay in Hong Kong for the Lunar New Year. I hope to be able to take more time after the New Year to travel and settle down a little. I wish everyone a smooth year." Choi Yui Tung said that she has already shut down while Choi Chung Sze was busy with a musical.