Jinny Ng's alleged wardrobe malfunction goes viral
courtesy of on.cc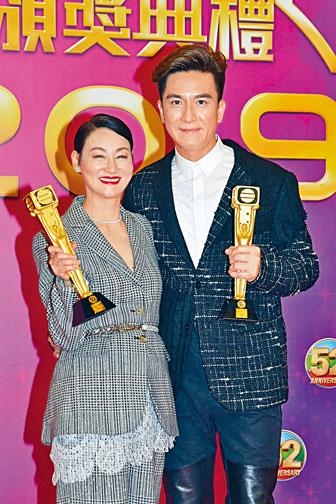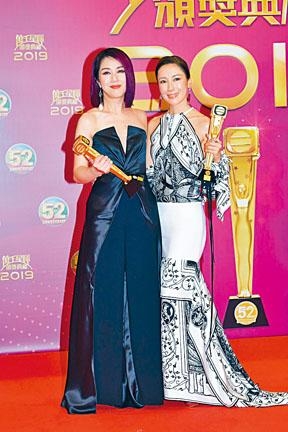 Miriam Yeung and Selena Lee both win the Most Popular Female Characters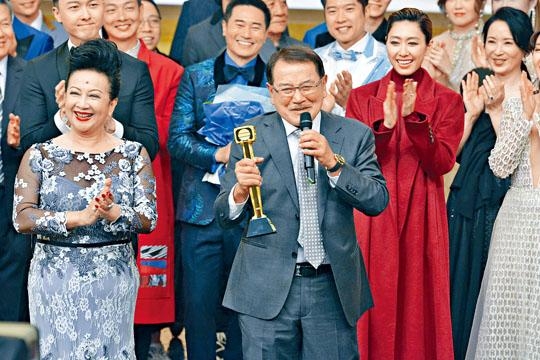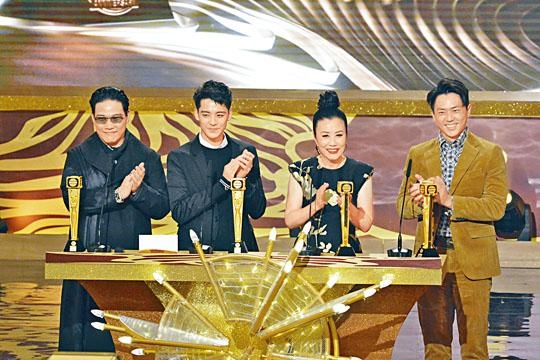 William So, Dickson Yu, Liza Wang and Sammy wins Best Program Hosts for LIZA'S ONLINE
courtesy of singtao.com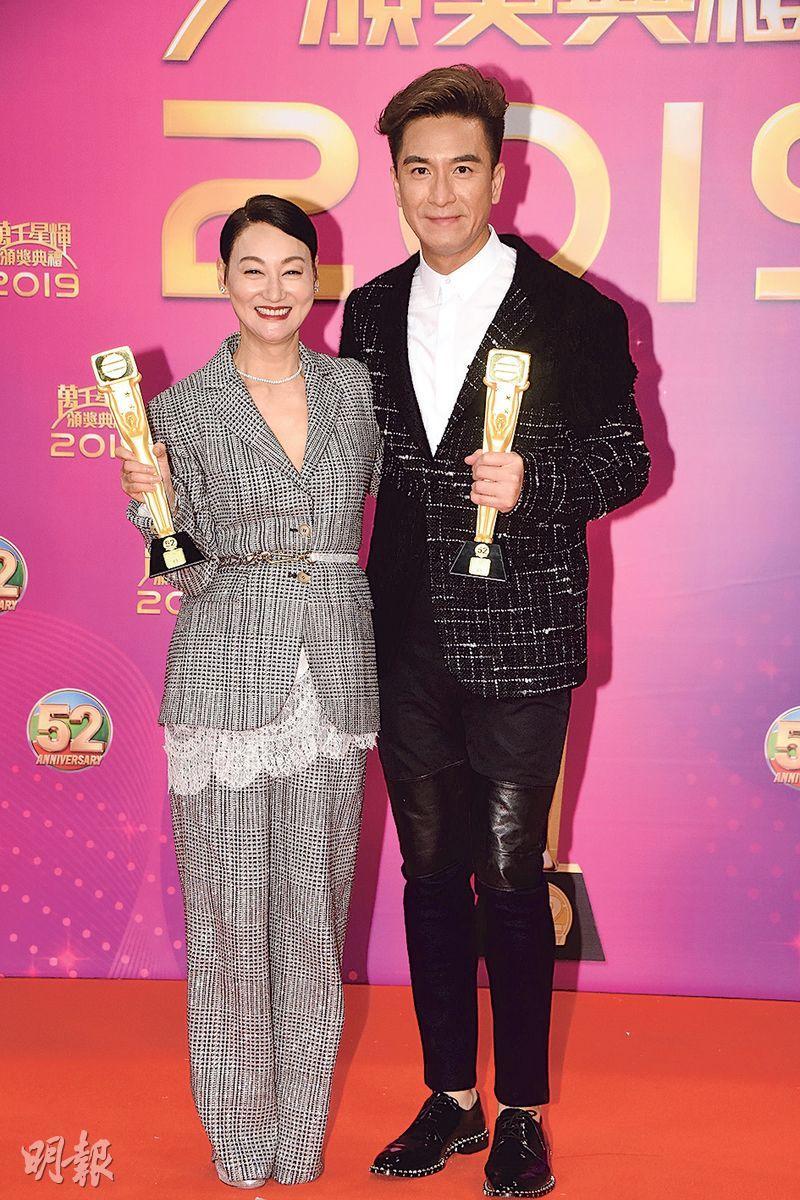 Best Actress Kara Wai and Best Actor Kenneth Ma are both favorites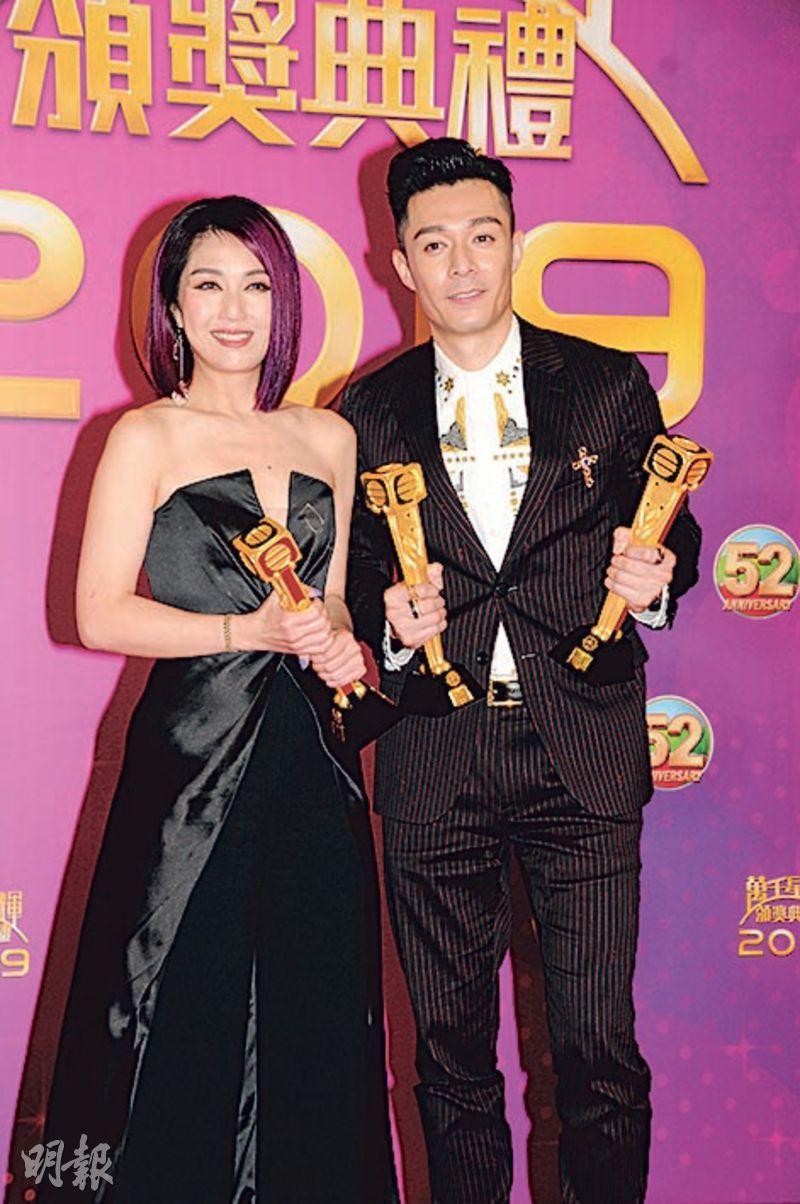 WONDER WOMEN wins Miriam Yeung and Pakho Chau "Most Popular Television Characters"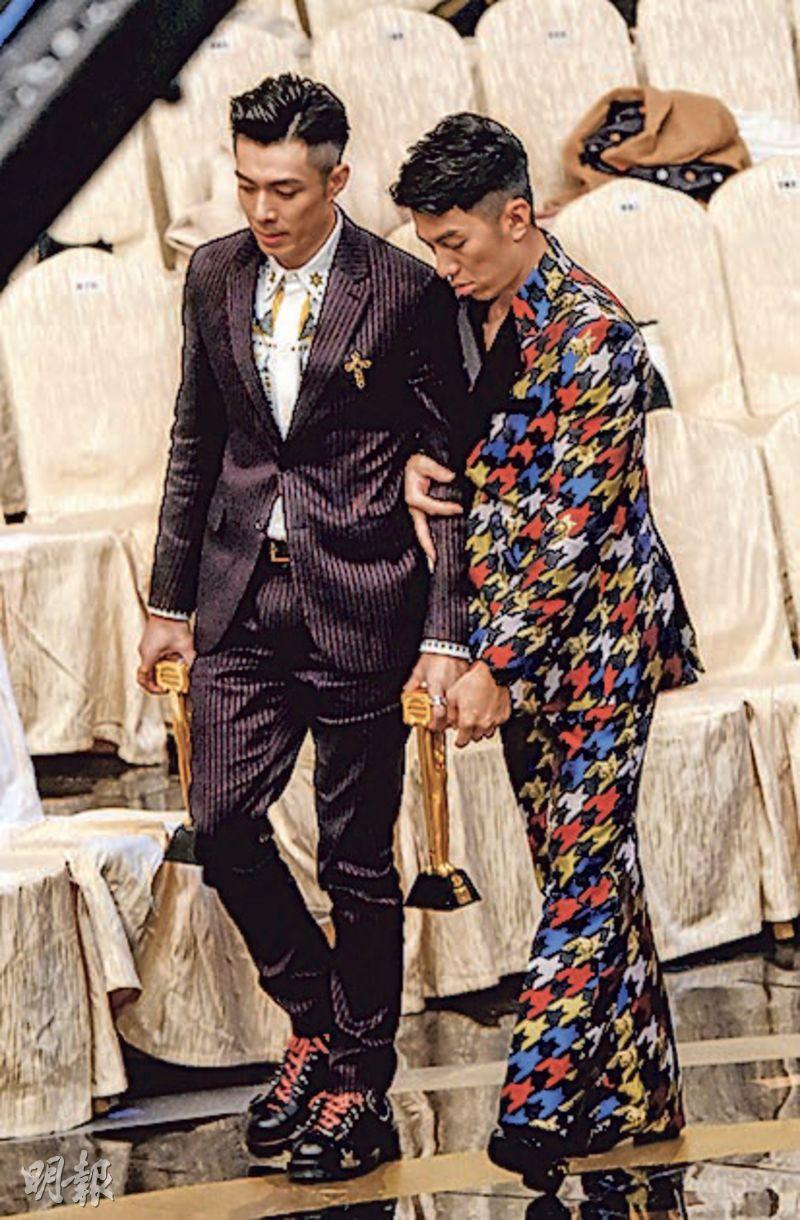 Recently hospitalized for a fever, Pakho Chau gets a hand from Ben Yuen when exiting the stage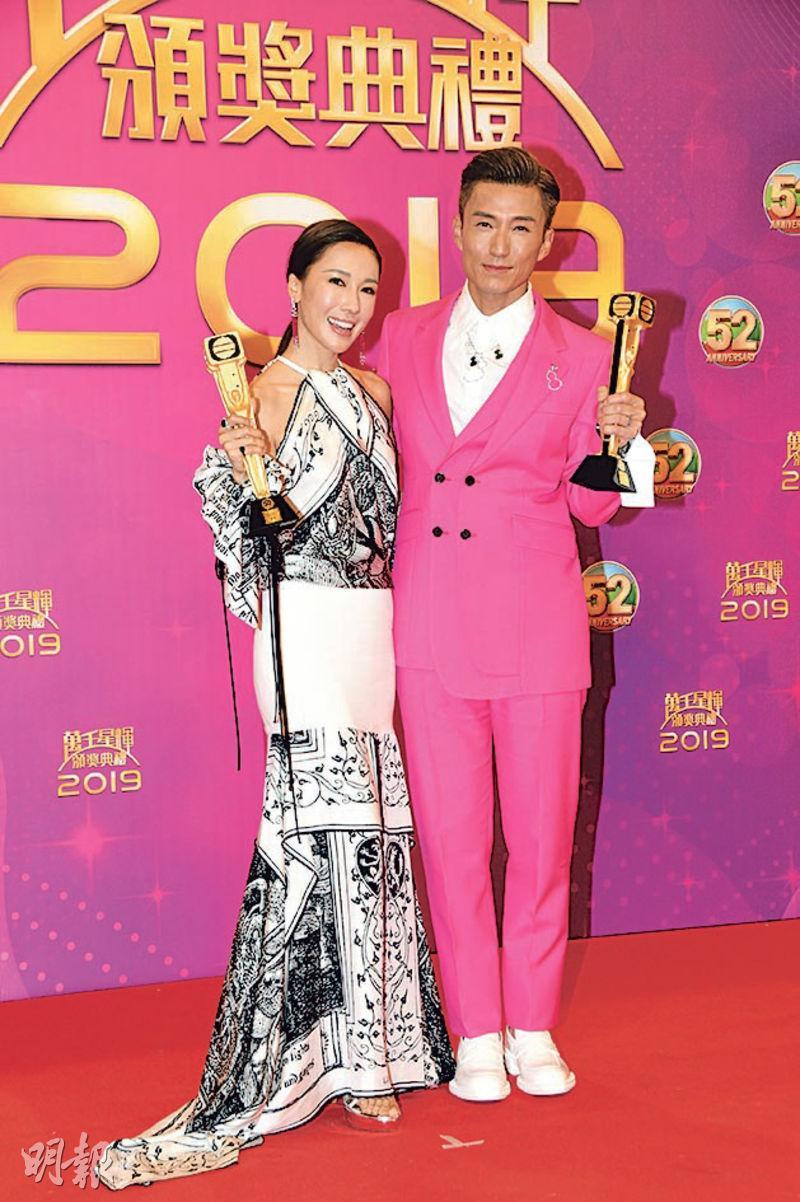 Selena Lee and Joel Chan win Most Popular Television Partners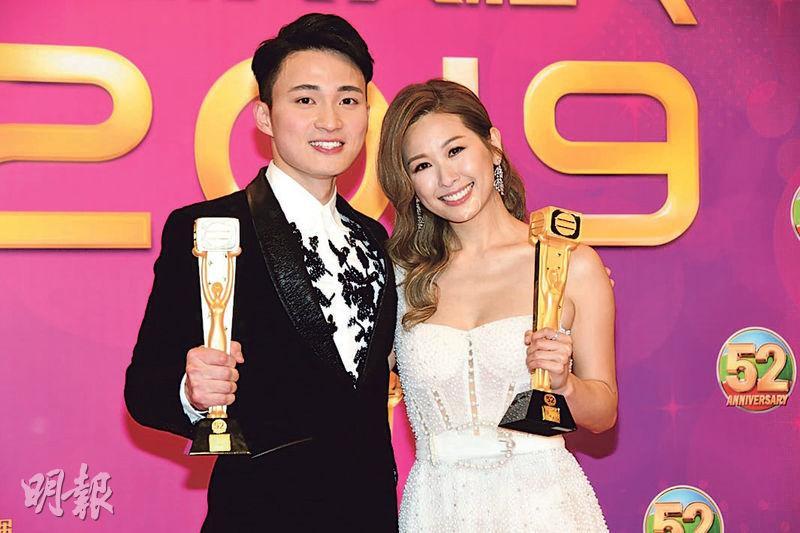 Chow Ka Lok and Candice Chiu win Leaping Improvement awards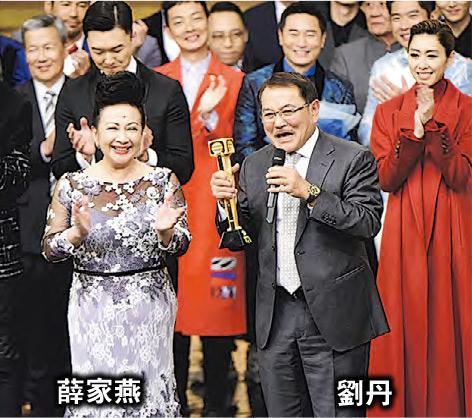 All the TVB artists give a standing ovation for Lau Tan after Nancy Sit presents the Anniversary artist award to him
courtesy of mingpao.com
TVB Anniversary Award 2019 last night took place at the Tseung Kwan O Television City. Best Actor and Best Actress went to BIG WHITE DUEL's Kenneth Ma Kwok Ming and THE DEFECTED's Kara Wai Ying Hung. Sister Hung even completed her film and television grand slam. "Most Popular Male Character" went to WONDER WOMEN's Pakho Chau, while "Most Popular Female Character" had two winners, WONDER WOMEN's Miriam Yeung Chin Wa and BARRACK O KARMA's Selena Lee Sze Wa. Best Drama was BIG WHITE DUEL.
The award show hosts were Carol Cheng Yui Ling, Mayanne Mak Mei Yan, and Karl Ting Tze Long. Nominated 12 times, Kenneth Ma Kwok Ming this year finally with BIG WHITE DUEL's Dr. Tong Ming won his first "Best Actor". At the moment of the announcement, the audience cheered but he as usual looked naturally stunned. On the stage Nancy Wu Ting Yan, Natalie Tong Sze Wing and others presented the award to him. His A FISTFUL OF STANCES friends Jazz Lam Tze Sin, Stephen Wong Ka Lok also congratulated him on the stage. Ma Ming said, "This year I really had quite a fright. First thank you everyone for your response, even if I didn't win I would have pretended I won. This morning when I left Ma said, 'If you win tonight we are rich.' I said, 'Even if I win I still have to work.' Ma said, 'This week (the lottery) is over HK$ 80 million.' This year the competition has been so strong, when I saw the nominations I felt that I had no chance. Maybe I have luck and run into BIG WHITE DUEL."
Best Actress Kara Wai Ying with her excellent acting successfully defeated Miriam Yeung Chin Wa, Selena Lee Sze Wa and others to win Best Actress. She said, "I really am more nervous than at the Golden Horse Awards. (The award) is even heavier. I am very happy, very grateful. I have made a series in Hong Kong for ten years, as soon as I did I won this award. I started at TVB, I hope to be able to come back and make more series from now on."
After 52 years in the business, Lau Tan (Lord Tan) last night opened the show with the Anniversary Artist Award. Last year's winner and co-star Nancy Sit Ka Yin presented the award to him. Yesterday happened to be Lord Tan's Lunar birthday, the entire venue sang Happy Birthday to him. Lord Tan was so moved that he had to wipe away his tears. Lord Tan said that despite being in the business for years he has never really won any award. This was his first and he never would have guessed that it would be a major award, or that it would happen on his Lunar birthday. After years in the business Lord Tan admitted that he has toughed out all kinds of hardship, and he was happy that acting would be his lifelong profession.
Pakho Chau with the anniversary series WONDER WOMEN won his first "Most Popular Male Character" and "Most Popular Television Song". He thanked his wife who has been with him for over a decade and said that she was not only a Wonder Woman but also an all purpose wife. The award went to two winners for the first time as the other winner was Selena Lee Sze Wa, whose TVB contract ended last year. With the popular drama BARRACK O KARMA she won the award. The series also brought her and co-star Joel Chan Shan Chung the "Most Popular Television Partners".
Known as the "TVB Official Mad Woman", Candice Chiu Hei Lok after 12 years in the business won Best Supporting Actress with BARRACK O KARMA with her first nomination. She after receiving the award from friend Mandy Wong Man Chi already started to break down as she thanked the company. "At age 4 I told myself I have to become an actor in the future. Thank you to the company for making my dream come true. I want to give special thanks to my buddy Wong Man Chi for helping me and teaching me a lot." Wong Man Chi went to wipe her tears for her. With rumors that her family did not like her being in the business, Chiu Hei Lok did not forge to thank the part of the family that supported her. "Best Supporting Actor" went to the situation series LO AND BEHOLD's wasted youth Chow Ka Lok. He too won with his first nomination.
"Hell Cursed King" Owen Cheung Chun Long was not cursed at all as he won the "Leaping Improvement Male Artist". Lost his voice due to a series production, he tearfully suggested, "I really want THE OFFLINERS to be aired, because it was the first time I played the lead and sang the theme song." He also mentioned that he was happy to have the nickname "Hell cursed king" because actors needed more experience to perform well. Aside from thanking executives, Chun Long also thanked the woman he loved the most. "Ma, I love you."
"Best Program Host" went to the LIZA'S ONLINE team of Liza Wang Ming Chuen and others. This time was the first game show that Ah Jeh host.
"Leaping Improvement Female Artist" went to Cheung Hei Man. She held back her tears as she said, "I know I have a lot of room for improvement. I would work hard step by step. Thank you to those who love me." Cheung Hei Man said that her feeling was hard to describe. At the moment she was on the stage she was a little stunned, because she wanted to thank many people who have helped her. How would she celebrate? She said, "Early next morning I have to work, again with Cheung Chun Long. However I would call my parents with the good news. I know they are watching the live broadcast in Chicago. My boyfriend probably is watching, but he doesn't understand Chinese. He probably knows that I won." Would her next goal be Best Supporting Actress or even the Best Actress? She stated, "Of course, although I know the journey will be long, I will keep working hard."
2019 TVB ANNIVERSARY AWARDS
BEST DRAMA:
BIG WHITE DUEL
BEST ACTOR:
Kenneth Ma Kwok Ming (BIG WHITE DUEL)
BEST ACTRESS:
Kara Wai Ying Hung (THE DEFECTED)
MOST POPULAR MALE CHARACTER:
Pakho Chau (WONDER WOMEN)
MOST POPULAR FEMALE CHARACTER:
Selena Lee Sze Wa (BARRACK O KARMA), Miriam Yeung Chin Wa (WONDER WOMEN)
BEST SUPPORTING ACTOR:
Chow Ka Lok (LO AND BEHOLD)
BEST SUPPORTING ACTRESS:
Candice Chiu Hei Lok (BARRACK O KARMA)
MOST POPULAR TELEVISION PARTNERS:
Joel Chan Shan Chung, Selena Lee Sze Wa (BARRACK O KARMA)
LEAPING IMPROVEMENT MALE ARTIST:
Owen Cheung Chun Long
LEAPING IMPROVEMENT FEMALE ARTIST:
Kelly Cheung Hei Man
BEST PROGRAM HOSTS:
Liza Wang Ming Chuen, William So Wing Hong, Sammy, Dickson Yu Tak Sing (LIZA'S ONLINE)
BEST NON DRAMATIC PROGRAM:
FARAWAY BRIDE SERIES 3, A CHEF AND A GENTLEMAN, DO DO MIDNIGHT QUESTS, SAMMY ON THE GO, HERE WE GO AGAIN
MOST POPULAR TELEVISION SONG:
LET LOVE FLY HIGH (Pakho Chau)
ANNIVERSARY ARTIST AWARD:
Danny Lau Tan