Media Asia singers celebrate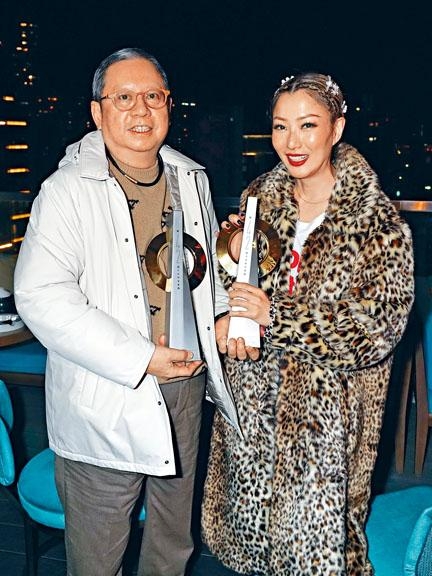 courtetsy of singtao.com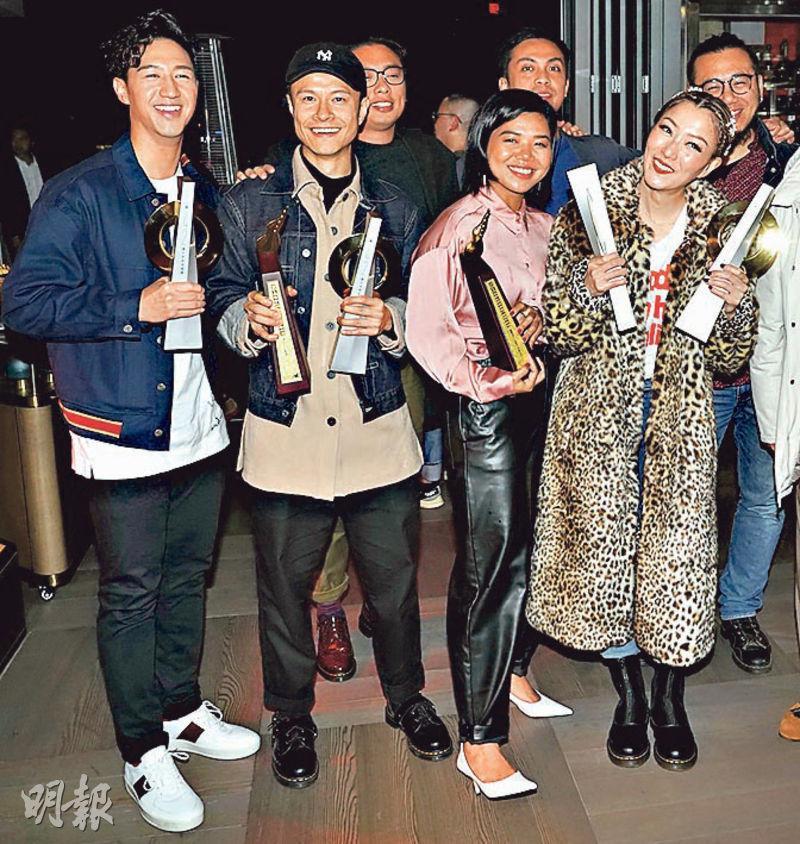 courtesy of mingpao.com
This year's final music report card, Radio Hong Kong's 42nd Top Ten Chinese Gold Song awards two nights ago announced its results in a special program format. Sammi Cheng Sau Man with the song WE ALL GREW UP LIKE THIS took home the "Global Chinese Ultimate Gold Song award" as well as a "gold song" award. Hins Cheung King HIn again repeated as the "Most Excellent Popular Male Singer" and took home the "Best Chinese Album", "Excellent Popular Singer Award" and "Gold Song" award to become the big winner of the night with four.
Media Asia boss Peter Lam Kin Ngok, in order to celebrate the singer under his banner receiving one after another glorious music report cards, two nights ago held a party. He immediately made the surprise announcements and personally presented the four "Top Ten Chinese Gold Song" awards to music diva Cheng Sau Man. Her song WE ALL GREW UP LIKE THIS won the "Global Chinese Ultimate Gold Song award" and "Top Ten Gold Song award", Chan Kin On won the "Most Improved Gold Prize" and Jay Fung Won Him received the "CASH Best Creative Singer award".
With the Sammi starred FAGARA (FA JIU JI MEI)'s DVD and Blu-Ray release, all the junior colleagues fought to ask her for autographs and photos. The celebration instantly turned into an autograph session. Sammi was very concerned about and took notice of their performance as she congratulated each of them. When she saw On Jai put his hands together, she even pat him on the shoulder and said, "This year your lucky has been great!" They even agreed that Sammi's acting moved them and supported her in winning the Hong Kong Film Award Best Actress with this film!
In great spirits Sammi gleefully flew all over the event. FAGARA has been called the movie with the best word of mouth last year. She said, "The great film word of mouth is due to the effort of the cast and the crew, with the director and the screenwriter deserving the most credit, and my sisters in the film (Megan Lai, Li Xiaofeng), Wa Jai (Andy Lau Tak Wa), Siu Chai (Richie Chai) and other outstanding actors. It was beautiful teamwork, I hope that everyone would find the warm feeling that has been missing for a long time with this film!" Then she led all the singers in screaming, "Thank you everyone for loving FAGARA so much, yeah!"
Jay Fung Won Him and On Jai received the "Top Ten Chinese Gold Song" awards from Peter Lam Kin Ngok and were very excited; when the boss presented the award to Jay, he still did not dare to believe it and emotionally said, "Really?" After the colleagues around him confirmed it multiple time he finally calmed down, he and fellow award winner On Jai congratulated each other.
With a rather full harvest career wise this year, Pakho Chau with PEACE FOR YOUNG AND OLD received a "Top Ten Gold Song" award. He sentimentally said, "When the sunny boy at the start, to having my own family, now after becoming a father my thinking has become very different. In the past I would put myself first in everything, now I would give everything to the next generation. Music is the same way, because music and life are connected I like to use life experience like love and friendship for inspiration to write music. Those who listened to my son would very easily know what I put first."