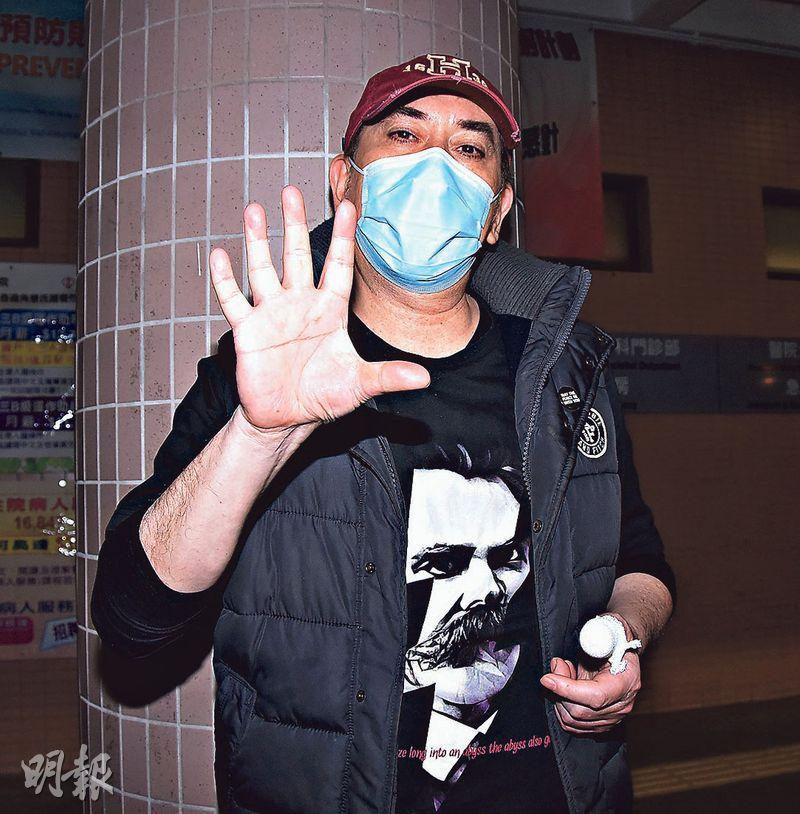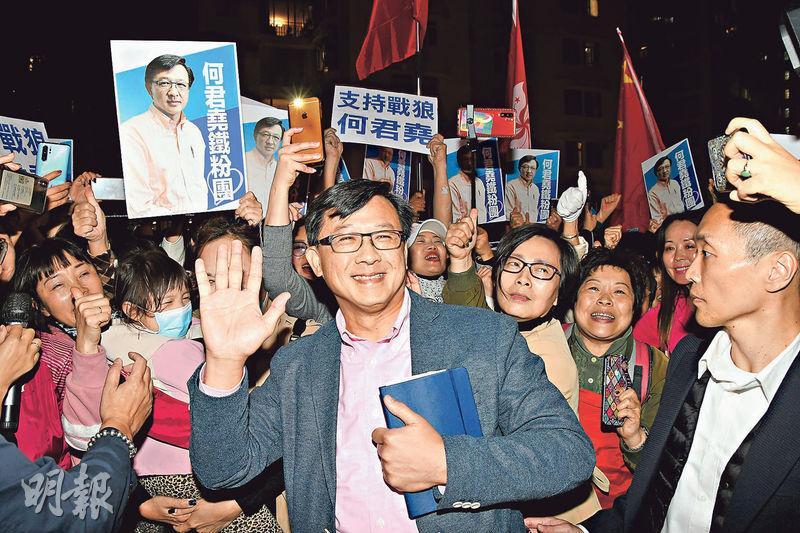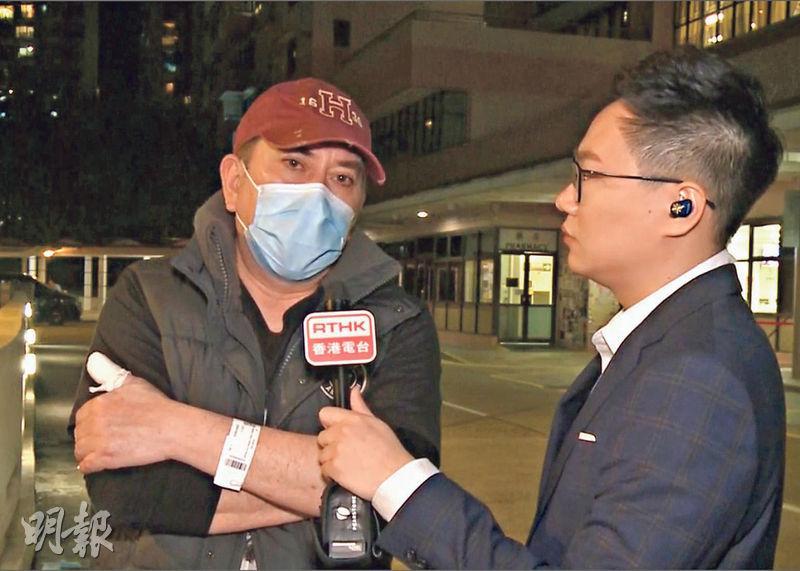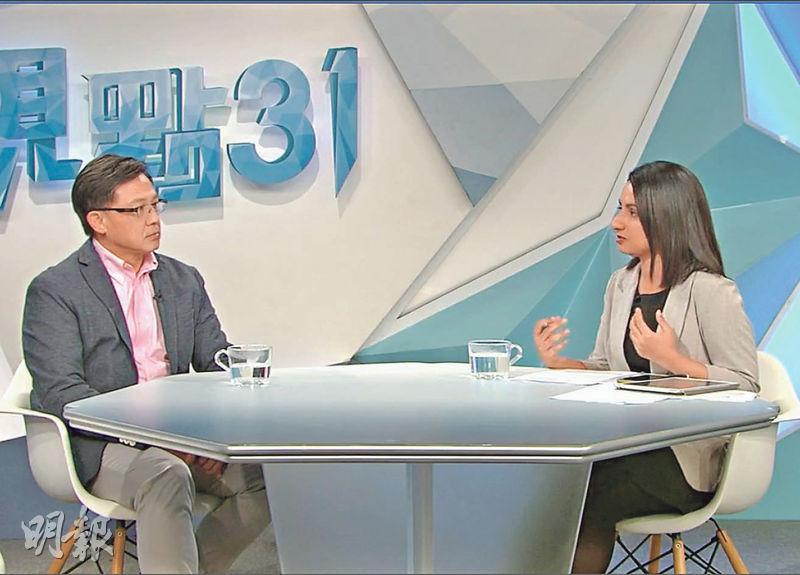 courtesy of mingpao.com
Anthony Wong Chau Sun and Legislative Council member Junius Ho Kwan Hiu were originally scheduled to appear on the Radio and Television Hong Kong program 31 THIS WEEK, the topic was "conscience and justice". The "Wong Ho Debate" had the attention of the entire city. Because Wong Chau Sun's father in law was rushed to the hospital and subsequently passed away, he had to handle the affair and receive stitches for his own injury. Thus he was absent at the last minute. Although Chau Sun did not debate Ho Kwan Hiu in person, he still spoke to Radio Hong Kong live outside the hospital and expressed his opinions. Ho Kwan Hiu after the program sent his condolences to Wong Chau Sun, and said that the event was anticlimactic, ending before it began which he felt was regrettable.
Yesterday at 7:40PM Ho Kwan Hiu arrived at Radio Hong Kong, over 100 Ho Kwan Hiu supporters already gathered early on. Some held up signs "Support Wolf Warrior Ho Kwan Hiu" and other banners. When Ho Kwan Hiu arrived he greeted his supporters and posed for photos. The program began at 8PM but Wong Chau Sun did not appear. Producer Gillian Yau Chui Yan met with the media and explained Wong Chau Sun's absence. "Chau Sun due to an emergency is unable to come. We decided to continue the interview with Ho Kwan Hiu. Our colleagues would interview Chau Sun live." When the program began Wong Chau Sun accepted Radio Hong Kong's live interview outside Ruttonjee Hospital. His left thumb was bandaged.
Wong Chau Sun explained his absence. He said that because his father in law's asthma acted up and an ambulance had to be called. Originally he wanted to make soup for his father in law, but he cut his thumb and went to another hospital for treatment. As he was treating his wound, his maid called and said that his father in law was in critical condition. He headed toward the other hospital without stitches but his father in law unfortunately has passed away. Then Chau Sun had to take care of the paperwork, identify the body, and wait for his brother in, during which Chau Sun got his stitches at that hospital. He said, "I am sorry to disappoint everyone." Reporters mentioned that many Ho Kwan Hu supporters waited outside the Radio and Television Hong Kong television building. Chau Sun said, "They can go home and sleep." He also said that this was the will of heaven, everything happened at around the same time. If they happened earlier he might have been able to attend the program.
When asked about yesterday's debate topic of "conscience and justice", Chau Sun said that both justice and conscience were philosophical questions. A thesis could be written on these two subjects. How did he feel about everything that happened in Hong Kong in the past half a year? Chau Sun said, "Everyone has a different feeling, my justice and your justice may be different, Ho Kwan Hiu has his own views on justice and conscience. It's very hard to discuss." He also talked about law enforcement and the July 21st incident. "July 21st led to panic and anxiety for everyone, it must be investigated. However not all of Hong Kong police are bad. While I was getting stitches at the hospital, several cops were very polite to me and even gave me a mask. Now it is a problem with the police system, not a people problem. Some have behaved overboard, some cops have been ineffective in their duties and affected their colleagues."
Chau Sun said about the future of Hong Kong. "Hope is where people are, I have a lot of confidence in the people of Hong Kong. Everyone would have differences in looking at the same thing, thus there are a lot of gray areas between black and white. This world isn't just as simple as black and white." He felt that everyone should take their responsibilities to their fullest, protecting the values of Hong Kong. Chau Sun at 9PM left the hospital by taxi with his assistant. He said that his wife was not in Hong Kong and the procedures for his father in law's affairs have not yet been done. He also raised his palm for photos and said that he had 5 stitches.
After the program ended, Ho Kwan Hiu left. Was he disappointed that he was unable to examine "justice and conscience" with Wong Chau Sun in person? He said, "Today has been anticlimactic, it ended before it even began. I believe in the future everyone will have the opportunity to chat, Hong Kong cares about communication. What happened at Mr. Wong's home is very regrettable, I express my condolences to him." As for his opinion of Wong Chau Sun's comments? He said, "I haven't had time to official discuss it with him, it ended before it started. It's a little regrettable. (Would you accept any future invitation to debate with Wong Chau Sun again?) I would accept it with anyone, even with Chu Hoi Dik. It's not like we can't talk; we are both council people, we can talk. With Chau Sun there is nothing between us at all." After Ho Kwan Hiu left, his supporters got physical with someone on hand and two plain clothes cops took the person away.