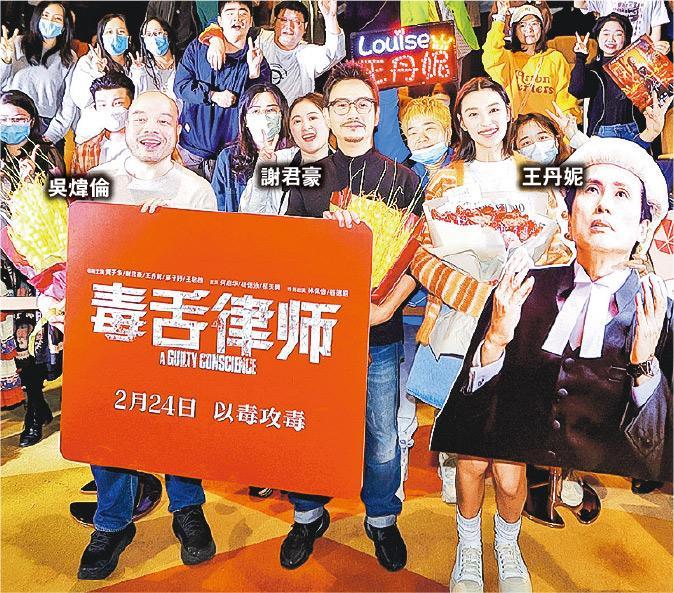 A GUILTY CONSCIENCE will open in the Mainland on Friday. Director Ng Wai Lun led Gardner Tse and Louise Wong to promote all over the country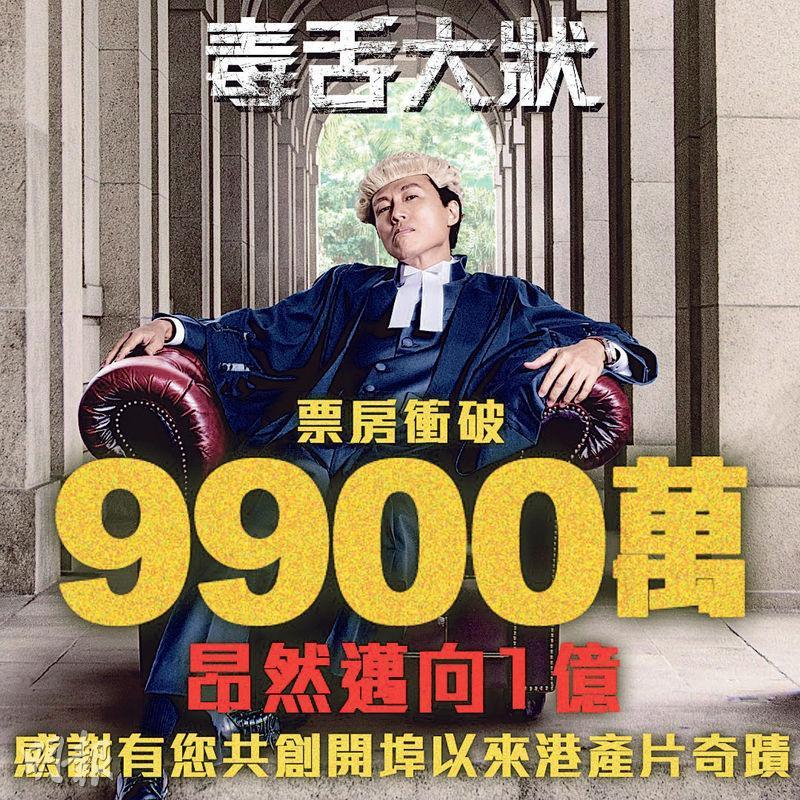 A GUILTY CONSCIENCE yesterday announced on social media that the film passed HK$ 99 million at the box office and boldly march toward HK$ 100 million
courtesy of mingpao.com
The Dayo Wong Tze Wa starred A GUILTY CONSCIENCE (DUK SIT DAI JONG) after 31 days in release yesterday afternoon passed HK$ 90 million and HK$ 100 million was within reach. Many online posted ticket stubs to help. A GUILTY CONSCIENCE will open Friday (the 24th) in the Mainland, director Jack Ng Wai Lun led actors Gardner Tse Kwan Ho, Louise Wong Dan Nei to begin the north to south promotional tour. Mainland film sites had rather high scores for the film, Sina had 9.3 while Douban gave 8.
A GUILTY CONSCIENCE's social media platform yesterday posted a Wong Tze Wa played "Lam Leung Shui" photo with the words "Breaking past HK$ 99 million and boldly marching toward 100 million, thank you for creating the Hong Kong film miracle" and wrote, "Just one more step, A GUILTY CONSCIENCE after 31 days in release has already broken past HK$ 99 million at the current box office -- just 1 million to reach 100 million. It is the Asian and Hong Kong Film record in Hong Kong history, absolutely unprecedented! Viewers going today and tomorrow would have a chance to be the 100 million box office creator. The comment section welcomes everyone to post their ticket stubs. Thank you everyone for taking the journey and creating history with us." Many viewers posted their tickets and were excited about the box office soon reaching 100 million. Some said that they have already seen it more than 3 times. Some online asked why earlier media reports said that the box office has already passed 100 million. The editor explained that the outside report included the Macau box office, thus the film company counted the Hong Kong box office for accuracy.
A GUILTY CONSCIENCE earlier held a premiere in Beijing. Director Ng Wai Lun with Louise Wong Dan Nei and Gardner Tse Kwan Ho attended. Then they went to Guangzhou and Shenzehn to continue to promote. Although it would not open until Friday, but the advanced screening word of mouth has been decent. According to A GUILTY CONSCIENCE's Weibo page, the preview box office has exceeded 4 million RMB, in the past weekend the admission rate rapidly increased. The Sina film review score was 9.3, Douban's was 8.
With 2.3 million fans on Weibo, Mainland film producer and critic Tan Fei praised A GUILTY CONSCIENCE at the Beijing premiere, repeatedly said it was too great twice and said that while watching this film he wanted to stand up and applaud several times. Then he recommended on Weibo and mentioned "must watch the Cantonese version" in particular. He wrote, "A GUILTY CONSCIENCE's Wong Tze Wa, Tse Kwan Ho stage kings' duel had too many golden lines. The most memorable one was 'Originally in the eyes of the law everyone is equal, but in the end in the eyes of the law poor people are done for' You must watch the Cantonese version!"