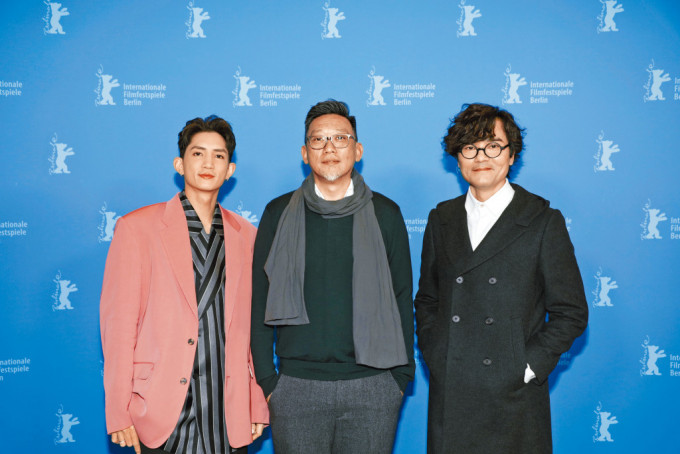 Lokman Yeung, director Soi Cheang and Gordon Lam
courtesy of on.cc
courtesy of mingpao.com
The film MAD FATE (MING ONG) was invited to take place in the Berline International Film Festival - Berlinale Special. Director Soi Cheang Pou Soi, stars Gordon Lam Ka Tung and MIRROR captain Lokman Yeung and others two days ago attended the world premiere at the Berlin Film Festival.
Director Cheang Pou Soi said, "I am very happy to be able to bring MAD FATE to the Berlin Film Festival for the international audience. I see many reporter friends and viewers are very interested in MAD FATE and also praised Lokman and Ka Tung's performance. For this movie it is a very good start. I hope from now on it would be able to go even further!"
Lokman was pleasantly surprised that MAD FATE was selected to take part in one of the three great European film festival -- the Berlin Film Festival. "This time coming to the Berlin Film Festival, several things left very deep impressions. During interviews, when I heard Director Soi and Ka Tung's answers I heard how in depth and spellbound to film they were. They made me realize that I had to rethink a lot, a lot. Sincerely, I am not kissing up, no BS! The other was that the world premiere cinema was a 60s construction, that heavy flavor strengthened this film festival journey's sense of ceremony several folds! Finally in a several hundred people cinema watching my own performance, after the ending I myself had a very long, very special 'shiver'. I knew that being able to participate in the Berlin Film Festival was a type of a pleasant surprise. After participating the Berlin Festival Film was a kind of happiness."
Lam Ka Tung said on the Berlin Film Festival red carpet. "Thank you Director and the film company, for me to be able to come to Berlin, attend MAD FATE's international premiere. To be able to take place is indeed a honor, I sincerely wish the director even better performance."