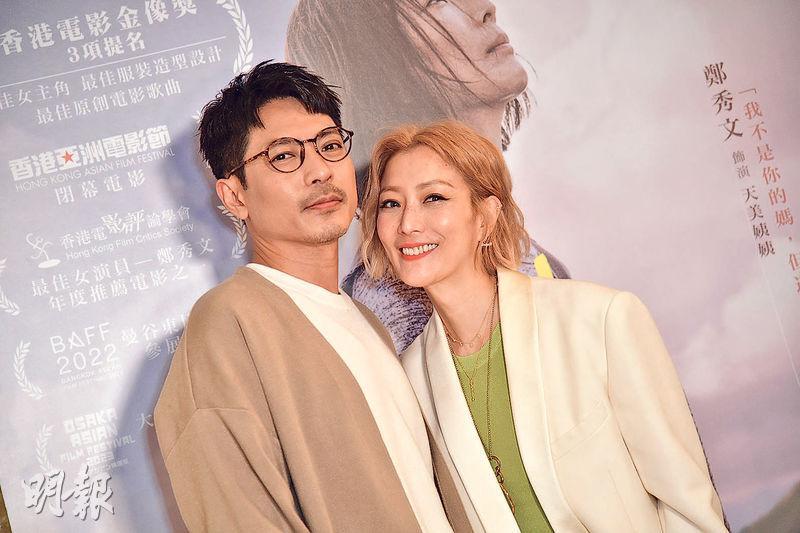 Alan Luk thanks Sammi Cheng for her attentive care during the table read, which swept away all of his concerns
courtesy of mingpao.com
Sammi Cheng Sau Man and Alan Luk Chun Kwong in the film LOST LOVE (LAU SHUI LOK FA) played a couple. Earlier they spoke about the film. Both are already married in real life, would she project their real life couple life into their character? She said, "Because Auntie Tin Mei is a very tough woman. After experiencing such an enormous pain in life, she almost forgot how to laugh until after she met her foster child. After hearing Siu Fa call me Mama, I unknowingly smiled. Auntie Tin Mei doesn't like to express what is insider her, but in real life I really enjoy sharing. When I get home I would have a lot to talk about, so it's relatively hard to project my actual personality into the film."
Already married for years, Sammi admitted that she absolutely had no desire to be a mother and did not look forward to someone calling her Mama. "Everyone's experience of love is different. Some would only feel life would be complete through being a Mama, but I feel life now is already very complete. The most important is that I found the ideal life format, with the other half and pets for me they are already enough, because I am someone who needs absolute freedom, whether it's spiritual, physical or time freedom." Sammi also said that she had a moment when she considered being a foster family, but not an adoptive family. However when she thought of her personality, having pets was still more suitable. Has she thought about being a Mama? Sammi said, "In my 20s I have, but not strongly, by age 30 I haven't because after gradual exploration I was very certain what my nature would want."
Sammi in the film spanned 13 years with many different looks and even near no make up performance. Sammi felt that for actresses honestly facing themselves would be very important. "The big screen is very cruel. Actresses with the passage of time definitely can see their appearances change. They definitely don't look 20 something, which instead would become acting experience and nutrients. The word old is very taboo for actresses, but when the character now needs to appear 50 something they have to honestly appear that way. If the role wants wrinkles it gets wrinkles, older then older, at this level I can accept myself very much. I am very willing to show my most honest me without any disguise, which is exactly the truth that viewers feel is entertaining. It is a milestone. When an actress reaches a certain level still cannot accept herself, then she should stop. She might as well quit." Sammi hoped to be foreign actresses and performed into her 50s and 60s with their real appearance. Luk Chun Kwong also felt that this would be very beautiful. Finally, Sammi hoped that viewers after watching the film would understand the noble love of being a mother.