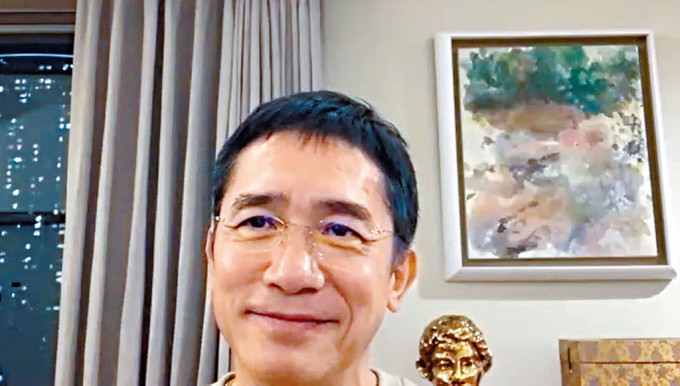 Despite being overseas, Tony Leung Chiu Wai still attended an audience appreciation event over video and interacted with viewers
courtesy of singtao.com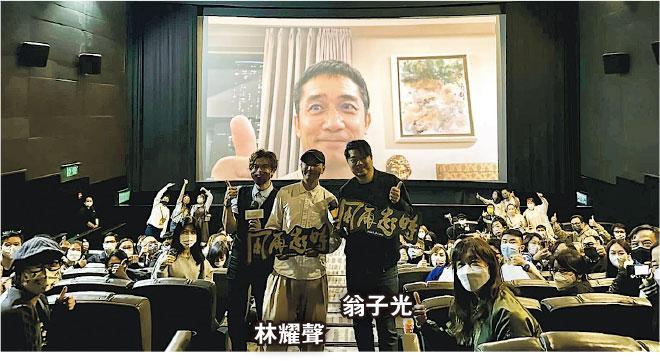 Tony Leung Chiu Wai also poses for the group photo with Lam Yiu Sing, director Philip Yung and the audience
courtesy of mingpao.com
Two Best Actor Aaron Kwok Fu Sing and Tony Leung Chiu Wai starred, Philip Yung Tsz Kwong directed WHERE THE WIND BLOWS (FUNG JOI HEI SI) opened last Friday in Hong Kong. Two days ago the director and Lam Yiu Sing attended an audience appreciation event. The overseas Leung Chiu Wai even appeared via video to attend the audience appreciation show.
Two days ago the audience appreciation show not only had the young Nam Kong actor Lam Yiu Sing and director Yung Tsz Kong, but the currently overseas Detective Nam Kong actor Leung Chiu Wai also attended the audience appreciation show via video. He also accepted questions from the audience and interacted with the audience for half the hour. The audience was greatly gratified. With two generations of Nam Kong on hand, the Leung Chiu Wai fan Lam Yiu Sing was very excited. He said that he had to collect several lifetimes of luck to be able to play this character. When asked about Lam Yiu Sing's performance, Leung Chiu Wai praised Lam Yu Sing. "Very good, he shows promise at a young age!"
Although the two generations of Nam Kong had no scene together, because the scene in which Nam Kong set the piano on fire would add an important memory of young Nam Kong. Thus two generations of Nam Kong must have certain chemistry. Lam Yiu Sing revealed that back then in order to understand Nam Kong's emotional journey in detail, he became one with Nam Kong and deliberately observed while Leung Chiu Wai was working.
Shot with a romantic style, WHERE THE WIND BLOWS added many romantic experience of the two great detectives. When asked how he explored how Nam Kong was in love, Leung Chiu Wai revealed that he would add his crush experience into the role. "The feeling of Nam Kong's crush on Choi Chun is a little like my childhood crush on a female classmate, that hidden in the heart experience of silently seeing her happy was already very fulfilling. Back then we lived in the same district, every afternoon I would pass by the building she lived in and secretly watched her appear. Then I would be very pleased. I just projected the secret crush feeling on Nam Kong."