courtesy of on.cc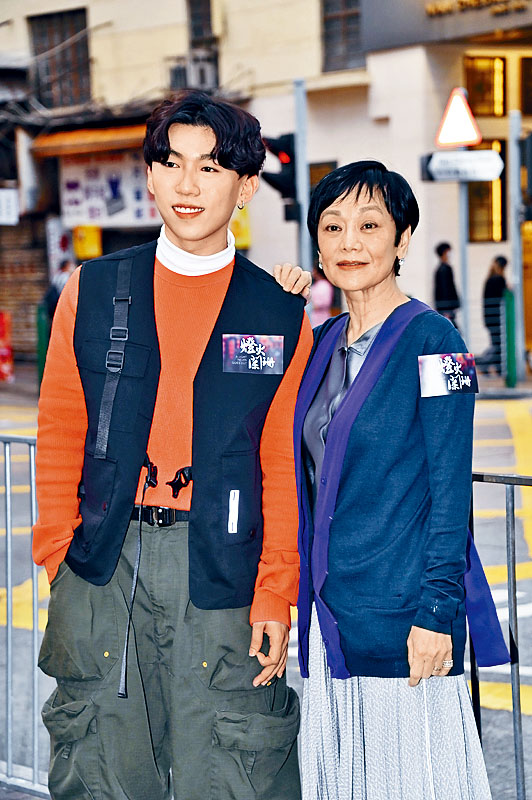 courtesy of singtao.com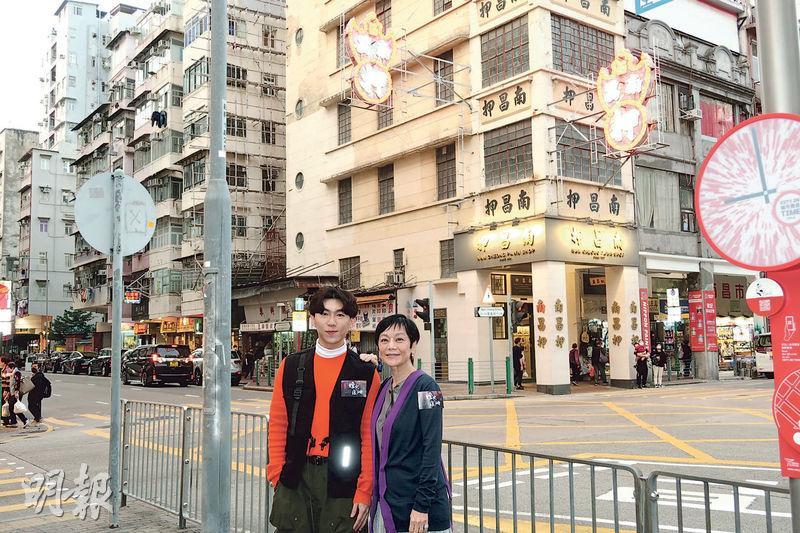 Henick Chou and Sylvia Chang felt regret over the dwindling number of neon signs
courtesy of mingpao.com
The movie about the Hong Kong neon light story, A LIGHT NEVER GOES OUT (DUN FOR LAN SHAN) will open in Hong Kong on April 13th. Two nights ago stars Sylvia Chang, Henick Chou Han Ning, director Anastasia Tsang Hin Ning and producer Saville Chan Sum Yiu appeared in Sham Shui Po, visited the Nam Cheung neon light sign that appeared in the film but would be removed soon, and took a photo as a final farewell.
Hong Kong neon light signs would be removed one after another, even the Nam Cheung pawn store's neon light sign would not be spared despite its history. Sylvia Chang admitted the feeling was regrettable. "Several decades neon light signs filled Portland Street and Nathan Road, they were so numerous that they were somewhat dangerous. If they could be properly repaired they probably wouldn't have too big of a problem, but now LED lights would replace them." Sister Chang said that she had too many memories from the previous eras, especially during the holidays. She looked from Kowloon toward the neon light filled Hong Kong, which was truly beautiful. "Now the LED ones are just big, neon light signs were thoughtfully crafted by hand. Each one is an artwork." Sister Chang and Chou Han Ning earlier for the movie went to learn to make neon lights. Sister Chang said that after finishing the film she no longer had contact with neon light. Instead Chou Han Ning continued to learn and even successfully made a heart shaped neon light. Was it for his girlfriend? He said, "I don't have a girlfriend yet, when I do I would give it." Sister Chang pretended to be jealous and said, "You said it would give it to me but you didn't, you are all talk!" Chou Han Ning awkwardly said, "Relax, for Mother's Day I would make another light sign that could be on the table for you. It would be a surprise." Sister Chang joked that she knew his skills were limited, so she would not ask for too much.
Sylvia Chang with LIGHT would compete for the 41st Hong Kong Film Awards Best Actress, while Henick Chou Han Ning received a Best New Performer nomination. Was Sister Chang confident about winning the Hong Kong Film Award Best Actress afer winning the Golden Horse Award? Sister Chang said, "The good performance is something that I should give, winning an award is luck. Don't ask me this question again. Since I have answered it for decades, I won't answer it anymore. Actually I already did pretty well to be nominated, even if I wasn't I still did pretty well." However Sister Chang was the happiest for Chou Han Ning and also picked him to win. Sister Chang joked, "I am pretty mad, at the earlier advanced screenings everyone only talked about him and praised him for his good performance1" Chou Han Ning received praised from his elder but would still remain humble.