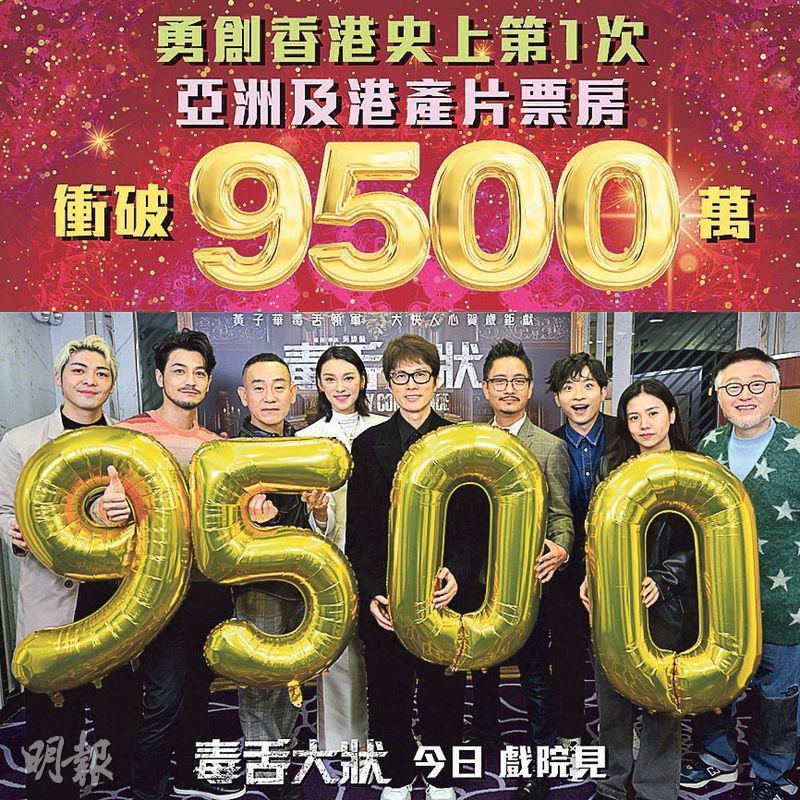 courtesy of mingpao.com
Dayo Wong Tze Wa, Gardner Tse Kwan Ho, Renci Yeung Si Wing, Dee Ho Kai Wa, Fish Liew Chi Yu, Louise Wong Dan Nei and Adam Pak Tin Nam starred Lunar New Year film A GUILTY CONSCIENCE (DUK SIT DAI JONG) since opening on the Lunar New Year's Eve (January 21st) has been going strong at the box office. As of yesterday after 28 days in release its box office has exceeded HK$ 95 million, the Asian and Hong Kong film record in Hong Kong film history with only HK$ 5 million to go before reaching HK$ 100 million.
The film company yesterday on social media announced the good news that A GUILTY CONSCIENCE passed HK$ 95 million and later would count down to welcome HK$ 100 million at the box office. "Thank you everyone for your continuing support. We know everyone is watching the box office as intensely as the stock market, so later we would count down with every HK$ 1 million, 96 mil! 97 mil! 98 mil! 99 mil! 100 mil! and witness this Hong Kong film historic new chapter together. Thank you again to every viewer, we will keep seeing you at the movies." Wong Tze Wa posted on social media, "Humans are addicted to round numbers, we are in the middle of jonesing for it." Many online said that they looked forward to breaking HK$ 100 million at the box office, and some said that they would go to see the movies again then to celebrate.