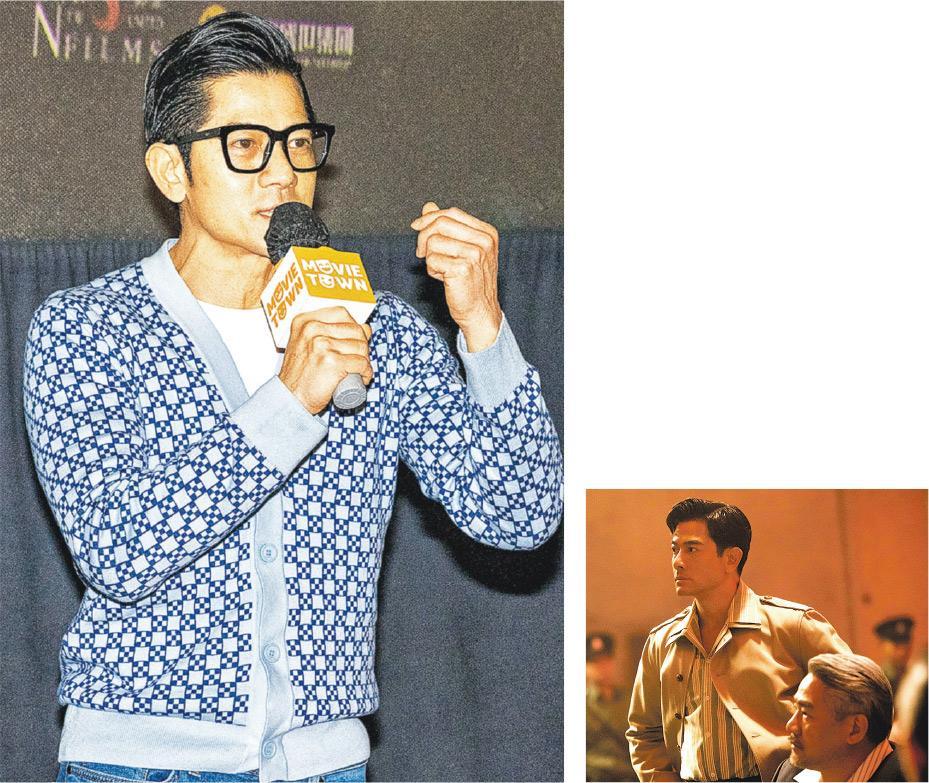 Aaron Kwok reveals when he gained weight for Lui Lok he had hot pot every night then went to bed. Before the shoot he would down a liter of water for the big belly.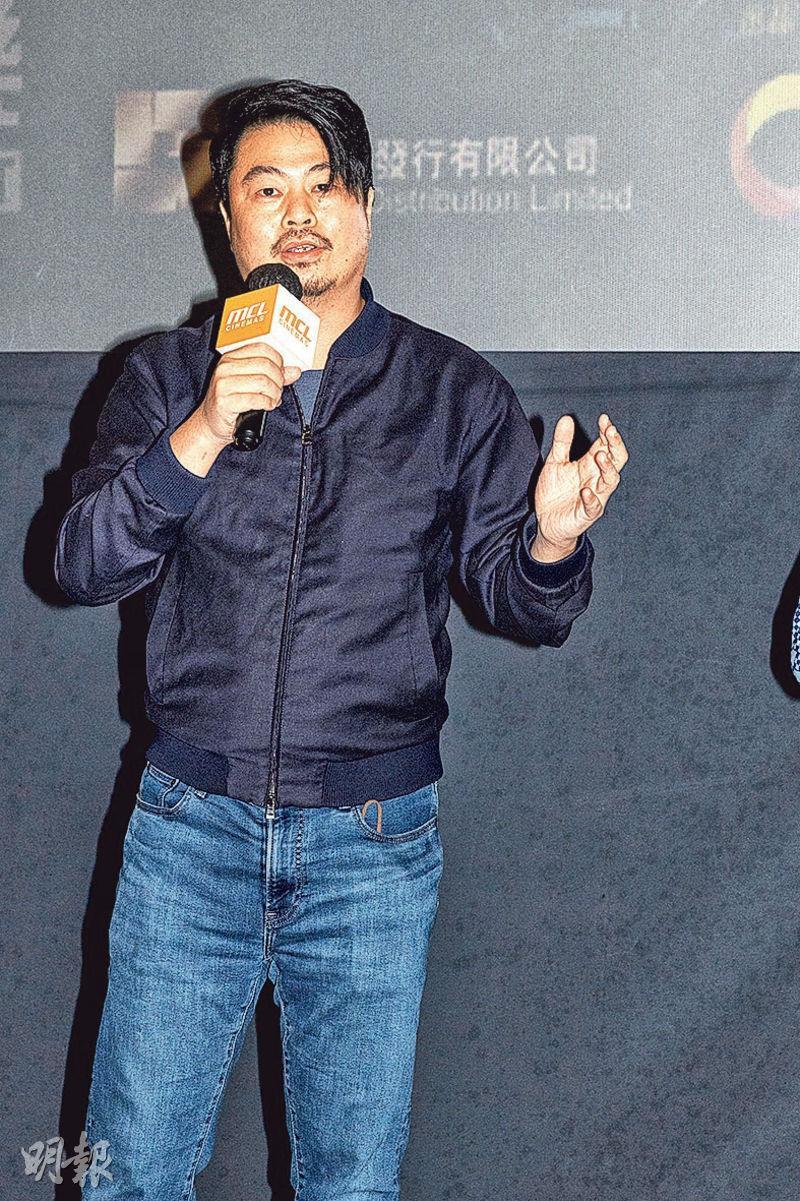 Philip Yung wishes that the audience would watch WHERE THE WIND BLOWS with their hearts and feel what he wants to express

Aaron Kwok, Patrick Tam and director Philip Yung two days ago attended 7 audience appreciation shows and promoted their new film hard
courtesy of mingpao.com
The Philip Yung Tsz Kwong directed, two Best Actors Tony Leung Chiu Wai and Aaron Kwok Fu Sing starred WHERE THE WIND BLOWS (FUNG JOI HEI SI) cost over HK$ 200 million to make. Its Mainland box office was less than expected and the film received negative reviews. Director Yung Tsz Kwong earlier on social media wrote an over 2,700 word post, saying that because of "co-production film" he was sentenced to death and being boycotted because he spoke up for Mabel Cheung Yuen Ting. He questioned whether he should keep making movies and wished that everyone would give him a chance and go to the movie. Yung Tsz Kwong two days ago with Kwok Fu Sing and Patrick Tam Yiu Man attended 7 audience appreciation shows. Criticized online for making a co-production film in order to make money, he emotionally stressed that he truly wanted to make a movie for Hong Kong. Seeing the audience's negative reviews and response broke his heart. He and Kwok Fu Sing both hoped that everyone would use their hearts to experience WHERE THE WIND BLOWS and not be influenced by others.
WHERE THE WIND BLOWS officially opened in Hong Kong on the 17th, as of two days ago (the 18th) it made HK$ 3 million. Yung Tsz Kwong two days ago along with actors Kwok Fu Sing and Tam Yiu Man attended 7 shows in Kowloon and the New Territories for audience appreciation events and share their production experience with the viewers. The 5 PM show was almost sold out. After the screening, Sing Sing was in glasses and casually dressed when he appeared. The entire audience applauded and cheered and he waved and smiled in response.
Yung Tsz Kwong revealed that when he worked with Sing Sing on PORT OF CALL (DAP HUET CHUM MUI), he has already conceived a movie that wanted to express Hong Kong nostalgia without any fighting, killing or commercial elements. He wanted to take the audience to relive certain major event that passed in Hong Kong decades ago, and hoped that the audience would have their own thoughts after watching. That was the original intentions of making WHERE THE WIND BLOWS for him. Sing Sing agreed, "In the past many people have already made movies about the Four Great Detectives. This film didn't have planes and cannons; it depicted love, spoke of many human nature problems, interpersonal relationships. I felt that it was another layer, as long as one shot, one line touched everyone I felt it was already successful."
Tam Yiu Man described his character as a little devious and crass. He admired the well written script and the outstanding co-stars. The most memorable was the mahjong scene with Sing Sing in which he was slapped. He stressed that the cast and the crew for the good of the film contributed a lot of effort and sweat. He hoped that everyone would agree and go to support the movie. Tam Yiu Man and Sing Sing were good partners in the film and good friend off the camera. During the audience appreciation event they happily embraced.
A great dancer, Sing Sing revealed that for the tap dancing scene he before the shoot went to a teacher for a refresher. He revealed that after his concert performance in 1994 for years he has not tried to tap dance again. He revealed that for the opium scene, he relied on his father recalling how his grandfather and great grandfather used opium and then added in some imagination. Some viewers said that the most surprising was the big belly on the always fit Sing Sing. Sing Sing rubbed his belly and joked, "The big belly is real, no special effect. When for a week you had hot pot every night then went straight to bed, before the shoot you downed a liter of water you would be able to achieve this result. However after the shoot I had to go to the bathroom like mad."
Sing Sing recalled the first day when WHERE THE WIND BLOWS started rolling happened to run into the birth of his daughter. Now she is already 3 years old. The memory of this film for him was particularly deep. He said that the film was shot in a romantic style, which echoed how he felt. "What everyone pursue in life in the end are still family, love, then they would be able to pass on and develop their dream. WHERE THE WIND BLOWS is a Hong Kong film that is seen less and less, a movie that truly belongs to Hong Kong and its people." Some viewers praised Michael Hui Koon Man's smart dialogue was well performance, and were shocked to hear Sing Sing and Leung Chiu Wai use foul language for the first time in the film.
Yung Tsz Kwong said that WHERE THE WIND BLOWS was 10 times more difficult and tougher than when he made PORT OF CALL (DAP HUET CHUM MUI). As for online criticism that he made the co-production film to make money, he somewhat emotionally said, "What I made from shooting two commercials is definitely more than the director job of making this movie for 6 years. I didn't make this movie to make money, I really wanted to make a movie for Hong Kong. Seeing the audience's negative review and response, I felt very heartbroken. I have considered whether I should keep being a director. Whether everyone like it or not, I really hope that everyone would watch and experience their heart what I want to express in the end."
Yung Tsz Kwong said that if he wanted to screen a director's or an extended cut, he would need to pass inspection and some restrictions. The "concentrated edition" that is in release now he was also very pleased with. Sing Sing strongly supported Yung Tsz Kwong. "I know the internet has a lot of frauds or keyboard warriors, maybe they feel they don't like it so they leave negative reviews. I really hope that everyone would watch with their hearts, not to be influenced by others. I want them to know that we wholeheartedly gave our all to make a good movie." Later they posed for a group photo with the audience and left.