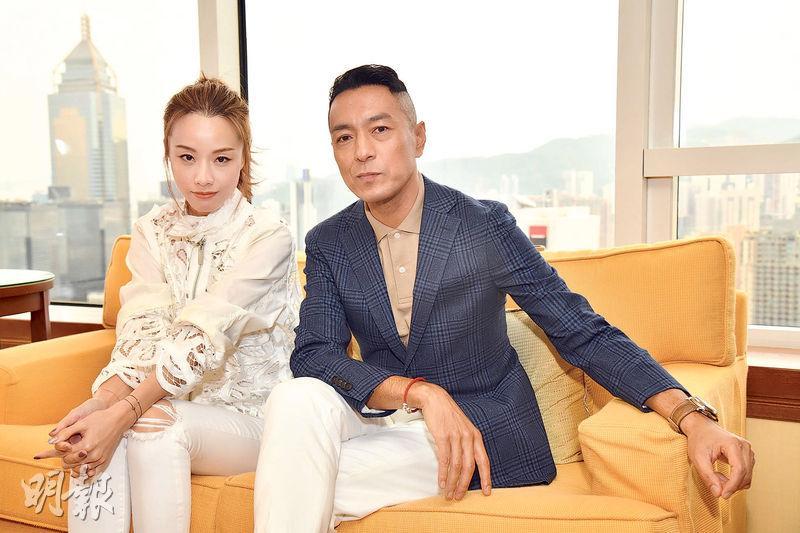 Philip Keung says Stephy Tang's dark emotions on the set kept everyone at bay
courtesy of mingpao.com
Stephy Tang Lai Yan and Philip Keung Ho Man in the film SHADOWS (CHAN YING HUNG GAN) played a psychiatrist and a cop who investigate a murder case together. Stephy said that in the film she had the ability to dive into her patient's subconscious, while seeing their dark side she also had an indescribable dark side within her. The role was very dark and the emotions were very suppressed. Stephy's darkness kept even Hak Jai at bay. "On the set, I don't dare to speak with Stephy."
Stephy revealed that in order to get into her character and understand the murderer's criminal psychology, after getting the script she immediately watched many movies about murderers for research. She also issued a warning to her family. "Since I still was conscious, I would tell them in advance that during this period I would be low, not smile, which doesn't mean I am unhappy." Hak Jai felt that he too was a mental patient. He could get too much into his character in every movie, even at home he would still be in the character. "It was so serious that even my wife told me to see a doctor. (After the shoot how would you leave the character?) I would take a shower and eat chocolate like mad. My wife knows me very well, she wouldn't dare to take the initiative to speak to me. After awhile, I would ask her what's for dinner, then she would know that I have returned to normal." Stephy would choose to exercise to leave the character.
Hak Jai joked that he was destined to be a father in law. In many films in recent years he played the father of a daughter, including this time in SHADOWS. He revealed that in real life he would babysit his grand niece. He said, "My grand niece is super cute, everyday I watch her play and sleep. I am very happy. (Would you have one yourself?) Let's see." Would Stephy want to be a mother too? Stephy said, "Many friends are already mothers, babies are fun for a little while. As soon as they cry I would hand them back to my friends. I don't know why, when I see too many babies I instead would be scared. I am like Brother Hak Jai, let's see." Stephy stressed that she absolutely would not be an unwed mother.