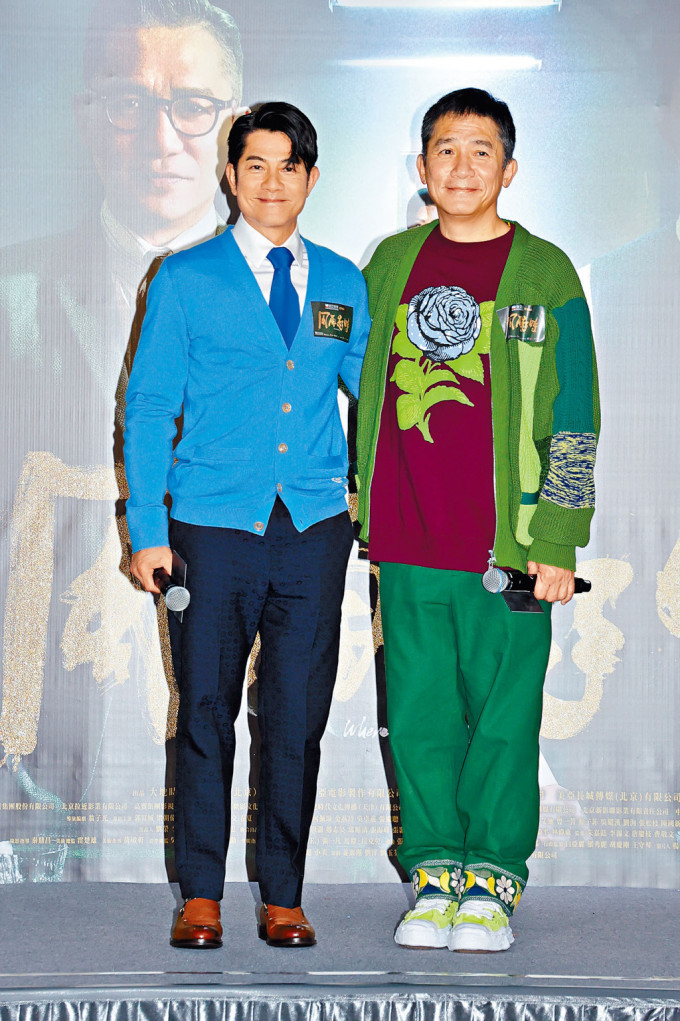 Best Actors Aaron Kwok and Tony Leung Chiu Wai work together for the first time
courtesy of singtao.com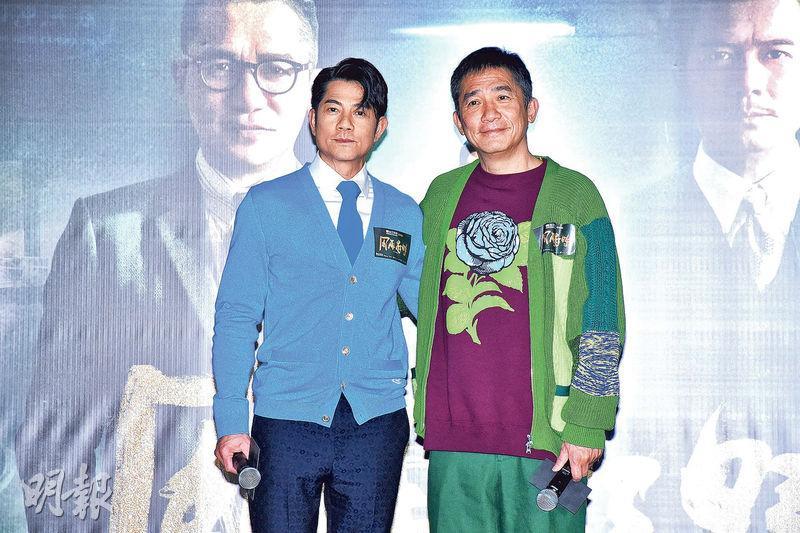 Two Best Actress have mutual respect and admiration for each other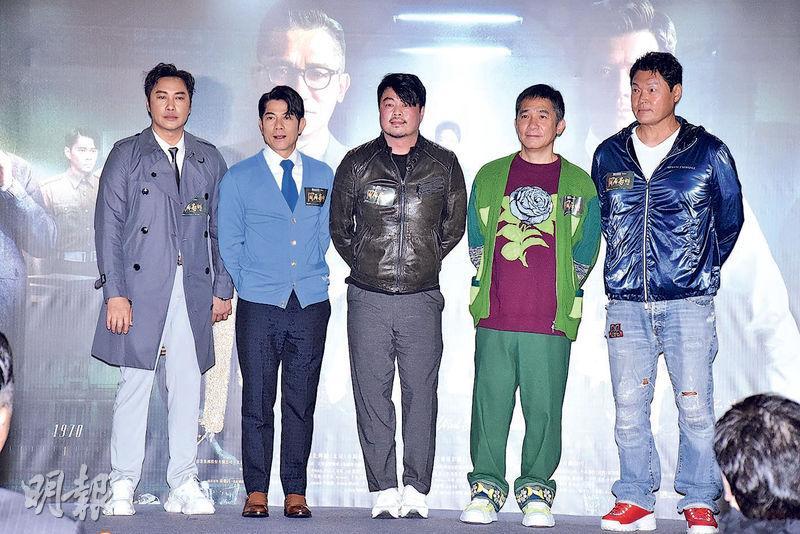 Patrick Tam, Aaron Kwok, director Philip Yung, Tony Leung Chiu Wai, Michael Chow attend the WHERE THE WIND BLOWS premiere to promote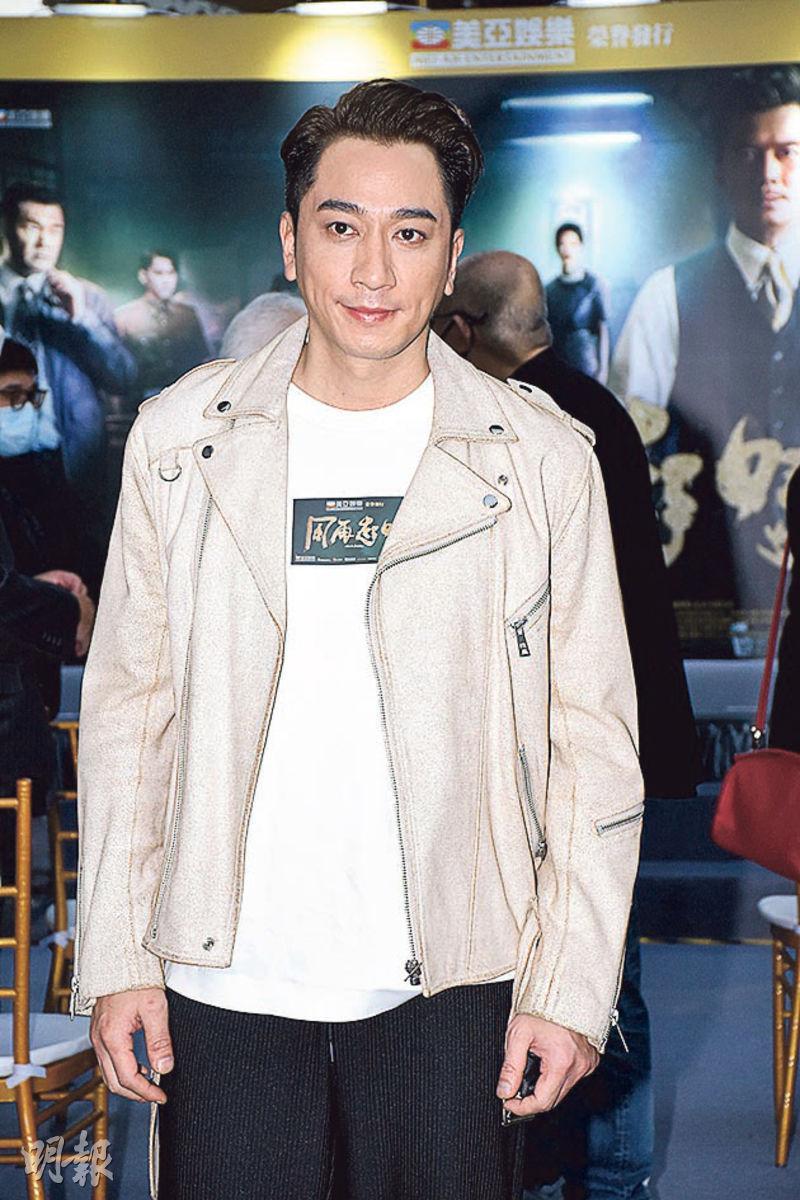 Ron Ng says that he has been learning from the two Best Actors from the sideline
courtesy of mingpao.com
Two Best Actors Tony Leung Chiu Wai and Aaron Kwok Fu Sing's first film collaboration WHERE THE WIND BLOWS (FUNG JOI HEI SI) last night held a premiere, the two lead actors wore eye catching colors of green and sky blue. Along with director Philip Yung Tsz Kwong, they and actors Ron Ng Cheuk Hei, Patrick Tam Yiu Man, Michael Chow Man Kin, Gardner Tse Kwan Ho, Jeana Ho Pui Yu appeared and attracted over 50 media outlets. Wai Jai and Sing Sing even shared their first collaboration and production experience. The two Best Actors were also stumped but being "played" and "slapped"!
The film WHERE THE WIND BLOWS' subject were the Four Great Detectives of the 50s and the 60s. Wai Jai and Sing Sing played Detectives Nam Kong and Lui Lok. Wai Jai said that the most memorable was before the shoot the director already asked him to play three songs on the piano. Because he had no instrument experience, he had to keep practicing hard. The process was rather tough, but as an actor in order to get into the character he felt it was rather interesting. Sing Sing pointed out that in the film he had to tap dance to Wai Jai's piano playing. Before hand he hired an instructor to practice with. He not only practiced many days, on the day of the official shoot he went all night and injured his heel. He had to wait until he got home before being able to apply ice. Although it was tough he thought it was worth it; as for the most memorable scene, he had to slap Wai Jai hard. Sing Sing said, "Faced with our beloved Wai Jai, I really couldn't do it. During the shoot I could only hypnotize myself and slap Wai Jai time after time!" Wai Jai laughed, "If you have to hit you hit, you have to follow the story. You can't worry too much!" When the host mentioned that if they would have another chance to work together, Wai Jai said that he hoped to play a complex and dark role like a serial killer; Sing Sing said that he hoped to play a role that he has never played before. He did not want to repeat any character. As for the other "two detectives" Tam Yiu Man and Chow Man Kin they described this team as "happy" and "dream". Yung Tsz Kwong also said that he probably was a philanthropist who performed a lot of charity work in the previous life to be lucky enough to work with two Best Actors.
Wai Jai and Sing Sing talked about WHERE wrapped up production five years ago and would finally be release, they were very happy and looked forward to it very much. The director and the team very professionally and seriously thought up a quality movie, and thus spent a lot of effort in hopes of the audience would like it, give it positive review and look forward to it as much as they do. Although five years have passed, Wai Jai pointed out that he still had an impression of the story, especially the piano playing scene. He still has not forgotten it yet because he spent a lot of time on practices. In order to coordinate with the background era he had to use a silent antique piano, he not only had to really play but also one of the songs was a very fast rhythm Jazz song. It really was very hard as he joked it was a big prank. However it was also a happy experience. The entire production process felt great, in addition he personally experienced the film's background era. The story was also very interesting. Sing Sing said that he was confident that the audience after watching this movie would be surprised, because no one would have thought that the subject of the Four Great Detectives could be made into such a story. However the most memorable was still slapping Wai Jai. Wai Jai comforted Sing Sing and said that for an actor acting was enjoyment, even if he had to take a hit. However this scene was a little stressful, because the cinematographer had to shoot by hand it had to be done in one straight take. There was no margin for error. Looking back, he had no idea whether he delivered the lines correctly; it was Sing Sing's turn to give Wai Jai a shot of confidence, as all three times were without any mistake. They were just like performing a play on the stage, only because he had to hit Wai Jai he had an enormous and invisible pressure. Speaking of the numerous Hong Kong film successes last year, since WHERE had two Best Actors would they have any expectation? They both hoped that the box office performance would be ideal. Wai Jai said that of course he hoped to have the encouragement of many people, but he did not want to give the director too much pressure; Sing Sing felt that the box office would be beyond his control, but as an actor he has already given his greatest effort.
Ng Cheuk Hei said that earlier at the film festival he has already seen WHERE. He was also very happy that he was able to work with two great idol Best Actors. As for the most memorable scene he said it was in the end when Sing Sing put the handcuffs on him but they had a feeling of mutual respect, and the large scale gun fights.