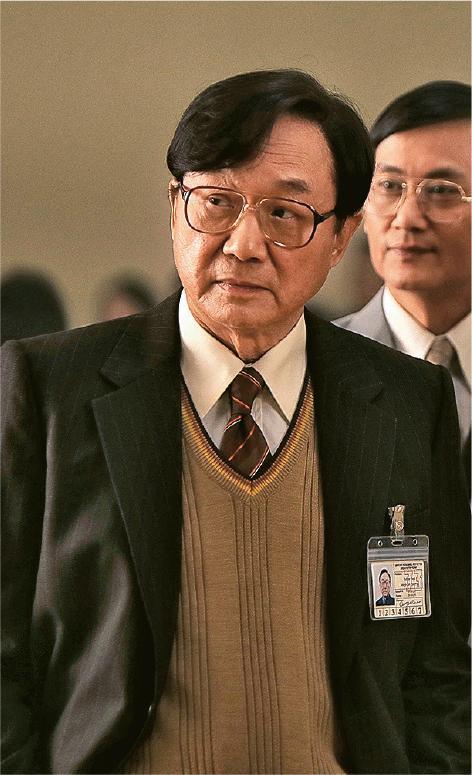 Michael Hui personally changes the English monologue to speak from his heart to Hong Kong
courtesy of mingpao.com
The film WHERE THE WIND BLOWS (FUNG JOI HEI SI) brought together a cast that was rarely seen in the Chinese film scene. Aside from two Best Actors Aaron Kwok Fu Sing and Tony Leung Chiu Wai as two great detectives Lui Lok and Nam Kong, the master class Best Actor Michael Hui Koon Man, Patrick Tam Yiu Man, Gardner Tse Kwan Ho, Elaine Jin (Kam Yin Ling) and other actors of substance also held down the fort.
The film's subject was the 50's and 60's all-powerful "Four Great Detectives". Hui Koon Man in the film played the Independent Commission Against Corruption official Lee Tze Chiu, who battled brains and brawn against the "Four Great Detectives". Lee Tze Wa in the end met with many foreign officials, trying his best to convince them to strictly deal with law enforcement's corruption. In it he had to act while delivering a 5 minute long thought provoking dialogue in English. Hui Koon Man said, "I am very happy to make WHERE THE WIND BLOWS. Because I have experienced 60's and 70's Hong Kong, for me the production seemed to have brought me back to the past."
When Director Philip Yung Tsz Kwong mentioned inviting Hui Koon Man to perform in WHERE THE WIND BLOWS, he was turned down many times until Hui Koon Man read the script. In particular after that English dialogue, he empathized and agreed to perform. Hui Koon Man even changed the English dialogue. The director said that dialogue was what Hui Koon Man wanted to say to the Hong Kong audience, it would absolutely be able to represent what Hui Koon Man wanted to say to Hong Kong from the heart. Yung Tsz Kwong recalled that after shooting the English monologue, Hui Koon Man asked him how was the performance. Hui Koon Man's performance moved him to tears on the spot.
Hui Koon Man successfully brought life to the character. Many who have seen the premiere and the previews praised his performance as very surprising. The English monologue scene was the most memorable. His gold class acting abilities also caught the admiration of the award show voters, as he was nominated for the 16th Asian Film Awards and the 41st Hong Kong Film Awards Best Supporting Actor.