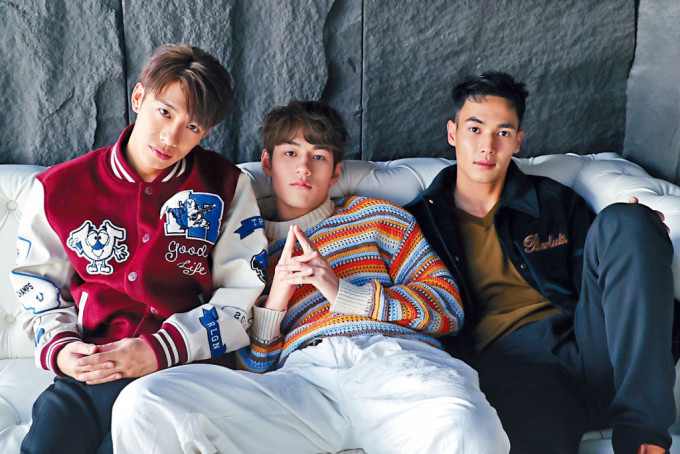 Kaho Hung, Jeffrey Ngai and Angus Yeung in the course of making EVERYTHING UNDER CONTROL suffer different levels of injuries
courtesy of singtao.com
Jeffrey Ngai Chun Sun, Kaho Hung and Angus Yeung Tin Yue in the film EVERYTHING UNDER CONTROL (CHIU SUN GAING HAI GIP ONG HA) poured themselves into their performance. Jeffrey and Angus got hurt from fighting but could only toughed it out. Kaho got splinters all over his arms from climbing a tree. Although the production was difficult, they felt that this was a rare opportunity and experience that were worth all the effort.
Ngai Chun Sun, Hung Ka Ho and Yeung Tin Yue took part in the Emperor Motion Picture EVERYTHING UNDER CONTROL. The trio had a lot of action scenes in the film. Jeffrey and Angus even fought each other in a scene, but both got hurt. For the performance they could only tough it out.
Jeffrey said, "Both of our injuries were a little exaggerated. I didn't have a lot to work with to begin with, as soon as I started I had to jump kick. After over a dozen takes, in the first hour I already pulled something. Despite the pain I kept going. After toughing out the day I needed first aid." Angus said that they made low level mistakes of not warming up and stretching before hand. He and Jeffrey both needed acupuncture therapy. Angus admitted that the injury affected his performance, which he was a little upset and disappointed over. Jeffrey agreed and said that after pulling something every step hurt. The pain also slowed down his kicks.
Angus joked that he and Jeffrey got to know each other through fighting. His first scene with Kaho was seeing him remove his pants, which left a deep memory for him. Kaho said that this pants removal scene he had to overcome his psychological barriers. His character like a cat had nine lives and was immortal. He said, "The toughest was climbing the tree and wire work. The tree gave me splinters all over my arms. In addition, in the film my faces was covered in blood 70% of the time. When the blood got into my eyes it was very irritating. The emergency medic immediately washed out my eyes." In addition, Kaho 10 days after the wrap had concerts to perform. He said that he worked on the movie in the morning and rehearsed at night. He also could not eat to reduce stress. He stated that the month of making the movie was the toughest days he had as a singer, but he felt that the rare experience was worth the effort. Jeffrey also had to disrobe, thus he trained to get into shape. However he pointed out Angus was the one who carried the muscle load. Kaho also said that Angus's shape made the public enemy of men. Jeffrey praised Angus as Mr. Fitness, but Angus revealed that in the film he only got to show off for a second.
Working with Hins Cheung King Hin and Ivana Wong Yuen Chi for the first time, Jeffrey said that as everyone knew Lord Hin was a very nice person. After getting to know him he realized that he was actually very playful, had the heart of a child and had no arrogance at all. He joked that he often tested Lord Hin's bottom line; Ivana on the other hand had great comedic rhythm. Kaho said that Ivana was also playful. From the two elders they learned to be professional, no matter how rough the production was they never complained. Angus agreed that Lord Hin and Ivana had a lot of heart on the set. For the final argument scenes, they put a lot of effort into studying the script so the result would have even more spark.