Louis Cheung is all over the Spring Banquet, and takes a photo with Vivian Chan
From a small company of three to today, Louis Koo's contribution over the past 10 years could be seen
Dada Chan,Jessica Hester Hsuan and Stephanie Che get thirsty from all the talking, take a breath and have a drink first
courtesy of on.cc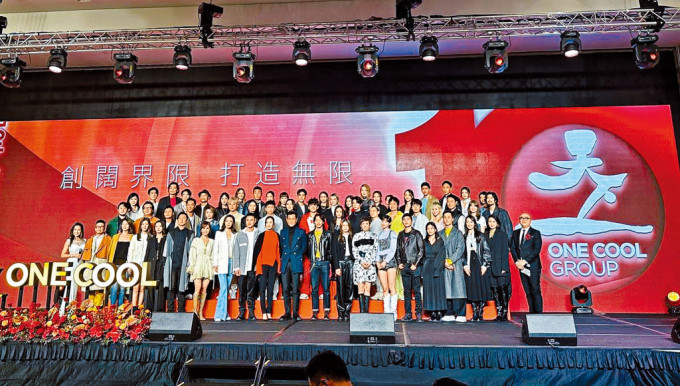 During the group photo Jessica Hester Hsuan and Louis Cheung stand next to Louis Koo, showing how important they are to the company
courtesy of singtao.com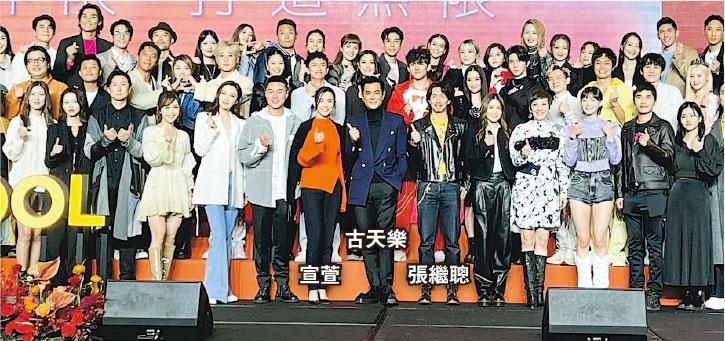 courtesy of mingpao.com
Louis Koo Tin Lok's film company two nights ago held its spring banquet. Its artists Louis Cheung Kai Chung, Chrissie Chau Sau Na, Dada Chan Jing, Jessica Hester Hsuan (Suen Huen) and others all made their appearance. Goo Jai turned into "Fortune God" and gave away cash prizes, unfortunately Cheung Kai Chung never won no matter how many times he drew. Even when Goo Jai added to the prizes, he still came up empty.
Goo Jai's One Cool Film stepped into its 10th anniversary. Two nights ago it held spring banquet in Hung Hom. Its artists Cheung Kai Chung, Suen Huen, Chau Sau Na, Chan Jing, Lynn Xiong (Hung Doi Lam), Raymond Wong Ho Yin and others attended. Many artists took turns to sing on the stage. When Cheung Kai Chung performed he brought the evening to its climax, as many stood up and danced. During his performance he had the strong support of a group of young female artist like Jennifer Yu Heung Ying and Yuen Lai Lam. Chan Jing even presented flowers on the stage, but Cheung Kai Chung joked that he did not accept flowers -- except cash flowers. Cheung Kai Chung on social media shared the video and joked that "even in middle age there is still home in life." He even said, "the young goddesses' reaction in the audience is like this, this is what is called strong! They are all outstanding actors, goddesses thank you for your kindness." Even his wife Kay Tse On Kay posted messages in envy, saying that she really wanted to see these goddesses cheer.
Goo Jai not only became the "landmark" at the banquet and kept asked to pose for photos, but also turned into "Fortune God" and generously gave away cash prizes. Unfortunately Cheung Kai Chung never won no mater how he tried, so he asked for more prizes. Goo Jai immediately tossed out HK$ 60,000 and increased to 8 HK$ 10,000 cash prizes. Cheung Kai Chung could only benefit everyone except himself. Among the artists only Mandy Tam Man Huen drew a HK$ 10,000 prize.
The Spring Banquet had almost 30 tables. Goo Jai on the stage said that from three people at first, the company has now developed to over 100. He had a lot of emotions mixed within, looking back now he wanted to cry a little. However he insisted against shedding tears. In addition, he also mentioned the meaning of the company name. "The company's Chinese name is Tin Ha Yut (One Under Heaven), its English name is One Cool, actually they mean all for one, one for all. Everyone must unite to be able to create the future that 'we' want to see." He credited the company's success to the effort of everyone. During the group photo Jessica Hester Hsuan and Cheung Kai Chung were next to Koo Tin Lok, showing their positions as the favorites. Wong Ho Yin, Hung Doi Lam, Chau Sau Na, Chan Jing, Candy Yu On On, Angela Yuen Lai Lam and others stood in the center of the first row so they were just as important to the company.
Each employee who has been with the company for 10 years received a commemorative coin two years ago. On one side was the company name, and on the other was the WARRIORS OF FUTURE (MING YUT JIN GEI)'s armor design.