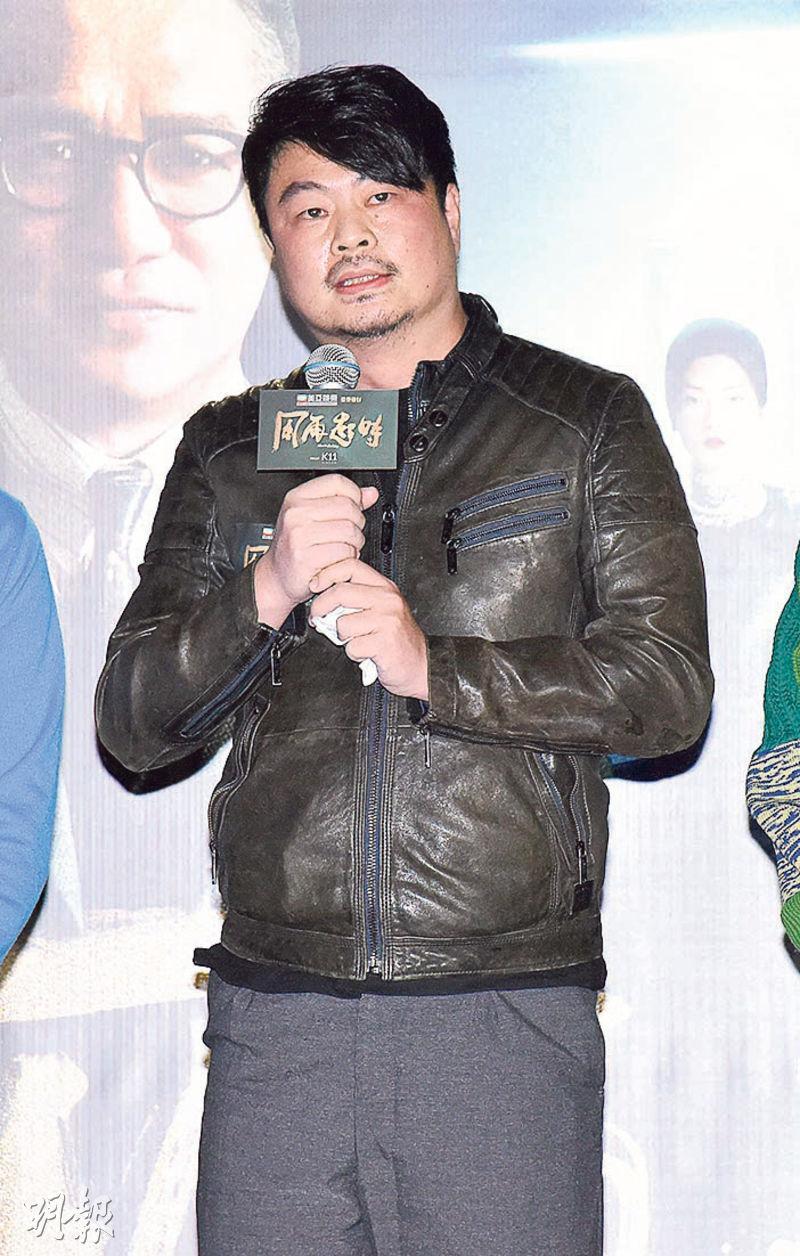 Director Philip Yung before WHERE THE WIND BLOWS' Hong Kong release writes 7,200 word post, pleading to viewers to give him a chance and go to his movie
With two Best Actor Tony Leung Chiu Wai and Aaron Kwok, WHERE THE WIND BLOWS after 13 days in release in the Mainland has made less than 50 million RMB at the box office
courtesy of mingpao.com
The Tony Leung Chiu Wai and Aaron Kwok Fu Sing starred WHERE THE WIND BLOWS (FUNG JOI HEI SI) cost over HK$ 200 million to make. This film on the 5th open first in the Mainland, but its box office performance has been brutal and reviews negative. After 13 days its box office was only 47 million RMB. WHERE THE WIND BLOWS yesterday officially opened in Hong Kong. Director Philip Yung Tsz Kwong before the release on a social media platform with the subject "See you, see you never again" wrote a 2,700 word post, in which he mentioned getting a death sentence over "co-production film" and being boycotted for speaking up for Mabel Cheung Yuen Ting. He said he lost sleep not because he was tense about WHERE's response, but of self suspicion of whether he should keep making movies? Finally he pleaded with the audience for a chance. "I plead to everyone, give me a chance, watch this movie!" As of 6 PM yesterday its cumulative box office was near HK$ 560,000.
WHERE THE WIND BLOWS starred two Best Actor and received 8 Hong Kong Film Awards nominations, but nothing would save its Mainland box office. According to Maoyan film box office, after 13 days its box office was 47.109 million RMB. Its scheduling occupancy rate went from 12.6% on its opening day down to only 0.3% due to poor box office. Some pointed out that the film was not the expected Hong Kong criminal commercial film but a drama. The director wanted to express too much, which left the film obviously in bits and pieces. Yung Tsz Kwong reported his concerns over the box office to Wai Jai. Wai Jai comforted him and said, "Every movie is an experiment that makes us even better."
Yung Tze Wa yesterday on social media platform made a long post, saying that this film took 3 years to make then waited another 3 years before it was finally released. However the result was "falling flat on its face" at the Mainland box office. The Mainland film scheduling situation was in the early morning or late at night. The online reviews have been thoroughly polarized, some gave it 4 to 5 stars while others only gave it 1 star "Directly fell sleep, left the show early" and described it as "a piece of dung". He said that after returning to Hong Kong he once felt like he saw the light at the end of the tunnel, as industry insiders gave him good reviews and encouragement. However what left him angry and speechless was the attack on his political stance, as he was made out to be someone who would "ingratiate himself to others." He said, "It's as if they never knew me, neglecting the me who has always dared to speak up in any area, triggering me......if 'co-production' is punished by death, then the first person to die would definitely be me." He said that he toiled to borrow resources in order to bring the Hong Kong of yore with art, fashion and cinematography, was that not an effort? He firmly believed that in this era, "even if you are unable to tell the truth, you can't lie either." He made a "Hong Kong film" that belonged to his own range of perception, without any guilt in his heart.
Earlier Yung Tze Wa expressed his opinion about the TO MY NINETEEN-YEAR-OLD SELF (CUP SUP GAU SHUI DIK NGOR) incident, which led to him being boycotted against. He said, "All I said that I wish everyone wouldn't lump an elder director who made what I felt was a good movie with the others. I didn't say she didn't make a mistake, even she admitted it. The film also finally ended its run. I only thought that it wouldn't be necessary to knock her down to the 18th level of hell. The matter could be resolved with civility. Then it turned into me and this elder had a 'profitable relationship'...... Hong Kong, is it still the place I know? Do I still need to make movies for this city?" Making WHERE THE WIND BLOWS was his dream since childhood for Hong Kong and Hong Kong film. It also expressed his view on life. "Life is like morning fog and smoke in the cloud, when the wind blows it would vanish."
Yung Tze also responded to the numerous shade and metonymy that many viewers saw as "speaking in an undetailed manner". Film distribution asked for the film to be screened in 2 hours, but he asked for 2 and a half hours and expressed the feeling that he wanted to express. However in the end the film was accused of editing "troubles". He explained that it was not an editing issue, but his own. He thought that since he only had one chance, he was being greedy. He could not accept an even shorter edited version. He believed that someone would be able to see the deeply hidden meaning and emotions in the film, thus he took the risk and made such a decision.
Some online criticized him as the low class version of Wong Kar Wai. He said that he was much, much worse. Wong Kar Wai was direct and carefree, with talent oozing out of him. He pointlessly but stubbornly created just like a stupid and clumsy elementary school student. He also explained why a child would pass by during a gun fight. "That child who isn't afraid to die, I can tell you with embarrassment, that is me."
Yung Tsz Kwong gave a salute to the film's cast and crew, and apologized to viewers who did not like this movie. He said that this movie was made for the big screen. If you plan to watch it on the computer in the future, then you might as well not watch it. If after watching it once you felt like it was like looking at flowers in the fog, then he hoped that everyone would watch it once more. He would be willing to buy a drink or coffee to make up for it. In the end he said, "A movie like this, I would and could only make once. Thus, see you, see you never again."