courtesy of on.cc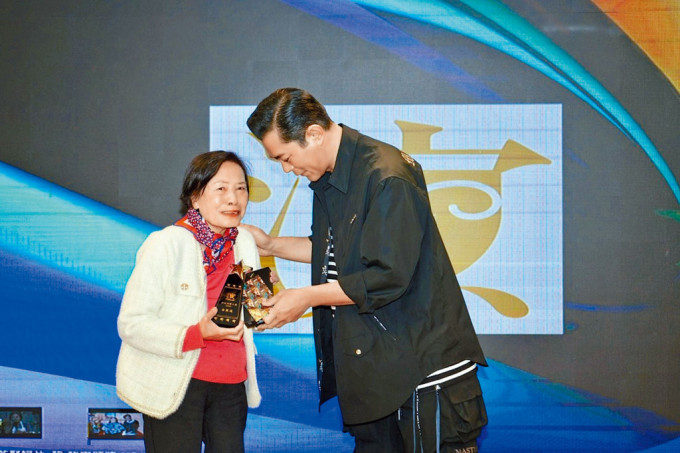 An emotional Yu Mo Lin accepts the "Outstanding Performing Art Awards" from Louis Koo
courtesy of singtao.com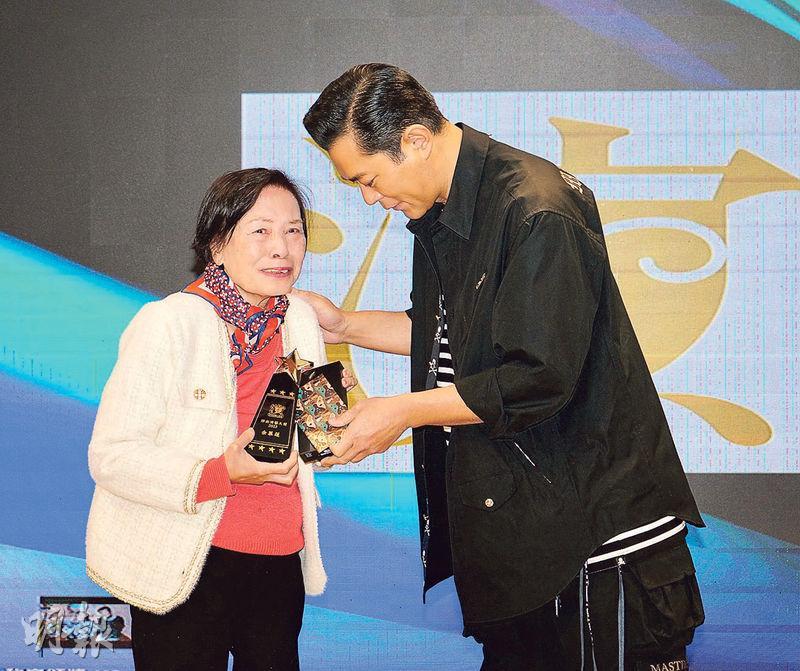 Yu Mo Lin is moved to tears by the award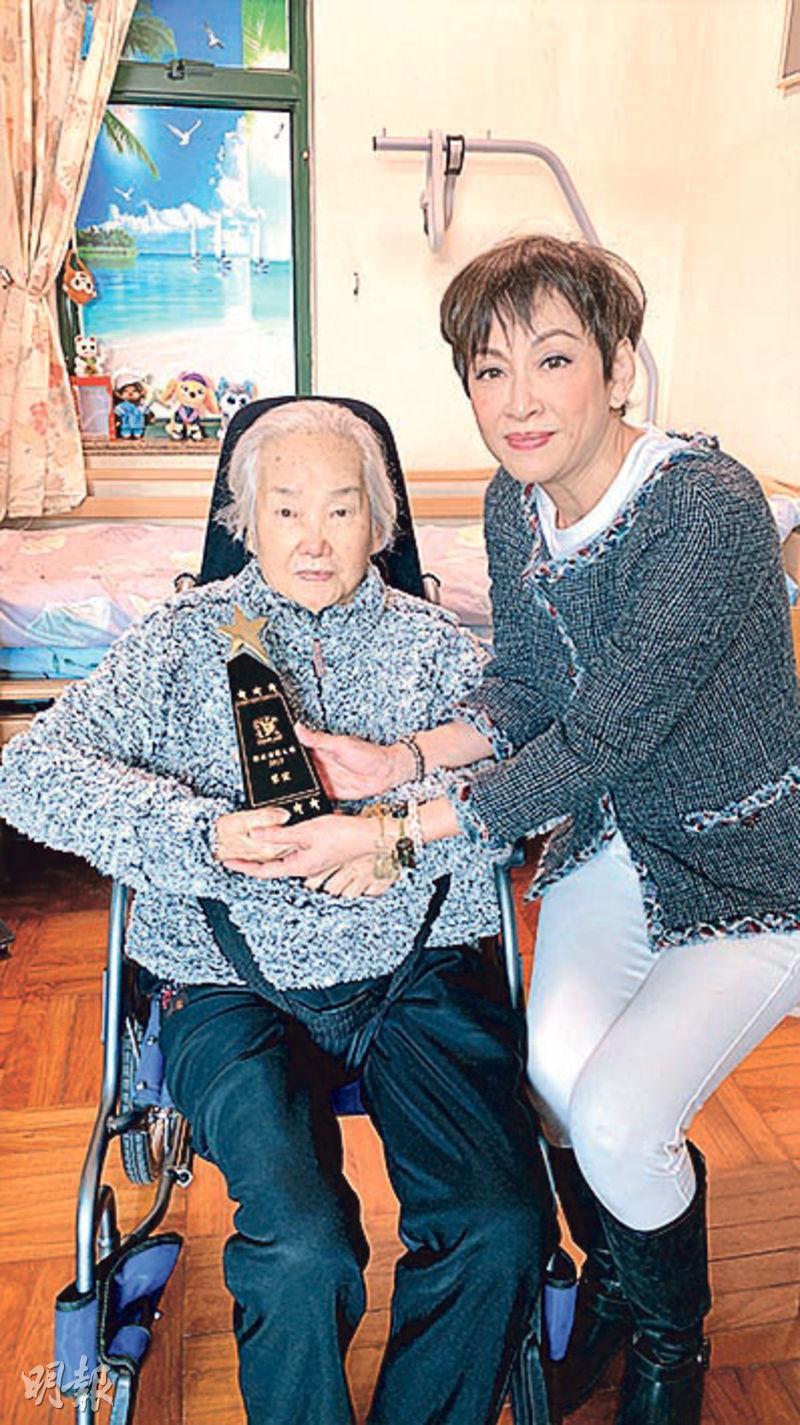 The 92 year Lai Suen is unable 3to attend the tea party. Vice president Candy Yu goes to her home and present the award to her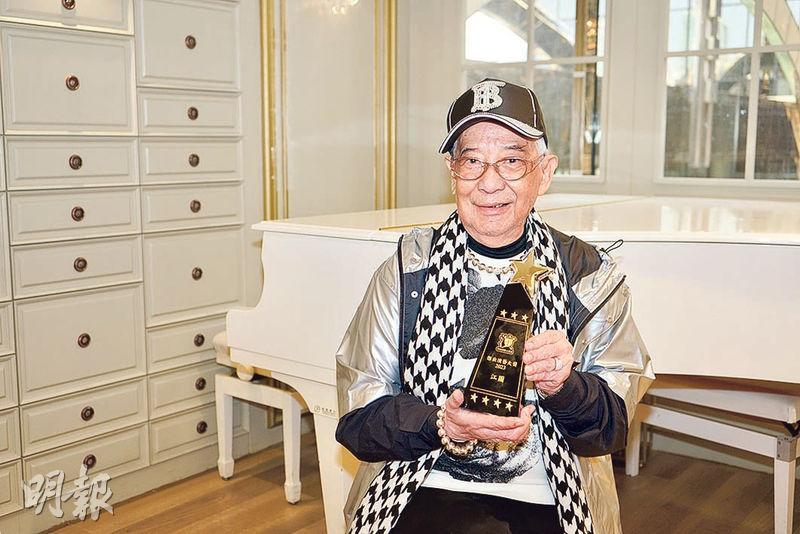 Kong To receives the Outstanding Performing Art Award and jokes that he is not so old that he cannot walk, he can still perform for the audience.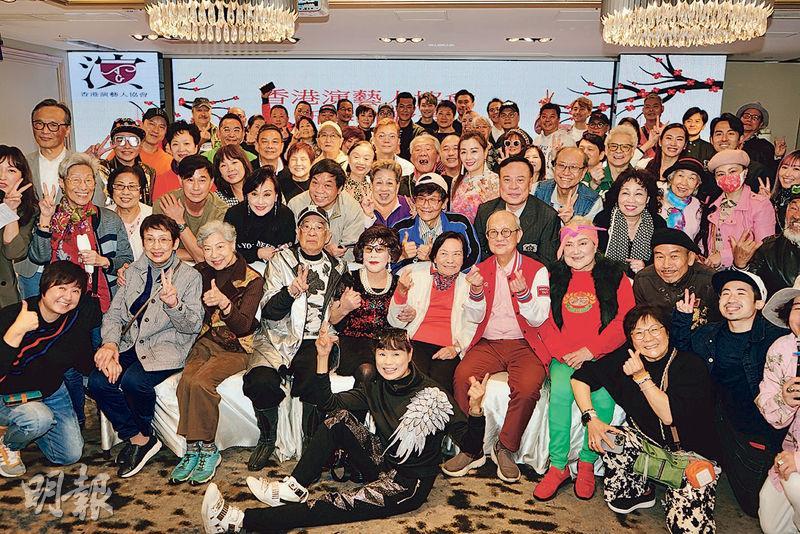 The PAG after 3 years brings back the Spring tea party, with over 100 members in attendance
courtesy of mingpao.com
After the pandemic, the Hong Kong Performing Artist Guild after 3 years earlier again held a spring tea party that attracted over 100 members like Helena Law Lan, Yu Mo Lin, Fung So Bo, Wong Ha Wai, Ting Yu, Susan Shaw Yam Yam, Cheung Lui and others. The Guild announced that starting this Spring Banquet, the "Outstanding Performing Art Award" would be added to honor elder artists who have given performing art their valuable youth and made numerous contributions. Yu Mo Lin, Kong To and Lai Suen were the first winners. Yu Mo Lin shed tears of joy when she accepted the award on the stage, sobbing as she thanked President Koo Tin Lok for taking care of them.
The Performing Artist Guild at the Spring Tea Party added the presentation of the Outstanding Performing Art Awards. President Koo Tin Lok personally presented the awards to elder artists, one of the winners, the 92 year old Lai Suen received the award at home from Vice President Candy Yu On On. Lai Suen looked very sharp on camera and even said that she felt happy to receive the award.
At the tea party two elder recipients Yu Mo Lin and Kong To personally accepted their awards from Koo Tin Lok. When Yu Mo Lin accepted the award she was emotional and moved to tears. She got choked up as she said, "Thank you thank you, today I am very happy to see so many old friends. I haven't seen them in several years. Thank you President (Koo Tin Lok) for taking care of us all and continuing to hold more events." Yu Mo Lin admitted that after decades in film she has never won any award, so she was very surprised. "I am very touched that someone gave an award to me, I thought I wouldn't be able to have an award in this lifetime. I used to walk all over the Five Station Hill, people called me Five Station Lin but I have never had an award. I comforted myself and told myself that my home was small and had no place for it. Today I am very surprised to receive an award on my performing art journey. I would put this award in the living room."
Yu Mo Lin has had pulmonary fibrosis since 2020. She had to stay at the intensive care unit. After her release from the hospital she has been actively recovering. Although when she walked she still needed a walker's assistance, but through the tea part she was in decent spirits and spoke smoothly. Yu Mo Lin said, "Many people who went to the ICU might not be able to come back out, so I am very grateful. The doctor said there is no cure. I can only get two targeted shots every year to keep it from coming back. If it does then it's bye bye, but I am not scared. Everyone has to die, the most important is to go in your sleep, not to suffer very much, not to be in a hospital. Earlier laying at the hospital for half a year was really very tough; now early in the morning I would ask Sister (the caretaker) to go to the park with me. The doctor told me to walk more, otherwise the muscles would contract. After walking in the park I would go to use the cycling machine at MacPherson."
Another winner elder Kong To was deeply elated to receive the award. He said, "I really like to act, in the future you can still ask me to perform. Although my role earlier in SUK SUK was small, I was very happy. I hope to have a chance to act again. I am not so old that I can't walk, I can still perform for the audience."