courtesy of on.cc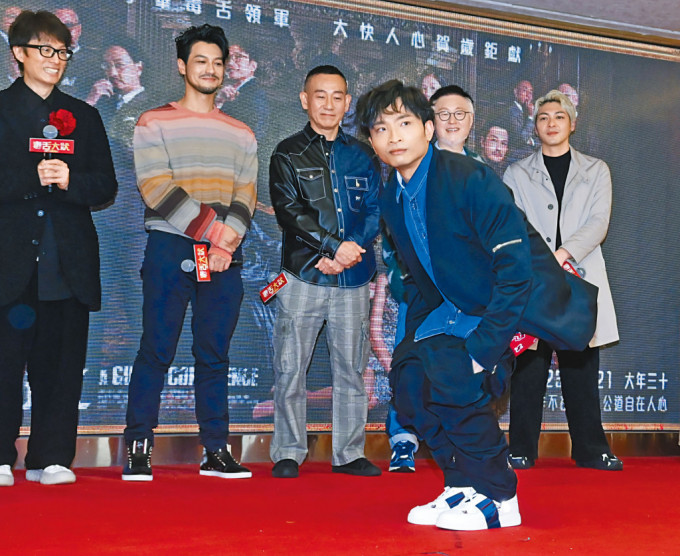 Dee Ho fulfills his promise and drops his pants to celebrate the film's HK$ 80 million box office
courtesy of singtao.com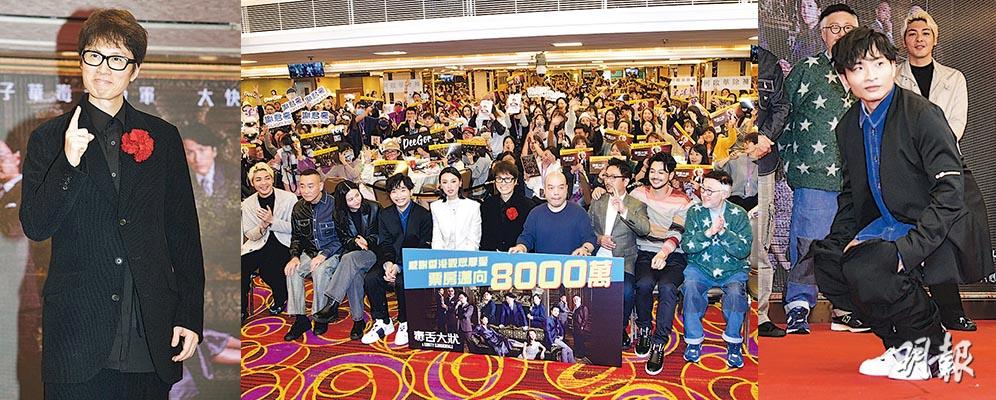 A GUILTY CONSCIENCE held an 100 table, 1000 people banquet to celebrate the film passing the HK$ 80 million mark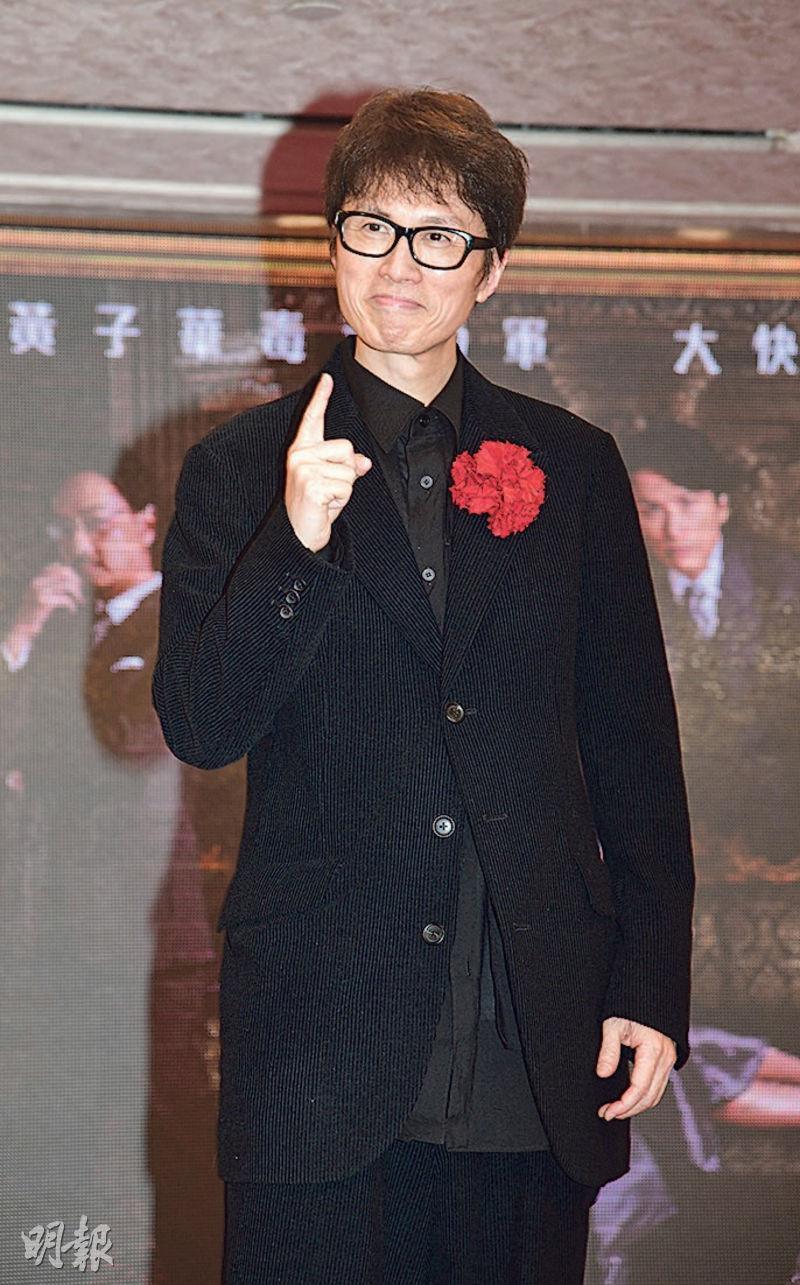 Dayo Wong jokes that if A GUILTY CONSCIENCE would reach HK$ 100 million, he would like to grow a pair of wings and shake his feathers everyday
Louise Wong and Renci Yeung give hearts to celebrate

Dee Ho pulls up his shirt, then takes off his pants and bends down, showing a little thigh before quickly pulling it back up again.
courtesy of mingpao.com
The Lunar New Year film A GUILTY CONSCIENCE (DUK SIT DAI JONG) since opening at the Lunar New Year has set records in Hong Kong. Since its release to now it has already passed HK$ 80 million. The film team in appreciation of the audience support last night held a 100 table banquet at a Mongkok restaurant for a celebration of 1,000 people.
At the celebration banquet A GUILTY CONSCIENCE team including director Jack Ng Wai Lun, stars Dayo Wong Tze Wa, Gardner Tse Kwan Ho, Louise Wong Dan Nei, Dee Ho Kai Wa, Renci Yeung Si Wing, Adam Pak Tin Nam, Bowie Lam Bo Yi, Vincent Kok Tak Chiu and Sheldon Lo (Law Hau Yung) took advantage of the loosened pandemic prevention measures and gathered with lucky viewers. A thousand people celebrated together, which truly was unprecedented. Since this movie opened during the Lunar New Year, it has set Hong Kong box office records, broke the Hong Kong Lunar New Year film single day opening and total box office record, as well as the opening and singing day box office record holder of the past 5 years. It reached second place in Hong Kong history and headed toward the highest grossing Hong Kong film box office record, as it had hope to break WARRIORS OF FUTURE (MING YUT JIN GEI)'s record. Wong Tze Wa even with A GUILTY CONSCIENCE and TABLE FOR SIX (FAN HEI GUNG SUM) had over HK$ 150 million box office record in half a box. In addition, the overseas box office climbed as well, in the U.S. and Canada it also became the Hong Kong film box office champion of the past 5 years, the admission champion and the highest screen number. In Malaysia it also became the Lunar New Year film champion.
The actors and director Ng Wai Lun raised a toast to the thousand guests and spoke. They also held a lucky drawing to give away gifts. Tze Wa presented a personally autographed art card, which represented if you watch the movie more you would naturally have God's blessing. Kwan Ho gave away a tea set. Wong Dan Nei gave away angel crystal accessory. Ah Dee gave away sunglasses, Yeung Si Wing a water bottle, Pak Tin Nam a skincare gift box, Lam Bo Yi a coffee maker, Kok Tak Chiu as foot bath, Lo Hau Yung a translator pen and director Ng Wai Lung gave away movie gift certificates in hopes of everyone would continue to go to the movies.
Speaking of the film breaking HK$ 80 million mark and would have a chance to break Louis Koo Tin Lok's WARRIORS OF FUTURE (MING YUT JIN GEI) record, Tze Wa happily said, "Earlier we actors bet all night. I guessed HK$ 50 million, since I already lost so I would have to pick up the dinner tab. Now it continues to climb, everyday I am a little dazed." At the current box office trend it might break HK$ 100 million. Tze Wa said, "I can only chuckle in response, I don't dare to say it's impossible. When the time comes I would grow a pair of wings and would shake my feathers!" Reaching HK$ 150 million at the box office in half a year, Tze Wa admitted the feeling was very strange. Earlier when he brought it up at dinner with Mommy she wouldn't believe that he would be more popular than Betty Loh Tih and Linda Lin Dai.
Ah Dee once declared that when the box office would reach HK$ 30 million he would take off his pants. Last night when he arrived, all his fans already screamed "Pants off". In the end he paid the bill on the stage. He danced as he pulled down his pants to his knees then pulled it back up. He was praised as being a real man. He also joked that if the box office would pass HK$ 100 million he would take off other actors' pants.
Louise Wong Dan Nei and Renci Yeung Si Wing hopeed that the box office would continue its charge. They both have said that the better the box office performance would be the more they would show, but they would add Fish Liew Chi Yu and show inch by inch. Now with the good performance, they wished the most for Tze Wa to be able to give them a big half a minute long hug as if they received God's protection and blessing. In addition they also hoped to be able to perform again with the original team.