courtesy of on.cc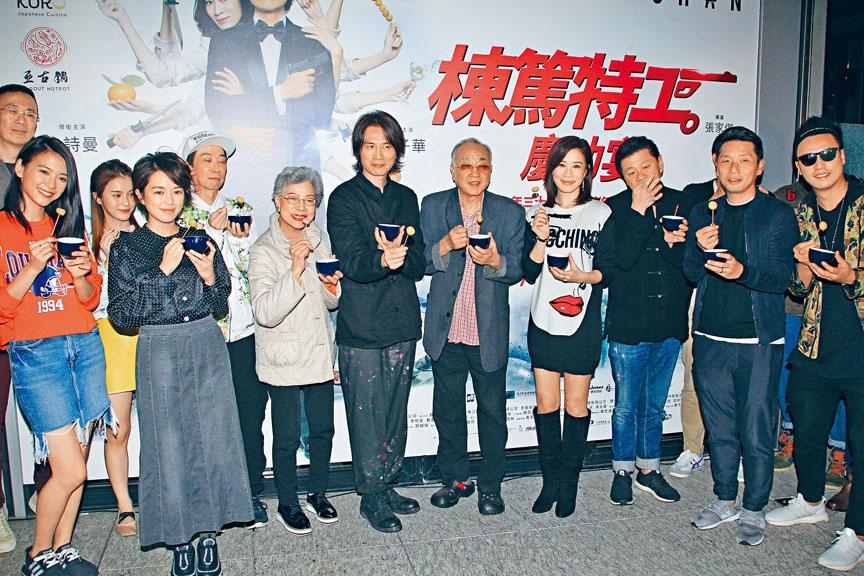 courtesy of singtao.com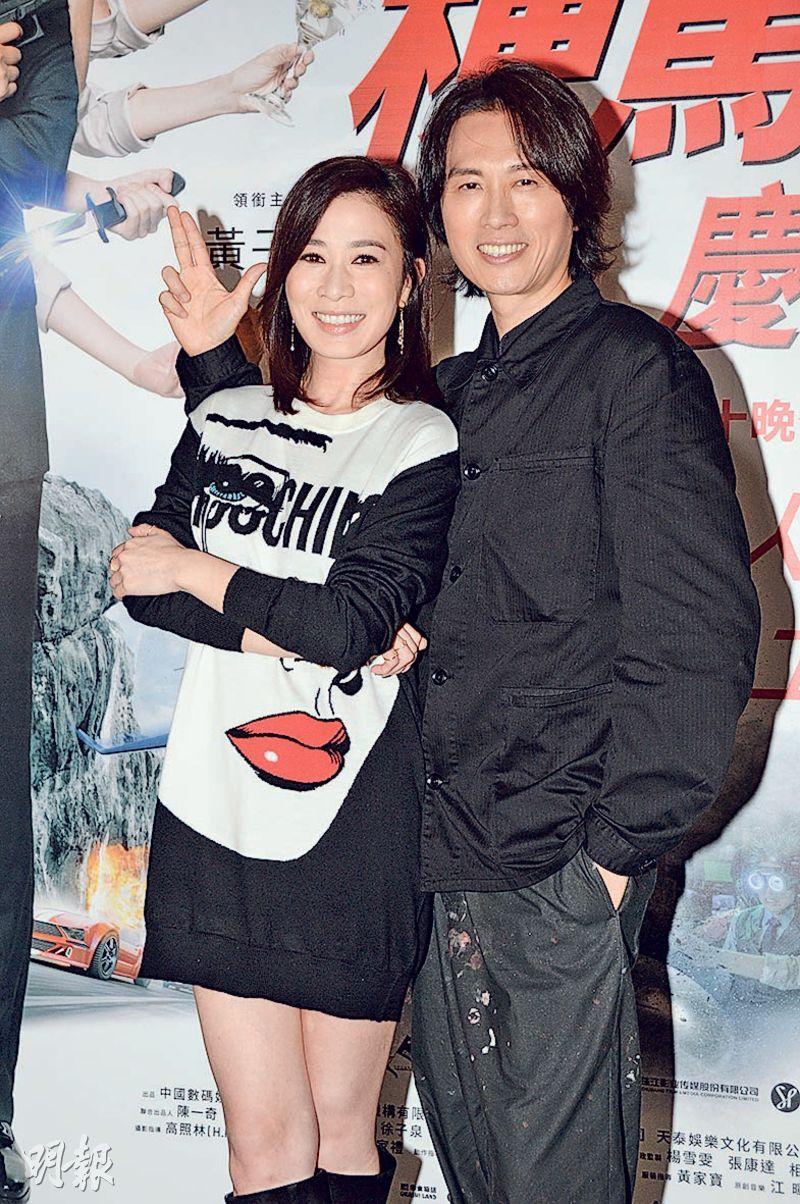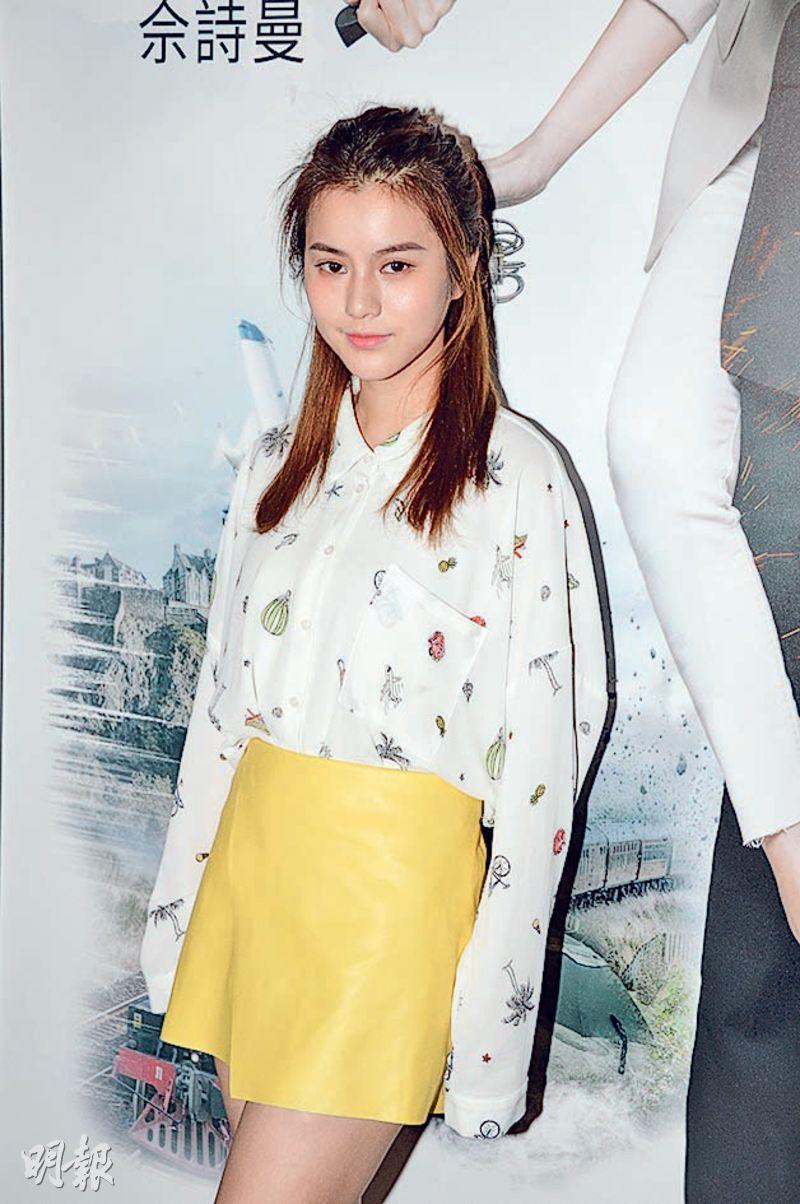 Larine Tang reveals that she keeps on asking Dayo Wong nonsensical questions on the set
courtesy of mingpao.com
The Lunar New Year film AGENT MR. CHAN (DUNG DUK DUT GUNG) passed the HK$ 40 million mark. Two nights ago a celebration was held on the Lantern Festival. Dayo Wong Tze Wah, Charmaine Sheh Sze Man, Larine Tang Yueping, Cheung Tat Ming and Lam Suet attended and celebrated with tangyuan. Wong Tze Wah made up for his past failures as he happily said, "Earlier I didn't dare to predict, I only thought that after HK$ 10 million I am no longer poisonous. With HK$ 20 million I am completely off it!"
Now with HK$ 40 million at the box office, Tze Wah admitted that he felt like he got a ticket and was confident to make movies again. Did he make up for his past failures? Tze Wah stated that he did not feel FIGHTING TO SURVIVE (YUT MUN GAI BO BIU) was nothing shameful. Some said that AGENT will be edited for a Mainland release. Tze Wah said that he did not ask his boss and was uncertain if the boss would make a sequel. Everyday he was busy like he was at a taxi dispatch center, as he kept updating he latest box office rend everyday in group chat. Ah Sheh happily said that she has never thought the box office number would be so high. This time was also the highest grossing film of hers in Hong Kong. Tze Wah said, "If we make a sequel, we definitely will save a spot for Ah Sheh. She can't miss out!"
After the film's success he immediately launched 17 show stand up comedy Hong Kong Coliseum concert series in July. Tze Wah clarified that the concerts were already conceived a year ago and the Hong Kong Coliseum took a year to book. Stand up comedy was another type of stage play and had another market. Did he already owe tickets to many? Tze Wah said that he did not dare to ask his manager. Ah Sheh also told Tze Wah that a friend who has been out of touch for 20 years texted her to ask for 60 tickets. Tze Wah said, "Now ordering two digit tickets is no longer an exaggeration, everyone wants 3 digits. However in 2014 we held 11 shows, this time with 17 shows there will be a lot of tickets." He also said that this time would be limited to Hong Kong. Mainly the content would be about life in Hong Kong. He was afraid that talking about Hong Kong overseas would be very dull. As for more shows, he said that it would depend on the reaction and he could add a few more.
As for rumors that Tze Wah wanted to get married and start a family, he said, "Thank you everyone for your concern. Only time would tell! That wouldn't be good news. I wish the most for good health for Mama. Earlier when Mama was ill and I took her to the emergency room people caught the whole thing!"
Tang Yueping was very happy about her film's HK$ 40 million take, which was also the highest box office for her films. She was even happier about being able to see her idol Tze Wah again. Would she take the chance to ask Tze Wah for tickets? She said that she would not use business tool for personal use. If she could not get them she would watch the previous shows online or ask for a concert work pass. Tang Yueping praised her idol "Tze Wah God" was well learned, asking him about something serious on the script of nonsensical questions he would know the answers.