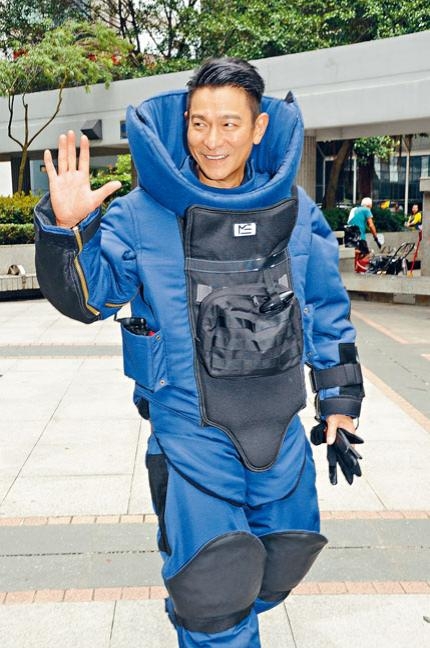 courtesy of singtao.com
Andy Lau Tak Wa is nominated for the Hong Kong Film Award Best Actor with SHOCK WAVE (CHAK DAN JUEN GA) this year. Yesterday Universe Entertainment announced its sequel in 2019. Wa Jai would appear in an all new story. Universe in June will also start production on the Louis Koo Tin Lok starred WHITE STORM 2 (SO DUK 2). Wa Jai also agreed to join the cast and produce the film.
The Hong Kong International Film and Television Market will open soon. The two films' concept posters were unveiled. THE WHITE STORM 2 poster featured a white powder formed gun and the silhouette of the three leads. Aside from Wa Jai and Goo Jai, heavyweight class stars are expected to join the production. THE WHITE STORM 2 will shoot on location in Hong Kong and the Philippines. This time the production budget would be over HK$ 200 million to strengthen the action scenes.
Herman Yau Lai To will direct both THE WHITE STORM 2 and SHOCK WAVE 2. The director revealed the connection between Lau Tak Wa and Koo Tin Lok's characters. "Both films have new characters and new stories, without any connection to the previous films; but the original subjects don't change." Universe's chief Daneil Lam Siu Ming also revealed, "Last year's production of SHOCK WAVE with Lau Tak Wa, director Yau Lai TO and Infinitus Production was very pleasant. Conceivably this golden triangle would set off new spark in THE WHITE STORM 2 and SHOCK WAVE 2 in anticipation of creating even better films for the audience." Currently the SHOCK WAVE 2 script was being worked on. Lam Siu Ming said, "SHOCK WAVE 2's story will be completely different, even more intense and exciting than the first."