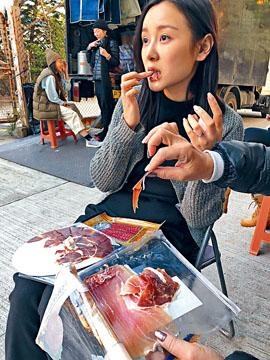 courtesy of singtao.com
Jeana Ho Pui Yu in the film JOK GA DIK FONG YIN (LIE OF A WRITER) played Justin Cheung Kin Sing's wife. She revealed that the role would be a housewife with a child. "The character isn't pretty, she always looks worn out and has to be a little plumper. Later I keep eating carbohydrates, gaining over 10 pounds isn't hard. Now I am eating like three days worth of food in a day. I would give myself a limit. Two weeks after the shoot I would have to slim down again."
Lead actor Cheung Kin Sing was a first time producer as well. In the film he had romantic scenes with both Linah Matsuoka and Ho Pui Yu. Cheung Kin Sing said, "Seeing how Jeana gains weight for this film, my heart breaks when I see her with two orders of roast pork and chicken with rice every meal."