Erica Chui shows up Ashina Kwok
courtesy of on.cc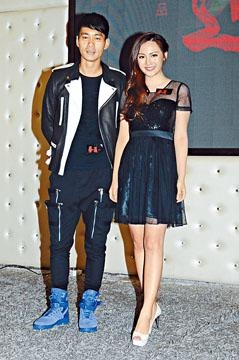 courtesy of singtao.com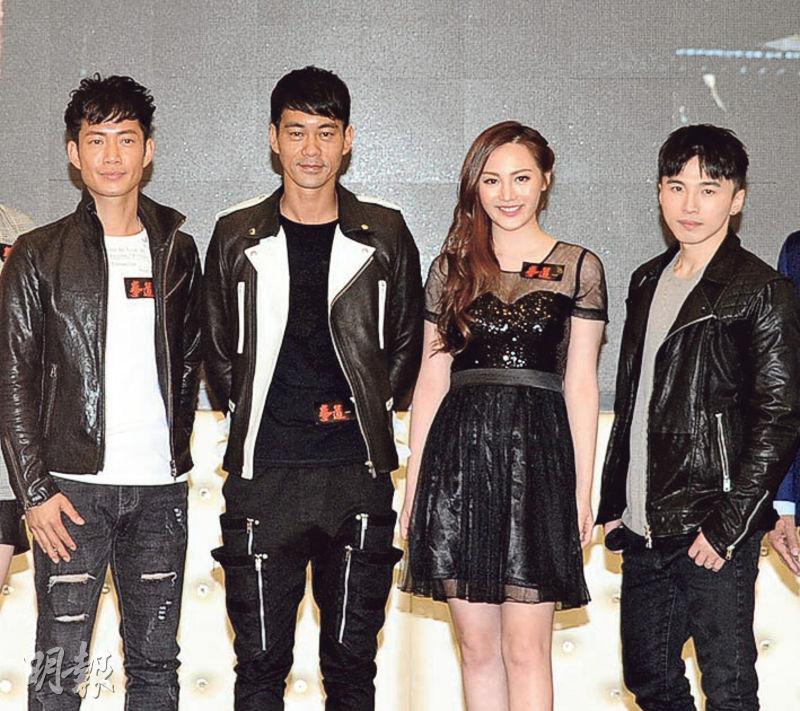 Pierre Ngo, Chan Kwok Kwan, Ashina Kwok, Awayne Liu
courtesy of mingpao.com
Chan Kwok Kwan, Pierre Ngo Ka Nin, Awayne Liu (Lau Chun Wai) and Ashina Kwok Yik Sum attended their film KUEN DOH (WAY OF THE FIST)'s press conference in Kowloon Bay. Awayne said that during the shoot he quit carbohydrate and greasy food to stay in shape, so as soon as the shoot was done he pigged out. Ngo Ka Nin said that the shoot took place in the cold, he and Siu Lung jammed SIU LEI FEI DOH on guitars in down jackets. Siu Lung jokingly stressed, "We are not gay."
Siu Lung said that this shoot was very tough. He had to take off his clothes in 0.6 degrees (Celsius) temperature. He joked that the director, who he has known for years, swindled him. "At first he told me that it was an art action film, but actually it was the (Sammo) Hung Kam Bo style hardcore. Aside from the relationship scenes with Kwok Yik Sum, the film fought from the beginning to the end." He revealed that he and Kwok Yik Sum had a kiss scene. Did his wife Emme Wong Yi Man know? Siu Lung joked, "The old lady knows, I asked her to visit the set but she refused. She was afraid that our son Chan Chun would be mad."
Siu Lung also revealed that aside from OCTB 2 he would make a web drama and another film. IP MAN 4 was also in negotiation. His jobs would be between April and June. He also said that in the second half of the film he would produce a Hong Kong flavored crime web drama. Has his wife complained about how busy he has been at work? Siu Lung said, "It's out of my hands, I can only bring them as assistants. (And have your wife slave away?) I may be the one who becomes the slave at anytime."
Kwok Yik Sum said that her kiss scene with Siu Lung was not too extreme, only conceptually intimate. She also said, "I hope Chan Kwok Kwan could arrange for even more characters for me to try. I hope to may more characters with internal experience and emotional changes. I can play the 'female Chiu Chak (Justin Cheung's OCTB villain role)' too."