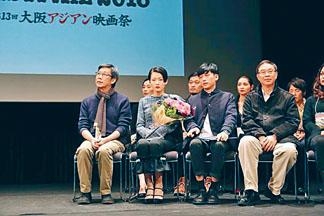 NO.1 CHUNG YING STREET's director Derek Chiu, Fish Liew and Lo Chun Yip
courtesy of singtao.com
The Osaka Asian Film Festival yesterday announced its winners. This year three Hong Kong films THE EMPTY HANDS, NO.1 CHUNG YING STREET and IN YOUR DREAMS were in competition. The highest honor the Most Excellent Film went to the Derek Chiu Sung Kei directed NO.1 CHUNG YING STREET, a film about the 1967 riot. Last year's winner was also a Hong Kong film MAD WORLD (YUT LIM MO MING). Chiu Sung Kei tearfully said, "I never thought that the most domestic film's world premier would not be in Hong Kong, but in Japan. I never expected that the Japanese audience would respond so enthusiastically. Many were moved to tears. Thus as soon as I got to the stage I took broke down in tears."