Donnie Yen embraces Cissy Wang's grandmother
courtesy of on.cc
courtesy of singtao.com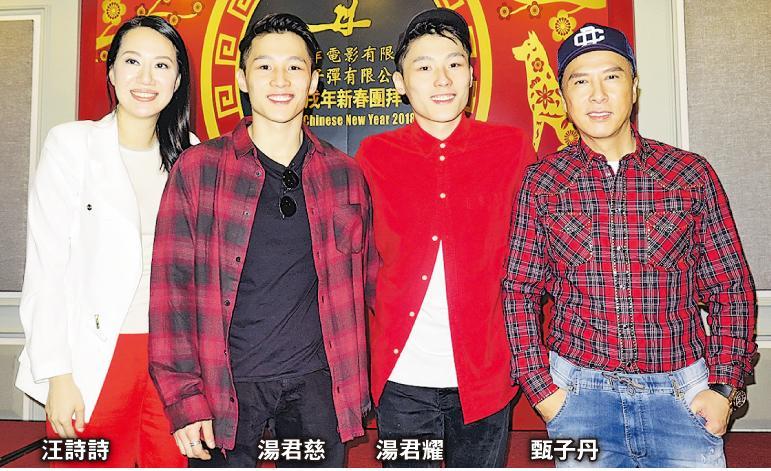 Cissy Wang, Bruce Tong, Chris Tong, Donnie Yen
courtesy of mingpao.com
Donnie Yen Chi Tan recently worked on the comedy action film ENTER THE FAT DRAGON (FEI LUNG GOR GONG). Yesterday at 3AM he rushed back from Shenzhen to attend his film company's spring banquet. Donnie Yen Chi Tan revealed that in the Year of the Dog he will star in 4 films, including IP MAN 4 and a foreign film. He also had other scripts in negotiation, the soonest he would have time for them will be next year.
He signed Tong Chun Yip's twins Bruce Tong Kwan Chi and Chris Tong Kwan Yiu last year and starred with them for the first time in the film DAI SI HING. Chi Tan said, "This film is very educational and will be released in June. I had to act with children. Brothers Kwan Chi and Kwan Yiu were very nice and handsome, they also worked with a lot of focus. After finishing ENTER THE FAT DRAGON, I will prepare to start work on IP MAN 4 in April and shoot on location in the U.S. The production will take 3 to 4 months. The Lynn Xiong played Ip Man's wife passed away in the previous film. With her pregnancy she wouldn't appear in the new film." Without a lead actress, Yen Chi Tan suggested for the director to come up with a character that flirted with him, but they would just hold hands at most. He would no consider asking his wife Cissy Wang to perform.
Yen Chi Tan spent the Lunar New Year with his family in Australia and expressed that he would give his everything to his wife, as he felt that the entire family's health and happiness would be the most important.