Kitty Zhang thanks the director for inspiring her
Yang Ik-joon says the award is worth losing weight for
courtesy of on.cc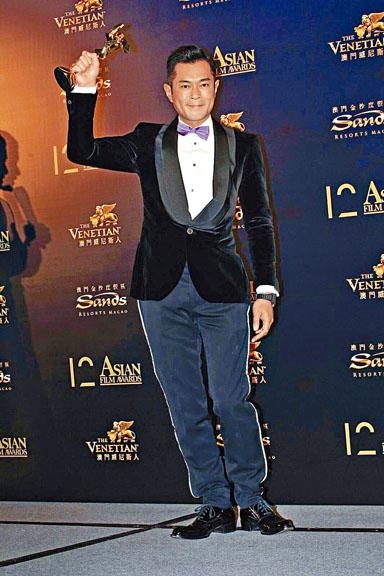 courtesy of singtao.com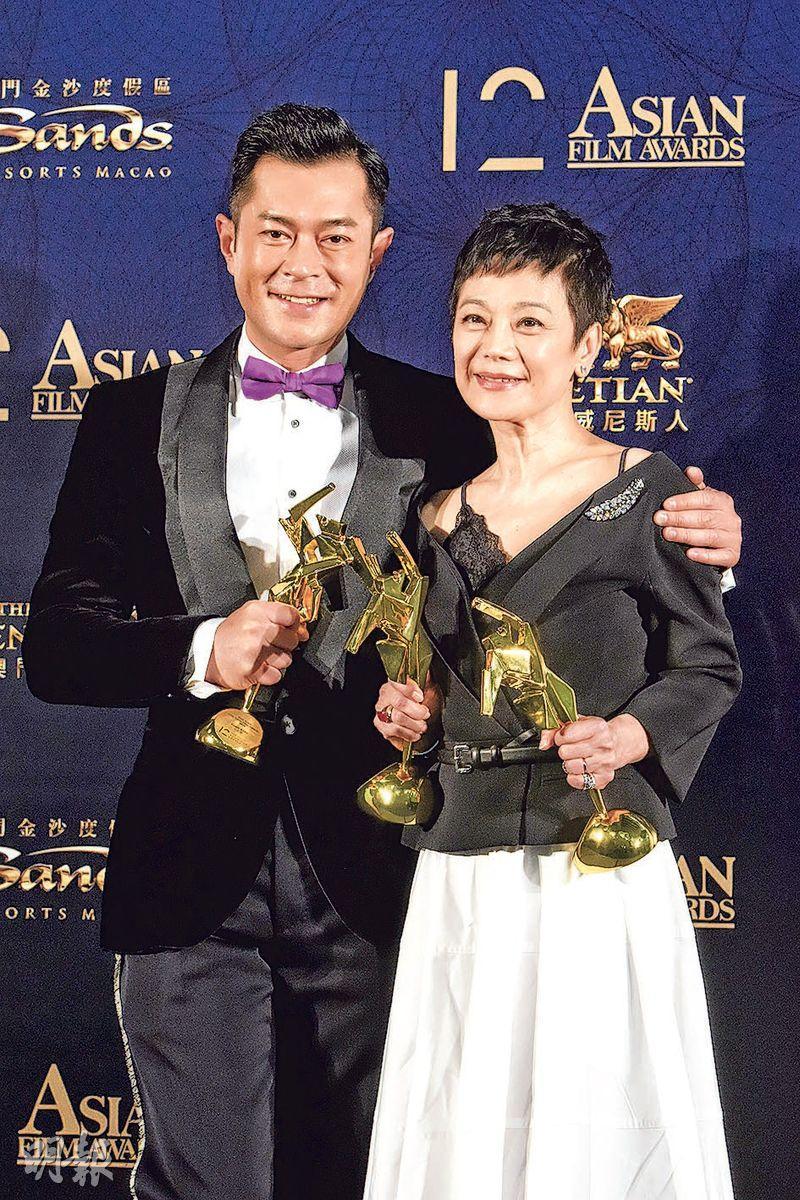 Louis Koo wins his first Best Actor while Sylvia Chang wins Best Actress and receives the Lifetime Achievement Award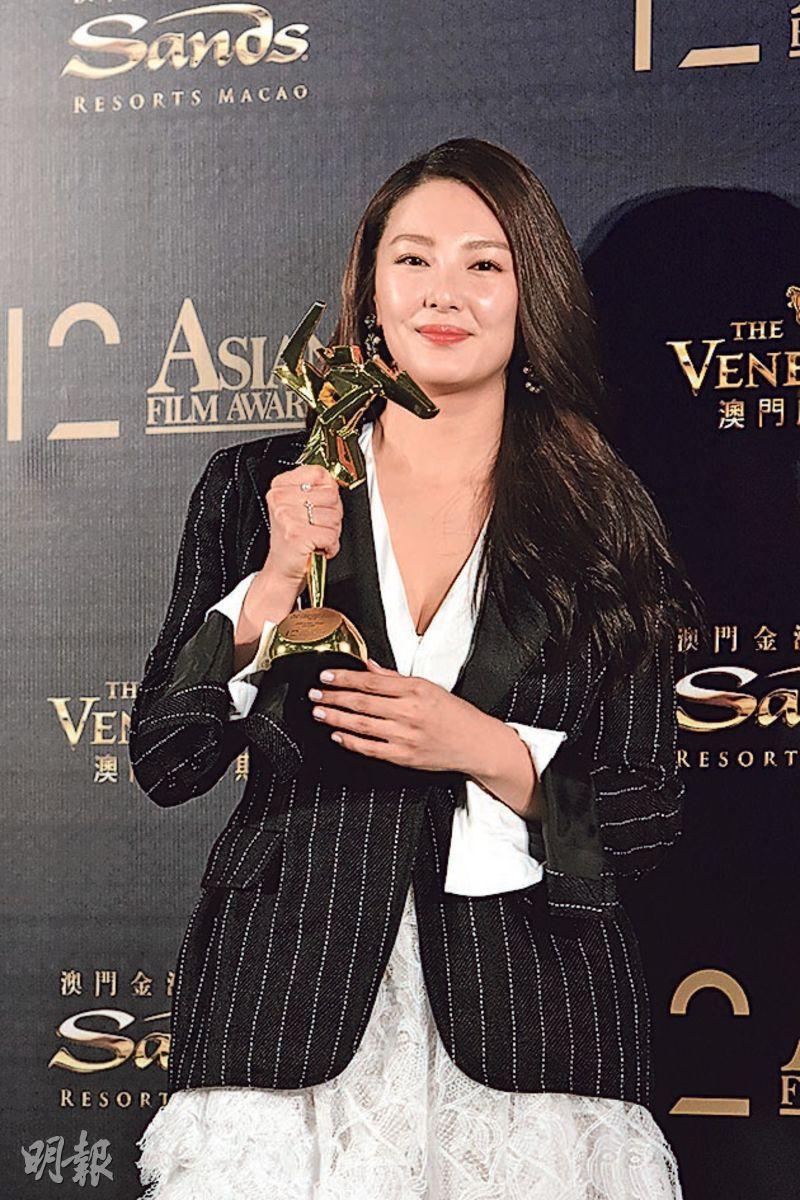 Best Supporting Actress Kitty Zhang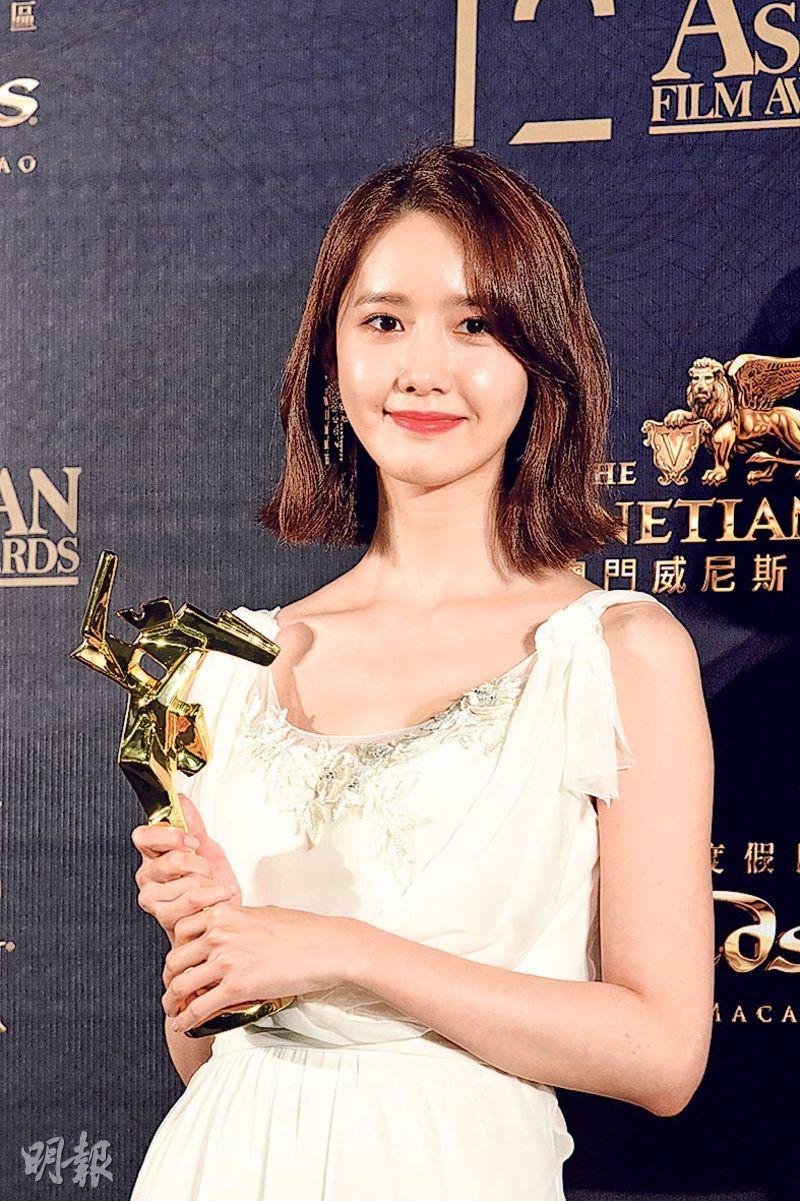 Next Generatoin Award winner Lim Yoon-a
courtesy of mingpao.com
The 12th Asian Film Awards took place last night at the Venetian Theatre at Venetian Macao. This year 21 awards were presented. The fresh out of the oven Best Actor and Best Actress were Louis Koo Tin Lok and Sylvia Chang (Cheung Ngai Ga). Sister Chang also doubled the happiness with the Lifetime Achievement Award. They celebrated with champagne backstage. The Best Film was Feng Xiaogang's YOUTH, as his films won the prize for a second straight year and probably the best present for his 60th birthday. A frequent award winners in recent years, Kara Wai Ying Hung received the Excellence in Asian Cinema award.
Winning his first Best Actor award with PARADOX (SAT POR LONG TAM LONG), Koo Tin Lok was a little stunned at the moment of the announcement. then he embraced Alvin Chau. After getting onto the stage guest presenter Carina Lau Ka Ling congratulated him with a kiss.
Goo Jai said, "I have been in over 20 years and made 100 movies. This was my first film award. Thank you to all the voters for voting for me. When I used to watch award shows at home with Pa, I would say try not to talk too much -- one thank you was enough. However please permit me to say a few words. I have to thank Yu Dong and Chau Cheuk Wa. Without them this movie wouldn't have happened; also thank you Paco (Wong). In past music awards everyone thanked Paco, I know. Paco earlier gave me a gold dragon plaque to me and said that it would bless me. If I won with this movie, he wanted me to return one to him. He truly is a gold label manager! I also have to thank director (Wilson) Yip Wai Shun. After working together so many times with him around I was especially at ease. Also Big Brother (Sammo) Hung Kam Bo, for being willing to spend the time on a non action actor like me."
Goo Jai finally thanked his manager and also his parents. Without them he would not be able to accept this award. When Lau Ka Ling leaned over to read the winner, she almost had a wardrobe malfunction and did not recover until after the award was presented.
Back stage, reporters said that Goo Jai garnered glory for Hong Kong. He replied, "Before hand I really never thought about winning, but this time I won the Asian Film Award. Did I just break out of Asia? Actually it's just my credit alone. It was a team effort. I never thought that I could be nominated with an action film." He said that the difficulty lay with the numerous stunts. His eyes almost popped out from watching them on the set, luckily he was not injured. As for his first award in his over 20 year career, he admitted that the feeling was hard to describe. However Pa used to tell him that thank you had to be said from the heart, not from the mouth. He has always done that and would do it low key. Would he like to win the Hong Kong Film Award next? "I don't want to think too much. I would do my part as an actor. It's fate. Of course I would be happy about winning an award."
Cheung Ngai Ga not only received the Lifetime Achievement award but also Best Actress. When she was announced to be the Best Actress she was surprised as he embraced guest presenters Eric Tsang Chi Wai and Teresa Mo Shun Kwan. Sister Chang said, "I really don't know what to say? I wasn't prepared at all, I was only prepared for the next award's script. I want to thank each worker for their contribution, I love you like family, thank you; also because that this film was full of warmth and love."
Making over 110 films, Sister Chang was very happy to receive the highest honor of Lifetime Achievement award. "Actually I am not someone who easily looks back, but I have to. I also thank each director and worker I have worked with. To be destined to work together is also a type of happiness. I would keep everyone's support in my heart." Sister Chang also said that when she was at Golden Harvest, the boss said that she was neither pretty nor photogenic; but she still was able to stand there, which was due to the love everyone has for her.
Ann Hui On Wa presented the Excellence in Asian Cinema award to Wai Ying Hung. Ann said that presenting to this good friend was extra meaningful because she has worked in the film industry for over 40 years. Everyone could see the results of her brilliance at work.
Sister Siu Hun embraced Ann on the stage and blew kisses to young actors. She said, "Thank you Asian Film Award. I really can't live up to this. When I was new I was very lucky, I ran into good elders and directors. In my 41 years in show business, I have had help from many people. Only because directors gave me opportunities would Wai Ying Hung be here today. From now on I would still give my all, learning from elders how to perform and cultivating new comers. I want to generously cultivate new actors."
12TH ASIAN FILM AWARDS NOMINATIONS
https://www.facebook.com/asianfilmawards.asia
BEST FILM
YOUTH
BEST DIRECTOR
Yuya ISHII (THE TOKYO NIGHT SKY IS ALWAYS THE DENSEST SHADE OF BLUE)
BEST ACTOR
Louis KOO (PARADOX)
BEST ACTRESS
Sylvia CHANG (LOVE EDUCATION)
BEST SUPPORTING ACTOR
YANG Ik-joon (WILDERNESS)
BEST SUPPORTING ACTRESS
Kitty ZHANG Yuqi (LEGEND OF THE DEMON CAT)
BEST NEWCOMER
Chutimon CHUENGCHAROENSUKYING (BAD GENIUS)
BEST SCREENPLAY
Mayank TEWARI, Amit V MASURKAR (NEWTON)
BEST ACTION FILM
PARADOX
BEST CINEMATOGRAPHY
KIM Ji-yong (THE FORTRESS)
BEST EDITING
SHIN Min-kyung (THE KING)
BEST COSTUME DESIGN
CHEN Tongxun (LEGEND OF THE DEMON CAT)
BEST PRODUCTION DESIGN
TU Nan, LU Wei (LEGEND OF THE DEMON CAT)
BEST ORIGINAL MUSIC
Joe HISAISHI (OUR TIME WILL COME)
BEST SOUND
TU Du-chih, WU Shu-yao (THE GREAT BUDDHA+)
BEST VISUAL EFFECTS
Norio ISHII (LEGEND OF THE DEMON CAT)
BEST NEW DIRECTOR
DONG Yue (THE LOOMING STORM)
2017 HIGHEST GROSSING ASIAN FILM
WOLF WARRIOR II
NEXT GENERATION AWARD
Lim Yoon-a
EXCELLENCE IN ASIAN CINEMA AWARD:
Kara Wai
LIFETIME ACHIEVEMENT AWARD:
Sylvia Chang