courtesy of on.cc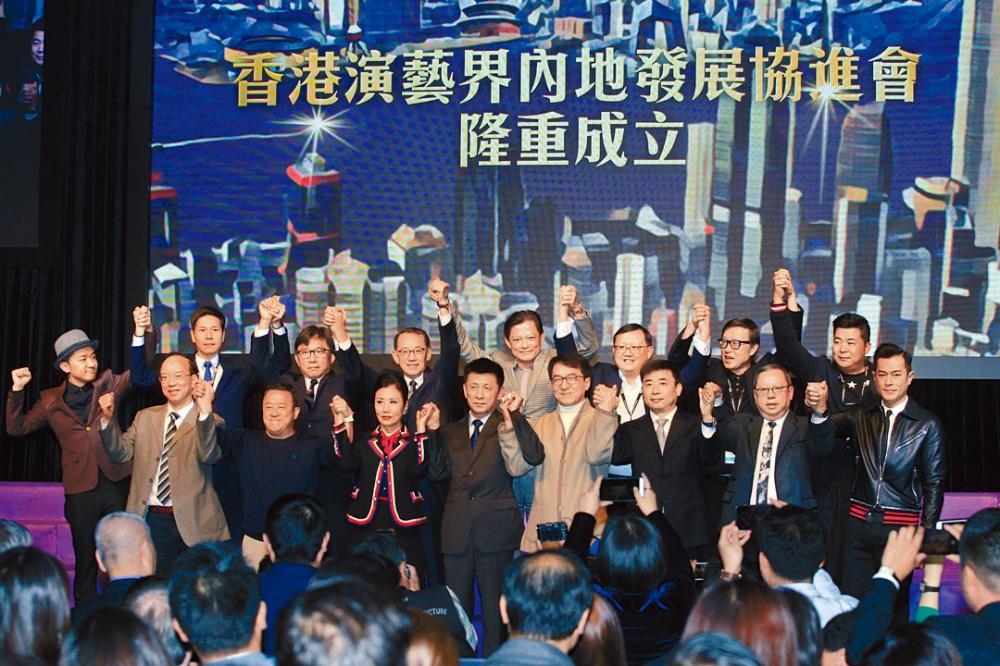 courtesy of singtao.com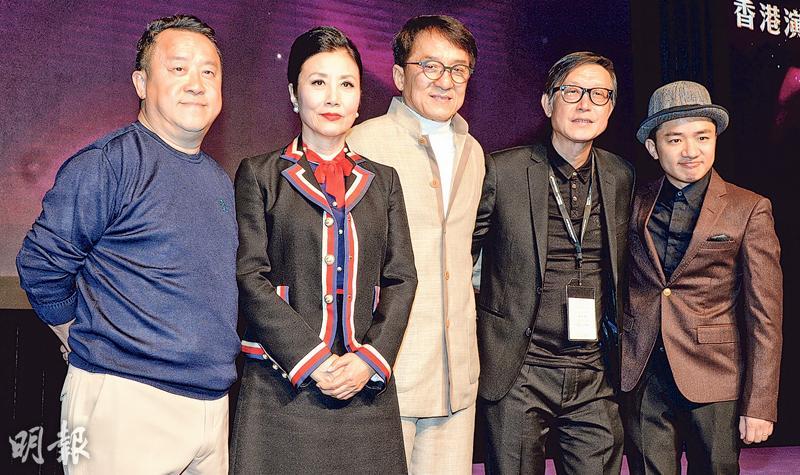 Eric Tsang, Liza Wang, Jackie Chan, Andrew Lau, Wong Cho Lam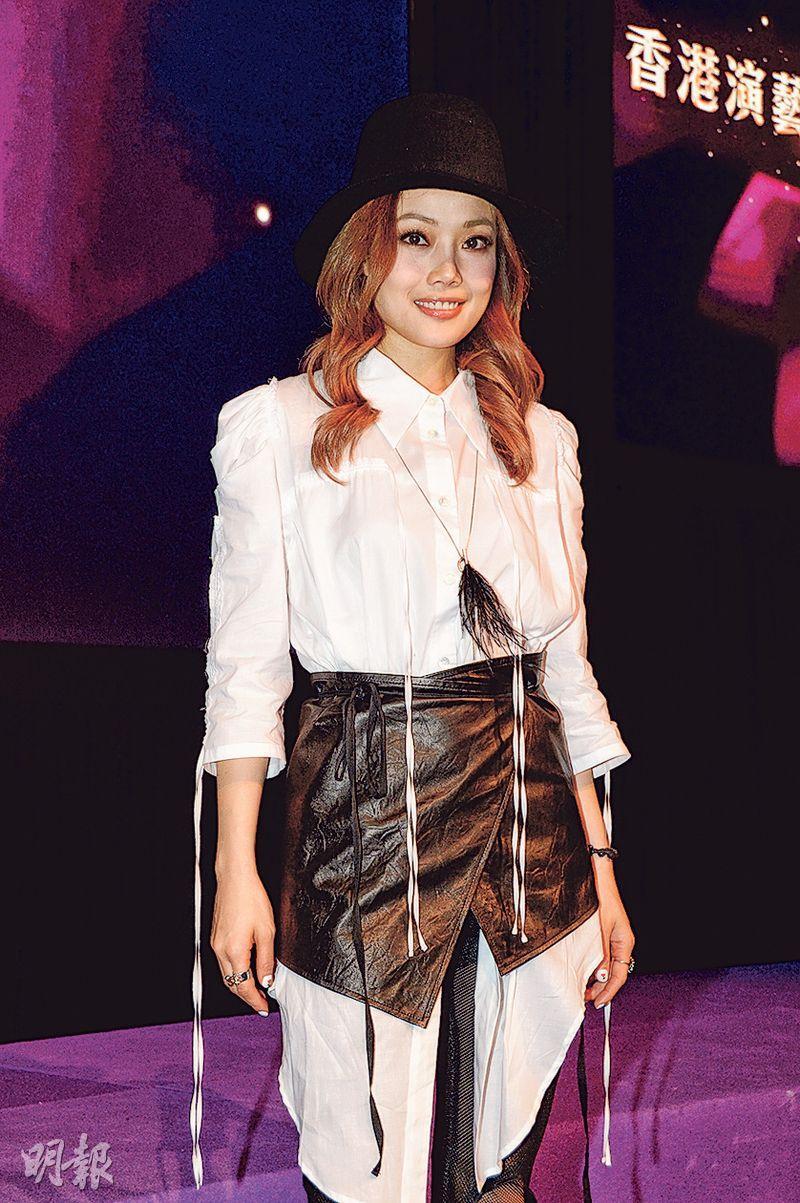 Joey Yung
courtesy of mingpao.com
The Association for Betterment of Hong Kong's Entertainment Industry in Mainland China yesterday launched at the Hong Kong Entertainment Expo and announced its membership: President Jackie Chan, vice presidents Liza Wang Ming Chuen and Alan Tam Wing Lun, executive president Eric Tsang Chi Wai, founding members Warren Mok Wah Yeun, Kennedy Wong Ying Ho, Louis Koo Tin Lok, Andrew Lau Wai Keung, Johnny Ng Kit Chong, Wong Cho Lam and Nicholas Tse Ting Fung. Peter Lam Kin Ngok, Albert Yeung Sau Sing, Ng See Yuen, Chan Kwok Keung, Ng Yu, Joey Yung Tso Yi and other artists attended. Chief executive Carrie Lam Cheng Yuet Ngor also sent a congratulation video. The association's principles will be uniting, assisting, and following up with the needs of artists working in the Mainland.
The Association's president Jackie Chan said, "In the past ten years, Hong Kong film or television is growing larger and larger in the Mainland market, meaning more and more opportunities for us. The Association hopes to strengthen collaboration and communication between two places and to help Hong Kong on and off camera performing artists with Mainland work and on the field experience. I spent 20 years on continuous attempts and last year founded the China Stuntman Association in hopes of a home for wandering stunt people. The Association provided a place and channel for foreign producers and directors to find the best martial art directors and stunt professionals in China. Over 20 years ago we established the Hong Kong Performing Artist Guild in hope for the benefit of the next generation. This 'Association' is also founded by Hong Kong people for continuation. We can establish scholarships for Hong Kong students to attend classes at various performing art schools and higher learning institutions in the Mainland for more education and experience, because opportunities are always for those who are prepared. Today again thank you to each film industry big bosses, brothers and sisters, because this association is not for us, but for you."
Executive president Tsang Chi Wai and vice president Wong Ming Chuen spoke together on the stage. Chi Wai said, "I am truly happy that actually the Chief Executive is so supportive of us, sitting down to chat with us." Ah Jeh agreed. "I feel very encouraged. The several of us actually already went to Beijing once in October two years ago and visited with the State Administration of Radio, Film and Television, the Ministry of Culture, the Publicity Department and government officials and expressed the problems that our show business has faced." Chi Wai followed, "That time the range was pretty wide, including film, television, Chinese opera and classic music, variety program, many friends in music reflected their needs and problems. In addition the Chief Executive this time has been so supportive of us, the nation has such good policies and is supporting us as well." Ah Jeh also mentioned, "Chairman Xi Jinping also at his report asked for more benefits for Hong Kong and Macao residents in the future and Hong Kong and Macao's economic development. Show business is also a very important part of the national cultural and creative planning."
Chi Wai also said, "This is the main reason for the establishment of the Association. Every year over 16,000 television series, 800 films are made in the Mainland, everyday several dozen films and series are in production. That is not including web drama. Many of us from Hong Kong are working on them, especially in places like Hengdian and Beijing. So while preparing for the establishment of this Association, we would also set up our offices in Beijing, Hong Kong and Hengdian in hopes of helping friend who are working in the Mainland. So we can have a place for everyone to communicate and assist them." Ah Jeh replied, "The numbers Chi Wai talked about are rather attractive, admittedly few can have such an opportunity. If the Mainland government can cancel the restriction on Hong Kong technicians and artists working in the Mainland so more technicians and talent can exchange freely, it will be a win win situation." Chi Wai answered, "This is we are fighting for! Another opportunity that we need to grasp is the nation's effort in the development of the Great Bay area. We have to properly take advantage of it, develop our Cantonese market, properly grab onto our Cantonese market and head internationally." Ah Jeh summed up, "Big Brother Jackie Chan says that our Association's name is a little long and hard to remember, but our goal is only a few word long. President Koo Tin Lok provided them. He really is very smart, 'unite, assist, follow up'. This is our principle."
Jackie Chan, Tsang Chi Wai, Wang Ming Chuen, Lau Wai Keung and Wong Cho Lam were interviewed. What was the goal of the Association? Jackie Chan said that China's film and television development is thriving, he hoped that the Mainland would open up more spots for Hong Kong whether on or off camera like cinematography and lightning. As Tsang Chi Wai said the annual film and television productions truly had too many opportunities.
Would he like to increase the amount of the quota? Chi Wai said that the quota was not the most important. "Because a lot of problems have to be faced when making a movie in the Mainland, like how to file a complaint. Now the Hong Kong Performing Artist Guild has no office in the Mainland. This Association is in a similar fashion, but is called the Association for Betterment of Hong Kong's Entertainment Industry in Mainland China. Mainly it will help Hong Kong artists who are working in the Mainland, understand the Mainland policies, like the Great Bay development that can benefit the development of Cantonese, we have a lot of information that everyone needs to know!" Chi Wai also revealed that that older and more accomplished artists might already have entered the Mainland market, but they can recommend the younger generation who wants to work in the Mainland. He also had a plan to establish some performing art academic society and foundation to help workers with Mainland development. Chi Wai also mentioned that when some Mainland officials visit Hong Kong they would need to be received, during which they could interact and exchange messages. The Association can also serve that purpose.
As for the process of preparing for the Association's establishment, Jackie Chan said that he spent 20 years to found the China Stuntman Association. China is too big and truly needs time to contact to all the places. Chi Wai said that this Association started in October 2016 with editor Cheung Ka Fai's first trip to China. Because he did not receive the salary that he was promised, Tsang thought of founding an Association to help show business colleagues in need. Chi Wai said, "The Association also needs Mainland recognition. In the past I have paid visits. Now after the 19th National Congress, Chairman Xi also helped. So we felt it was time to establish this Association!"
Wang Ming Chuen also pointed out that the establishment was at the right place and the right time. Hong Kong people who work in the Mainland run into a lot of difficulties, but in the past they might not have the chance for a group of people to stand up and communicate. Now they can coordinate with national policies like One Belt One Road and the Great Bay Development. Ah Jeh said, "Actually we mentioned the Great Bay region many times mainly to coordinate with the Guangdong culture. First we resolve the language barrier, which would be easier to develop. The Great Bay residents would watch Hong Kong television programs and films, starting here would be a little easier."
As for major projects, Tsang Chi Wai revealed that the Association would work with leadership of various show business organizations like the Performing Artists Guild president Koo Tin Lok for an understanding of the development of the Great Bay area with some council members. Then he would inform the Hong Kong members about opportunities. Chi Wai pointed out that the Great Bay area had a population of 70 million, with the nearby areas it would be over 100 million. They all could communicate with Cantonese. Hong Kong right now only has over 7 million Cantonese speakers. In the future this would be a good opportunity for Cantonese development. He mentioned that in the future he would make a Cantonese Lunar New Year film. Over 100 million people would see it in the Great Bay area, thus he believed that since Dayo Wong Tze Wah's Lunar New Year film was able to make HK$ 40 million it would be able to make over 100 million in the future. With even higher box office film productions naturally would be able to have even higher production budget. This would be a huge opportunity.