courtesy of on.cc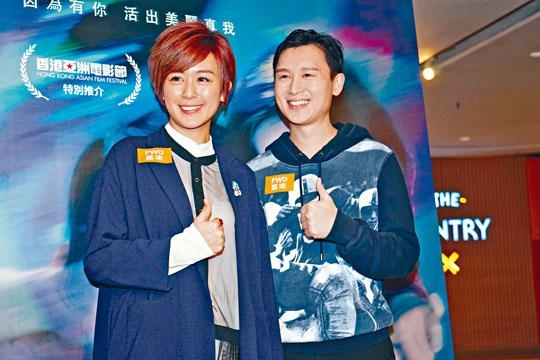 courtesy of singtao.com
courtesy of mingpao.com
Ling Man Lung, Leila Tong Ning and director Chan Tai Li two nights ago attended the film TOMORROW IS ANOTHER DAY (WONG GUM FA)'s charity screening. Ling Man Lung with his autistic character received his first Hong Kong Film Award nominations for Best Actor and Best New Performer. He felt excited and surprised but he still has not begun to be nervous yet.
Playing his mother in the film, Teresa Mo Shun Kwan said that Man Lung was her favorite to win Best New Performer but not his time for Best Actor yet. Man Lung admitted that he never thought about that and thanked Mo Shun Kwan for her continuing support. As for the strong competition, he said that he was surprised already with the nominations. Thus he planned to dress up and attend with his family, as he would properly enjoy this big party. Man Lung said that now he has some film offers but has not thought about a raise yet.
Tong Ning has enjoyed Man Lung's performance and admitted that she was deeply touched. She also supported his bid for an award because this time the script was great. His performance was also very meaningful. Did she find the movie more relatable as a mother? Tong Ning said, "Definitely, I believe many mothers would understand. I really hope that everyone would understand that autistic children only learn a little slower, they aren't completely ignorant."