courtesy of on.cc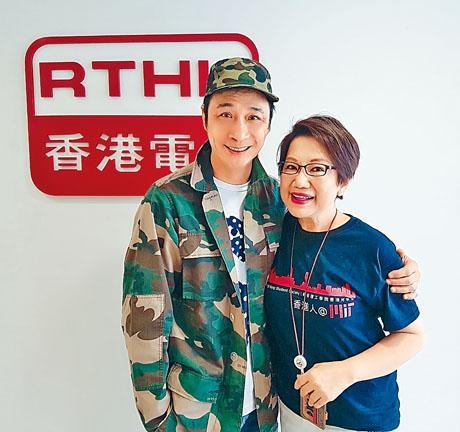 courtesy of singtao.com
courtesy of mingpao.com
The Francis Ng Chun Yu starred film MEN ON THE DRAGON (YIK LAU DAI SHOOK) is a big hit. Earlier he appeared on Radio One Hong Kong and shared his film experience as well as his relationship with his father and son.
Also the executive producer of the film, Chun Yu brought up the reason for the Chinese title change. "The title originally was to be MAN SHUI CHIN SHAN JUNG WAN to coordinate with the dragon boat drum sound. However CASH (Composers and Authors Society of Hong Kong) wanted over HK$ 100,000 in royalty. You can do alot with HK$ 100,000. Under the circumstance we can only change the name." Chun Yu admitted that he really liked his character Ah Lung. "He has quite a MK feel. Because I grew up in Mongkok, I once was a street vendor next to the Nelson Street MTR station. The most memorable was that feeling of not making enough to last the night." Because he was once on the same path, in comparison to playing a pilot Chun Yu liked playing a Mongkok person even more. "The first time I put on that pilot uniform, the performance of looking chok was very embarrassing. That was the hardest character for me to master." Actually "Sam Gor"'s matinee idol hairstyle was Chun Yu's suggestion, which the audience deeply accepted.
Over his 37 years in the business, Chun Yu experienced a lot of setbacks. When he first got into the business he was very shy in front of the camera. The makeup and hair ladies all noticed that behind the camera he was very normal, but on camera his eyes would always unknowingly come together. "I deliberately improved on this issue and even accepted elders' advice to bird watch everywhere. I held that was also hold Mei Lanfeng practiced his eye expressions. Perhaps later I was more matured, my muscles relaxed and my eyes acted more naturally."
Speaking of his son Feynman's scar from an Mainland reality show injury, Chun Yu was not only upset but also regretted that after returning to Hong Kong they did not remove and redo the stitches. It might have mad the scar less obvious. Yet he too comforted himself and his son, like Daniel Wu (Ng Yin Cho) many handsome men had scars on their brows. He once was injured while working with his father. Chun Yu also admitted that he valued family. He often reminisced about working on a summer job in the middle of the night with his father at the restaurant. "I wasn't afraid of how tough making dim sum was, but I was the most afraid of the German Shepherd in the back alley of the restaurant. Every time it would bark at me, later it got closer and closer. Finally one day after Papa drove it off it never dared to get close again."
Like father, like son, Feynman inherited Chun Yu's performance talent, Chun Yu also inherited his father's chef skills as he was able to season, chop and everything else. As long as he has seen how a dish was cooked he was able to make it, chicken with preserved vegetables, brandy drunken chicken, nothing could stump him. However he stated that he had no interest in any cooking program. His biggest dream was to continue to support Hong Kong film. He said that the film won all the word of mouth but it was not all that great. "Film is like when a dose of medicine or bandage is applied, it is just right for the person's small wound. I hope this film can become a Mainland import film and released in all Cantonese." He even declared that if the film's box office would reach HK$ 12 million he would celebrate by taking off his shirt to show off his muscles.