Josephine Siao, Shi Nansun
courtesy of on.cc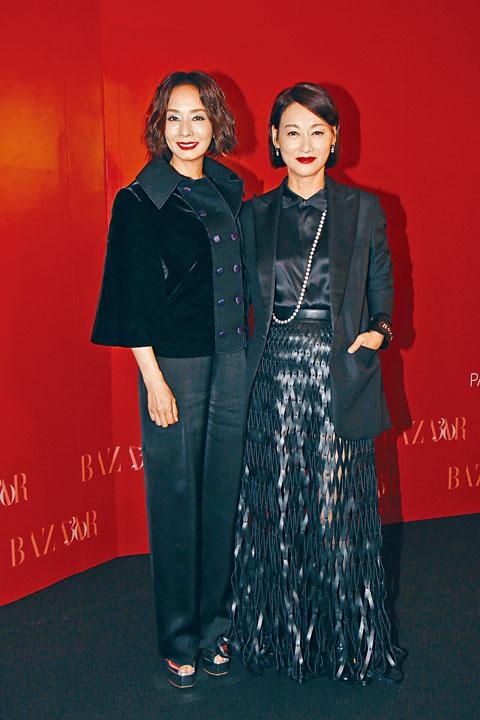 courtesy of singtao.com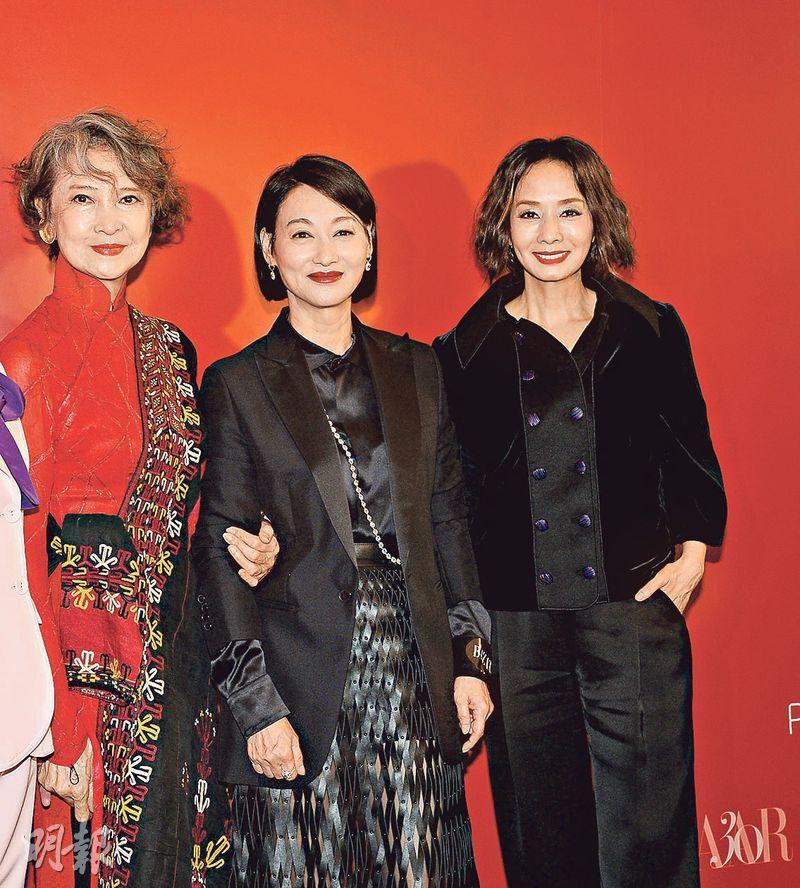 Three Best Actresses Josephine Siao, Kara Wai and Teresa Mo are all talented in their own right
courtesy of mingpao.com
The fresh out of the oven Asia Pacific Best Actress Teresa Mo Shun Kwan and Hong Kong Film Award and Golden Horse Best Actress Kara Wai Ying Hung two nights ago attended a fashion magazine charity exhibit. Berlin Best Actress Josephine Siao Fong Fong represented the End Child Sexual Abuse Foundation and accepted a HK$ 1 million check. All three Best Actresses also posed for photos. Sister Mo just signed with Emperor, fellow Emperor employee Sister Hung said that the company would decide whether they would work together. She would like to have three Best Actresses at once, with Nina Paw Hee Ching, Sister Mo and her they would be invincible!
Sister Mo with the film TOMORROW IS ANOTHER DAY (WONG GUM FA) won the 58th Asia Pacific Best Actress. She admitted that she was very happy, Her only regret was not being able to accept it in person. She said that on the day of the award she had another important task of helping her daughter start at an university in Canada. Sister Mo said that actually at first when she did not know she was nominated, the event invited her to present Best Actress. "I really didn't think that I would win. Because lately I have to get my daughter to school and I am making a movie, my schedule is quite a mess." Sister Mo also said that due to jet lag, she got up in Canada at 5AM. Until the award the phone stayed quiet. Then fans congratulated her on facebook. She suspected whether it was real or not. Her former manager also mistakenly sent videos from previous awards to her. She thought that she did not win. However later when she kept receiving congratulations from friends she finally believed. Speaking of her on screen husband Ray Lui Leung wai accepting her Best Actress award on her behalf, Sister Mo said, "It's still in his hands. I will take him to dinner. I will also celebrate with other friends, but I believe this time I won't get crazy drunk like I did with the Hong Kong Film Award."
Sister Mo revealed that her latest job will be a musical. In it she will play 4 or 5 characters, sing and dance, which would a breakthrough for her. As for signing with Emperor, Sister Mo said that her friend and former manager was not in good health so they created this opportunity. The contract term would not be too long. In addition she and boss Albert Yeung Sau Sing have known each other for years. He would respect her wishes and give her freedom. He would not treat her like a money tree.
Wai Ying Hung said that she saw Sister Mo and congratulated her. Now they belong to the same company, would the two Best Actresses work together? Sister Hung said that the company and the boss would decide that. Reporters said that they could vie for an award. Sister Hung said, "You don't get to compete in getting awards, not in acting either. When you take a salary you should perform. Working together would be the best exchange. There is no need to compete, we are good friends!" Sister Hung would like to work as three Best Actresses. Sister Bau (Paw Hee Ching), Sister Mo and her together would be invincible. "Then we can make ourselves a little better. I get stronger when I run into the strong, I like to work with masters. I would be even more focused! I enjoy working under pressure, without it I would be lazy."