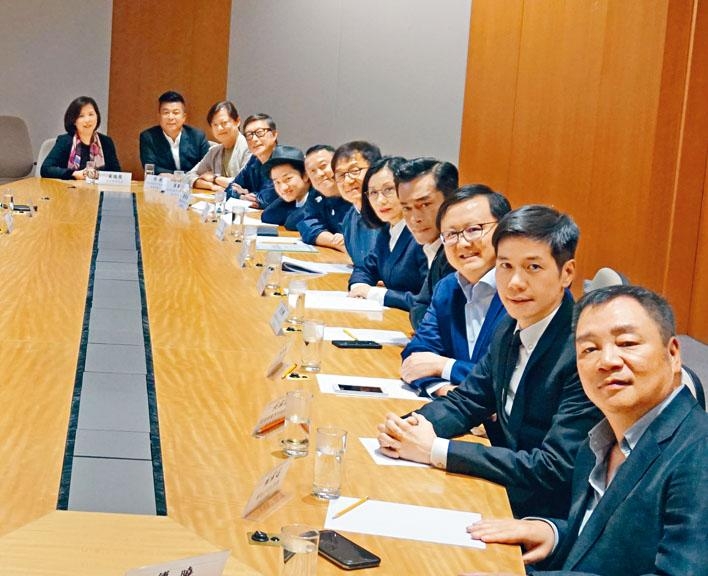 courtesy of singtao.com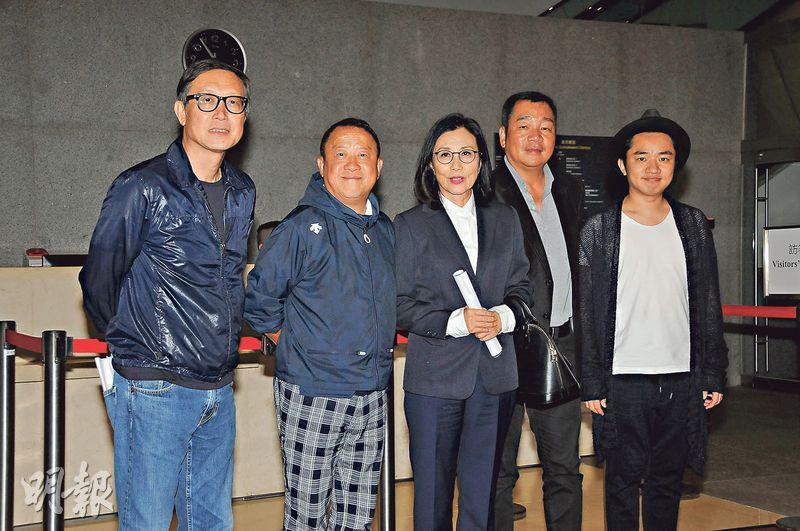 Andrew Lau, Eric Tsang, Liza Wang, Yip Wai Chung and Wong Cho Lam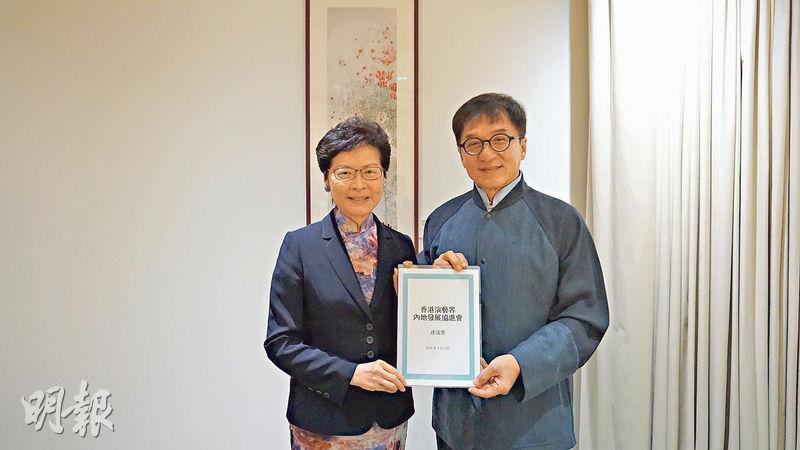 Jackie Chan presents the proposal to Chief Executive Carrie Lam
courtesy of mingpao.com
The Association for Betterment of Hong Kong's Entertainment Industry in the Mainland China was officially established in March. Yesterday Association president Jackie Chan, executive president Eric Tsang Chi Wai, vice president Liza Wang Ming Chuen, secretary general Wong Cho Lam and founding members Louis Koo Tin Lok, Andrew Lau Wai Keung, Mok Wa Lun and others met with Chief Executive Carrie Lam Cheng Yuet Ngor to suggest Mainland long tern development and constructive proposals, expand creative industry and coordinate with Mainland policies, bring up appeals, strength industry development, in particular the Great Bay Area policy direction. The meeting took around 45 minutes as Lam Cheng Yuet Ngor accepted project proposal from Jackie Chan.
Tsang Chi Wai, Wang Ming Chuen, Lau Wai Keung, Yip Wai Chung and Wong Cho Lam met with the media after the meeting. Chi Wai and Cho Lam spoke and talked about the reason for the meeting. Chi Wai said, "The association was founded in March this year. At th time the Chief Executive expressed her support. Today we came to report the progress over half a year to the Chief Executive. The Association has already set up offices in Beijing and Hengdian to help performers with Mainland development. In addition, we wanted to understand more about the Great Bay Area development and the new taxation issue. We can then explain to industry insiders a variety of problems, future developments and information reporting."
What difficulty would Mainland development run into? Chi Wai said that it was still fine, for now it has not been too difficult. Yet in the future they hope to set up offices at different locations, through the Association as the intermediary artists and different government organizations can connect. What did they request from the Chief Executive in hopes of how the government can help the industry? Chi Wai said, "We all spoke from the heart, whether Mainland or Hong Kong development we need government support and assistance. The Chief Executive already heard all our appeals and at the same time asked us for an event more detailed report. So each affiliated organization, including the Performing Artist Guild, the Director's Guild would write an even more complete report." Chi Wai said yesterday that the meeting process was very pleasant. The government was very supportive of us. Hearing what they had to say was the most important. He hoped to be able to communicate and report on schedule. As for future meetings, Chi Wai said, "The Chief Executive said, 'If you need anything come find me'. We know she is very busy. Today she already had many meetings, and many department secretaries were on hand as well; different layer problems would have different secretary's analysis."
Speaking of the artist generation gap in the past few years, Chi Wai said that this was also a wish that they expressed to the Chief Executive. Currently Mainland co-productions have large productions and Hong Kong small productions, with the mid scale production in shortage.