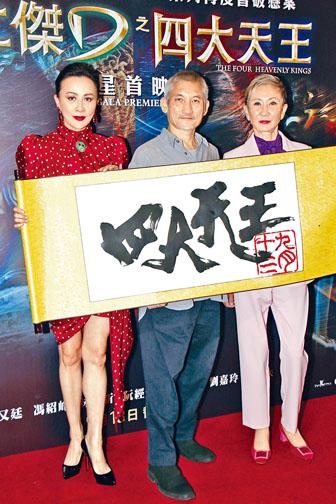 courtesy of singtao.com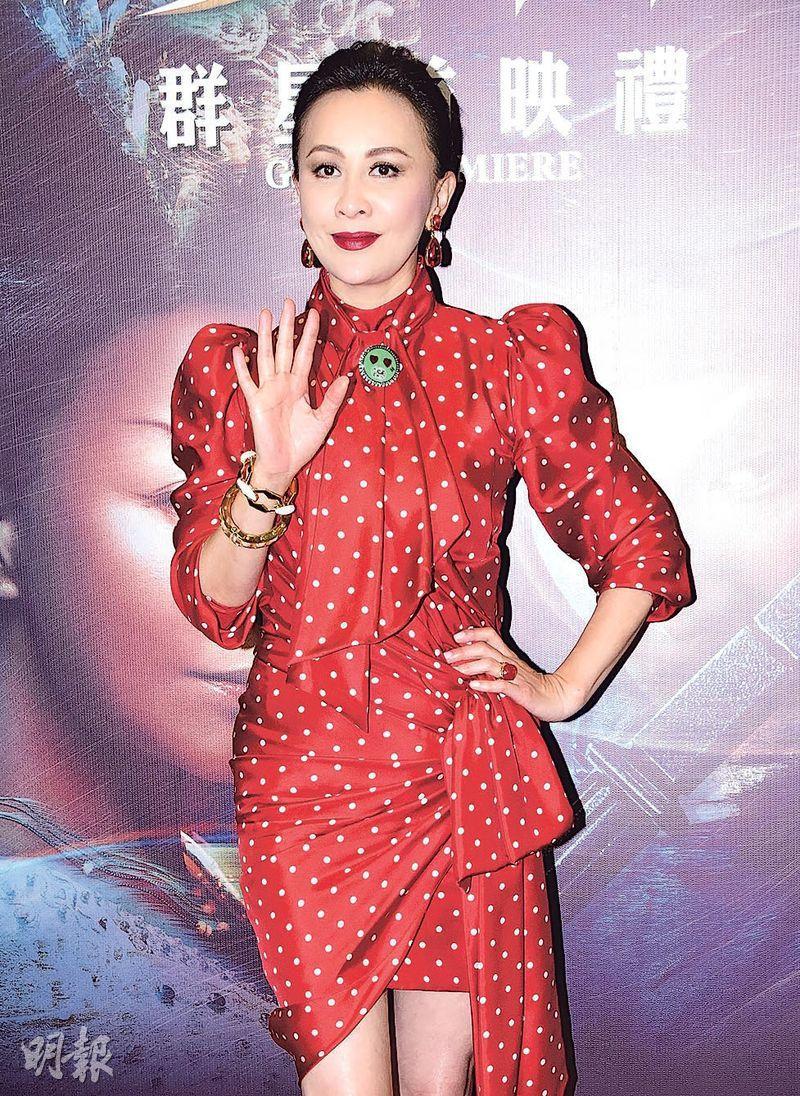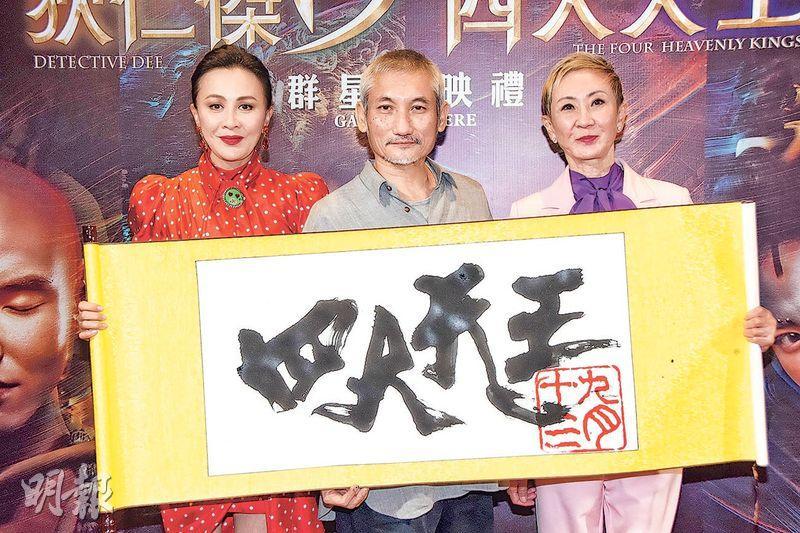 courtesy of mingpao.com
The film DETECTIVE DEE: THE FOUR HEAVENLY KINGS (DIK YUN KIT ji SEI DAI TIN WONG) held its premiere two nights ago. Director Tsui Hark, Wu Zetian portrayer Carina Lau Ka Ling and producer Shi Nansun attended together. Tsui Hark even wrote the words Four Great Heavenly Kings and Ka Ling put a stamp on it. Speaking of Andy Lau Tak Wa's year end concert, Ka Ling complained about being unable to get tickets and owed "ticket debts". Would she be a guest to get tickets? She said that she would consider selling out Wai Jai, asking him to be a guest for tickets.
Tsui Hark and Ka Ling already worked on their three film in the together DETECTIVE DEE series. Tsui Hark said that each time they would set off new spark. Ka Ling also said that the director now lives in the Mainland and is reclusive. He could only be seen at work, but each time the director would help her with psychological assistance. "He watched me grow up. We would talk about work, life and love. I would ask this sage for advice." Tsui Hark praised Ka Ling for knowing how to take care of friends and would make an event very joyous. Ka Ling said, "In the film the three men (Ethan Juan, Mark Chao, Lin Gengxin) were very afraid of the director. On the set they didn't chat, so I arranged for everyone to have dinner and drinks more. They can talk about stuff other than work and can relax a little."
Speaking of in the film Wu Zetian having to seduce Di Renjie, Ka Ling said that for the scene the director personally directed all the action. His limb movement was more exotic than her. Tsui Hark said that it was impossible. Ka Ling said that from watching him make GREEN SNAKE and SHANGHAI BLUES anyone would know how in control he was and that he must know how to live well. Could this scene be made a little passionate? They said that actually Wu Zetian's bedroom joy truly would require more homework. As for when they would work together again, Ka Ling raised her hand and said that she already applied. She also knew that the director had a lot of ideas. After finishing a new script he would naturally ask her. Tsui Hark said, "We have a lot of chemistry. We don't call each other often, but when she takes me to dinner I would go."
Lau Tak Wa will perform concerts at the end of the year. Wa Jai said that he would welcome friends to be guests but they would be best served by contacting him directly. Would Ka Ling ask her husband Tony Leung Chiu Wai to be a guest? Ka Ling said, "They formed their relationship on their own, I am just a messenger. I am not Mr. Leung's manager, I am just a transfer station." Ka Ling said to the cameras, "Lau Tak Wa, your concert tickets are very hard to get. I can't get any. Now I still owe 30 tickets, now what?" Reporters joked that if she would be able to ask Wai Jai to be a guest, it would be worth more than 30 tickets? Ka Ling joked, "Then can I do it instead? I won't sing. I would only give a greeting on the stage. When I get back I really have to think whether I have to sell him out." She also jokingly asked Tsui Hark to hurry up and ask Lau Tak Wa to make a movie. Then he naturally would get concert tickets.