courtesy of on.cc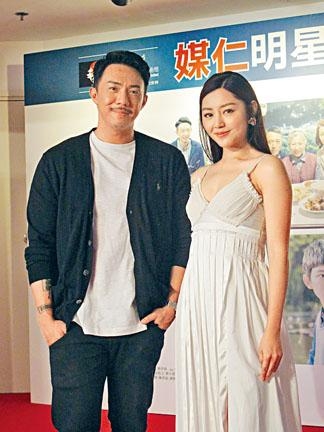 courtesy of singtao.com
The film ADIEU (GO BIT JI JIN) two nights ago held a premiere. Screen writer Monie Tung Man Lei, actors Louis Cheung Kai Chung, Michelle Wai Sze Nga and Hedwig Tam Sin Yin attended.
Ah Chung in the film played the father of a daughter with blood cancer. During the shoot his heart was all hardened. Everyday after work he had a very tough time.
Ah Chung revealed that the film was shot two years ago. He played the father of a daughter with blood cancer. The character was heavy but challenging. Due to life and death he had crying scenes, but he was the performance to have layers. Thus he did not shed tears in every scene. "However everyday after work it was very tough, my heart was all hardened. Because I was a father too I had to get into the character."
Director Kenneth Lau Hau Wai vanished after being swept into a HK$ 10 million swindling case. Was Cheung Kai Chung worried that the film would not be released? Ah Chung responded, "I always feel the release would be fine. I only found out about the other news from the newspaper, and I am not at liberty to comment. I have already seen the screening and felt that the actors gave a very serious and heart felt performance. I hope that other news wouldn't affect the film."
Wai Sze Nga looked a little rounder. She explained that the night before she did not feel too well but still worked until 4AM. Thus she had a lot of chocolate and looked very swollen when she got up. Yet because she was too tired before the premiere she had pizza. She said that from now on she had to steam egg and meat to lose weight. Wai Sze Nga said that her home was in the country like a jungle. After work her taxi ride home cost HK$ 300. Since she did not have to pay for parking at home, she bought a second hand car. However her driving skill was only average. Did she want to find a driver? She said that when she was dating she drove herself.
As for the director's swindling case, Wai Sze Nga said that she only knew him from making this film. At work he was very serious and would shoot many takes. His seriousness also affected her. Every actor worked very hard and the message the film wanted to bring out would be very positive. I hope everyone would look at the good side!