courtesy of on.cc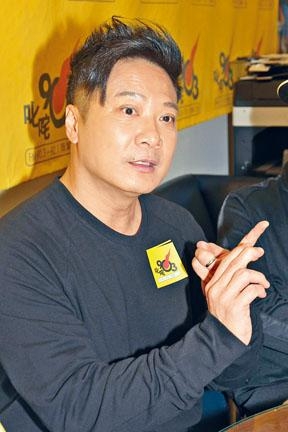 Chin Ka Lok says all the leads got hurt except Michael Tse
courtesy of singtao.com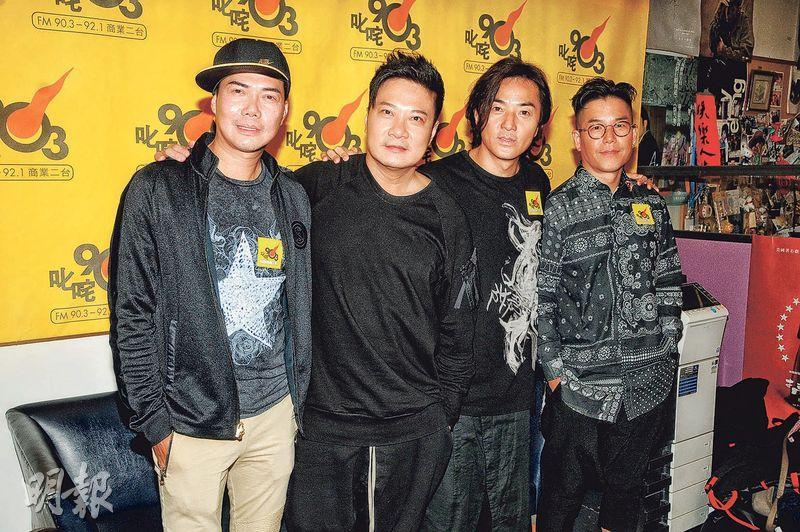 courtesy of mingpao.com
The Chin Ka Lok directed and starred, Eric Tsang Chi Wai produced film GOLDEN JOB (WONG GUM HING DAI) used the YOUNG AND DANGEROUS (GOO WAT JAI) cast of Dior Cheng Yi Kin, Jordan Chan Siu Chun, Michael Tse Tin Wa, Jerry Lamb Hiu Fung. Although this was not a remake of YOUNG AND DANGEROUS, five orphans turned on each other during a treasure hunt and had to choose between brotherhood and justice.
Ekin said that everything started with their concert preparation, when they got together and made the dream come true. For their next dream Ka Lok suggested that if he would direct a movie again they would reform. Ka Lok said that everyone would get together and chat. They did not expect that when they dipped their toes into the water with the concert the audience would still have feelings for the five of them. Then in 2015 Chi Wai said that there was a good script, from there on it took three years. Ka Lok said, "The first one wasn't this story now. It was an action comedy. We didn't want to make YOUNG AND DANGEROUS again and we all had an understanding. We are grown adults and YOUNG AND DANGEROUS was already the best. We also didn't want to go to the old well. So we used an all new story to display the elevation of 20 years of brotherhood. I might not know how to make a romance, but I dare to try with bromance. Because we made it together we were already halfway there. We don't need to deliberate manufacture tears to touch the audience."
Ka Lok mentioned that their characters were written according to their personalities. Ekin said that in the film they played orphans, with one person making the decision. He was the decision maker. Ka Lok praised Ekin. "What I really admire about Ekin is he can perform a solo concert, but he really wants the chance to bring the brothers to the Hong Kong Coliseum stage. That really touched me, so his character also knew how to share and think about others. At certain time he would issue the command." Only he could yell at Siu Chun. As for Tin Wa's character, he pointed out that because he did not want to spoil anything he could only say that it would require acting. Their acting direction was the same and would not be lonely. "At first the director wanted five brothers against one person, then five against a group of people. However how could they be more entertaining than infighting between the five, which would be more intense for the audience to watch!" Thus Chan Siu Chun wanted to play this character because it was fun, but the character went to Tin Wa. Ka Lok joked, "He doesn't look the part as much!" Siu Chun joked, "Whatever happens behind the scene......"
Aside from gun fight action scenes, Ka Lok's Japanese hot spring reunion scene with Tsang Chi Wai was rather touching. However as soon as they got there they realized something was off. Chi Wai stopped everything for a meeting first, then continued after they sorted out everything. Ekin said, "I really want to thank Chi Wai for putting us all in a room to express ourselves. Before, however a scene was it was shot that way. Now we negotiate, everyone would speak their minds." Siu Chun a agreed, "This time is a very pure Hong Kong film production. It's very high, very pleasant. Because this film was about him, we didn't have to give opinions but we still talked about it together." Ka Lok stated, "The five of us having the spirit to meet is very important. The biggest advantage of this film is we are too familiar, we really have this relationship. It's not because the manager has a job and tells us to do it. It came from the five of us wanting to make a movie, we collectively created with spirit." He pointed out that during the process the discussions could get very fierce but not to the point of argument. They were mature and very democratic, but Ka Lok said, "Each film has a life, many people cherished this film's life, a lot of people helped. It is also the film that saw Chi Wai on the set the most, he really got sleepy on the set!"
As for the car chase stunts, the actors got hurt one after another. Ekin said nonchalantly, "No, it's just a ligament tear in the left shoulder. Because it has three, that one doesn't do much. The doctor said that it would melt after a week and doesn't need to be connected." He said that at the time he had to jump out of the car and steal one, when the ligament was torn he could not even raise his arm. Ka Lok said, "He said his arm was shorter. I myself have old wounds and was limping. Siu Chun injured his hip, Ah Lo hurt his neck." Siu Chun recalled shooting a reaction to being shot in Beijing. "At the time I didn't know what happened, I thought I injured an intervertebral disc. A lot of dark scenarios played as I was very afraid that the world was done for. Now I am fine. At the time I only injured the muscle and the nerve, but it felt like being on fire!" Ah Lo admitted that he was not used to wire stunts. As soon as he lay down on the ground he thought he "locked up" his neck. He still had a gun on his back. Ka Lok asked if he was OK. He toughed it out for a second take, but it "locked" again and hurt more and more. During the official shoot after his reaction Siu Chun had to flip down the stairs. "The shoot started and once more, then I heard someone screamed. At first I thought the bungee was on fire, but then I heard Siu Chun screamed, 'don't touch me'. I saw that he couldn't move at all!"
Ka Lok said that actually he would not mercilessly want him to perform dangerous stunts. "I hope everyone would have a concept. After 18 years everyone was making a movie together again. I suggested an action film as I wanted to share what I learned from decades of action films with everyone. The stunts that I asked them to perform were already not too dangerous, but a stunt could have 1,900 ways to shoot. It could also use all doubles after one shot, but I wanted everyone after watching would feel that they have never seen Ekin jump like that; Lo used to take a lot of beating and was rarely seen like this. At least he went to hit people, everyone had something to perform; even Tin Wa who had the least fighting was shot four times. Maybe to outsiders they looked very dumb, we didn't jump from five stories above. I wasn't selfish, I just wanted more credit for everyone. An action actor was very important. I wanted to share what it took to be an action actor. I couldn't take the final credit, it all belonged to the actors."
Working together again after 20 years, Tin Wa said, "I sensed from the feeling from before, the chemistry was stronger. Brainstorming used to take a long time, but now as soon as the cameras started rolling we were done in three or so takes. We got faster. In addition everyone have their own families and matured. When we were on the set, we didn't talk about the same things we used to. We talked about family and children. This is a good change!" Ka Lok also gratefully said, "The five of us' best advantage was the close relationship. Often when people were done they would go back to their trailer. The director would spend fifteen minutes to be able to get everyone back together again. After the camera stopped we got together, more or less we would talk about the stuff we would shoot later. A good job should be like this. When I worked with Big Brother (Sammo Hung Kam Bo) on the LUCKY STARS movies it was like this, no make up room on the set, everyone would laugh and play prank on each other. This film had shades of the past."
Ekin said, "(Andrew) Lau Wai Keung came to guest star. He said that being grateful was very right. We have made many movies together, but get together again would be very hard. Actually after YOUNG AND DANGEROUS we never worked together again. Why would we? When we did we knew what we were doing, we really respected each other." Would this team keep going? Ka Lok said, "I want to, because the chemistry is already there. However I don't know whether the market would like it! I have the responsibility to complete everyone's dream. Everyone spent a lot of time on it, which is well worth this time." Yet this time went severely over budget. Ka Lok said that the it went from the original HK$ 220 million to 250 million in the end. He also thanked Jackie Chan Chi Wai for fighting for everyone.