courtesy of on.cc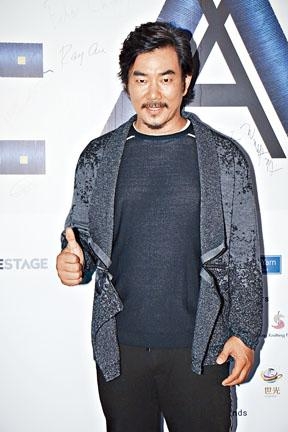 courtesy of singtao.com
courtesy of mingpao.com
Richie Jen (Yam Yin Chai) yesterday attended a fashion event. Siu Chai had to gain weight for the film FAGARA IN MARA (FA JIU JI MEI) and led to "three high" (high blood pressure, high blood sugar and high cholesterol) in his body. Now he weighted 100 kilograms and his "handsome" image vanished. Siu Chai said, "No one likes me" and his mood was affected. He hoped to quickly finish the film and lose weight to return to form.
Siu Chai came to support his god brother, who organized the event. Because he already agreed to model a year ago, he did not expect to gain weight. Thus he kept having to let out the clothes. He said, "It's rough, two days before I already stopped eating. When I got here I had to suck in my guts, as I worried that I wasn't handsome either. I am not interested in cuisine. When I see it I want to cry. I hope to finish the shoot soon. Then I can drop back to 74 kilograms. I would use health ways to."
How did the children respond? He said, "No one likes me. I haven't seen my hairstylist in half a year. When I performed a concert before, the audience didn't seem to recognize me and thought I was the warm up guest. Later when I realized it was me they were a little before. Gaining weight really would affect the mood, I would be upset from even looking at a mirror. It felt quite painful, but this script is great. It's worth all the effort."