courtesy of on.cc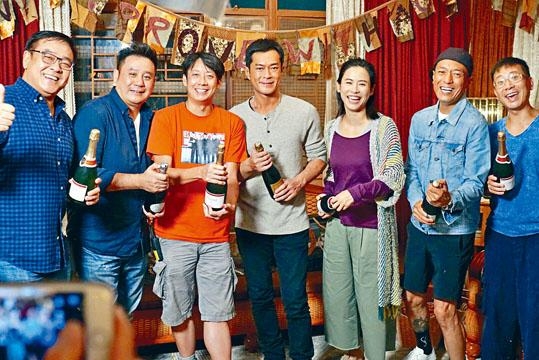 Producer Derek Yee, Mak Cheung Ching, director Fung Chi Keung, Louis Koo, Jessica Hester Hsuan, Philip Keung and Chan Kwok Bong
courtesy of singtao.com
Louis Koo Tin Lok, Louis Cheung Kai Chung, Philip Keung Ho Man, Jessica Hester Hsuan and others starred in the film A WITNESS OUT OF THE BLUE (FAN JUI YIN CHEUNG). After around 3 months of production, the film finally wrapped up earlier. Not much of a drinker, Suen Huen shared a toast with other actors and ended up completing the final shoot half drunk. Her exciting performance left even the director with nothing but praise.
Although the champagne bottle popping did not take place until late night, some of the actors like Keung Ho Man, Mak Cheung Chng and Chan Kwok Bong came to support the director and the domestic production. Producer Derek Yee Tung Sing even "blew the trumpet" (drank from the bottle) despite having a glass in his hand. That night several elders whose production has already wrapped up were very excited to see Goo Jai and Suen Huen. They immediately asked for the director's help to take photos. Goo Jai and Suen Huen made the elders very happy with photos and selfies.
After the champagne celebration, Suen Huen who was the last to wrap up production immediately performed her last scene. A rare drinker, Jessica worked "under the influence" and instead was a pleasant surprise. "At first when I drank I was fine. Later Goo Jai came over and poured another glass for me. After I had that toast I was in trouble as I started to giggle! I didn't expect the result to be great, because in the scene my vision had problems. After drinking my eyes couldn't focus, I had the feeling completely. The director even said that if he knew we would have been drinking a little every time!" Jessica many years later worked with Goo Jai again, their chemistry remained as usual. "At first I was a little worried. Goo Jai was very serious on the spot. After two more days I realized that Goo Jai was still Goo Jai. He would talk about anything and everything, so everything was very comfortable and very smooth!" Working with Jessica for the first time, director Fung Chi Keung after the final scene said, "I was at TVB for 3 years but I haven't worked with Jessica. This time I finally have the chance!"