Francis Ng shows his support for his YOUNG AND DANGEROUS cast mates
Jerry Lamb, Lily Hong and their two sons, Ekin Cheng, Angela Tong and Chin Ka Lok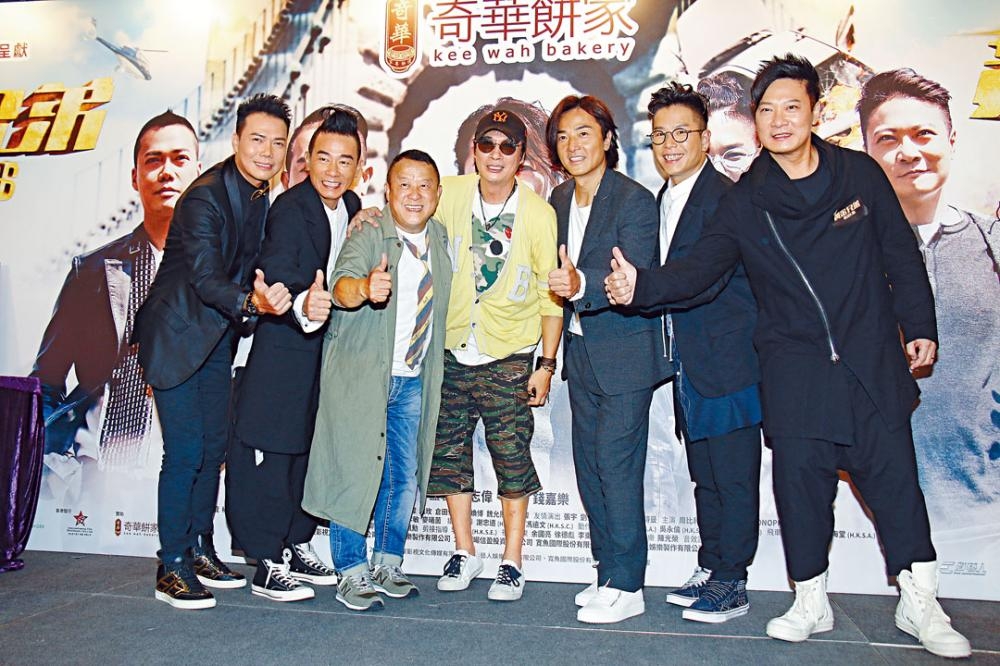 courtesy of singtao.com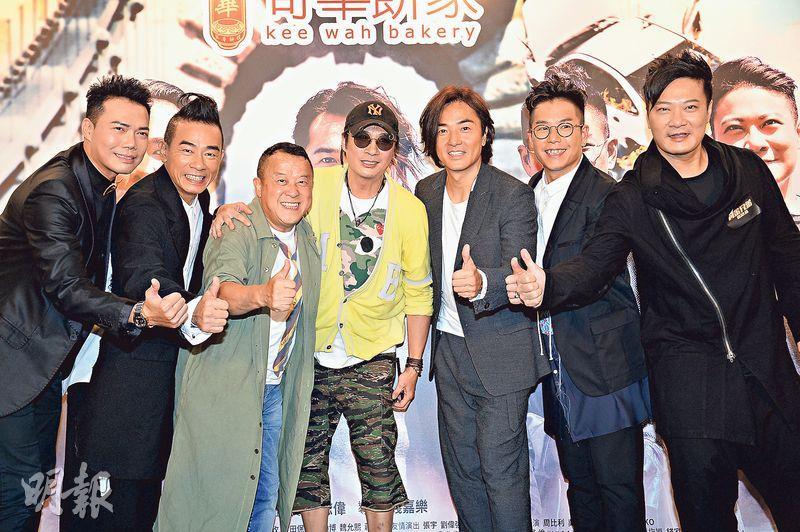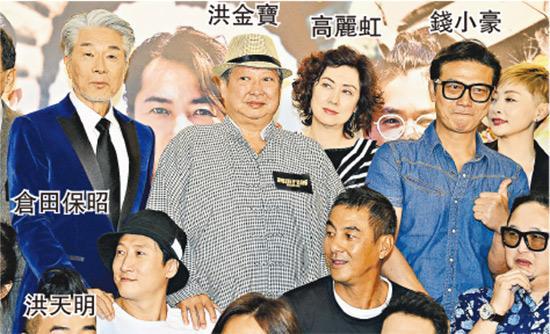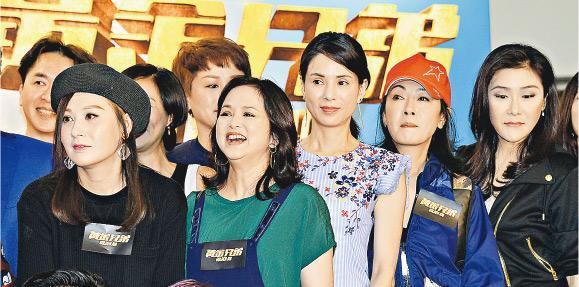 Elvina Kong, Gloria Yip, Carman Lee, Fennie Yuen, and Angie Cheong
courtesy of mingpao.com
The film GOLDEN JOB (WONG GUM HING DAI) two nights ago held a premiere. Producer Eric Tsang Chi Wai, actors Dior Cheng Yi Kin, Jordan Chan Siu Chun, Chin Ka Lok and his wife Angela Tong Ying Ying, Michael Tse Tin Wa and Jerry Lamb Hiu Fung, his wife and two sons attended. Five YOUNG AND DANGEROUS stars arrived in suits and luxury sports cars. The event also had lion dance and big moon cake cutting ceremony. Guests included Sammo Hung Kam Bo and his wife Joyce Godenzi, Timmy Hung Tin Ming, Kenny Bee (Chung Chun To), Nancy Sit Ka Yin, Calvin Choi Yat Kit, Carmen Lee Yeuk Tung, Fennie Yuen Kit Ying, Angie Cheong Wai Yi and Chin Siu Ho. When "Ugly Kwan" Francis Ng Chun Yu posed for photos with five "Wise Guys", Chun Yu joked, "My movie (MEN ON THE DRAGON) is leaving the theaters to avoid your movie!"
Director and star Chin Ka Lok said that this movie that belonged to five brothers would soon open, which felt like a baby was about to be born. Earlier when they promoted in Taiwan, the audience accepted the Cantonese version very much as they felt it was authentic. After 18 years the five brothers were still able to receive good response, Ka Lok happily sad that after the celebration in Taiwan, they talked until 4AM at the hotel and even got complaints from other guests. Ka Lok said, "I told everyone to stay the same and no to charge so much for the sequel. Those were what I said to Tin Wa!" Tin Wa clarified, "Because I had less lines, after the math I was the most expensive." Did he have to work hard for milk money? The brothers act up and told him to announce the good news. Tin Wa said, "It's joy upon joy, we would have a second one. Now I can announce it, this time will be pink!" The brothers then applauded and congratulated him.
Producer and star Tsang Chi Wai let director Chin Ka Lok go over budget by tens of millions. Chi wai said, "We got our feet wet already, but the boss after seeing the footage said it was OK, go ahead! It was truly very rare, the most important would be a good performance. It cost over HK$ 200 million, I haven't made something so expensive myself. Actually I just didn't want the director to worry during the shoot. It's like spoiling my son. The boss even asked Ka Lok why he didn't make me his godfather!" Chi Wai supported Ka Lok and felt that exceeding the budget was reasonable because the film was made with a lot of heart. For two years they turned everything down to shoot the five brothers. Was he confident about breaking even? Chi Wai said, "If we would make a sequel we really have to break even first. They are praying everyday. Although these 11 months might not be the happiest in their lives, but they certainly would be the most memorable. Normally when we went on we couldn't get everyone together like this. The relationship grew again, from good brothers to even better brothers. Just now everyone put their hands in and chant the slogan like they were possessed!"
Ekin mentioned the Beijing meeting and viewers liked the Cantonese version as well, for which he felt very honored. Ka Lok even said that some said the Hong Kong film that they wanted to see finally came back. Siu Chun said that the Hong Kong premiere was their home field, he could also finally officially watch the film. He joked that he was shaking as he was afraid that he would cry from watching, because earlier several "guys" cried several times when they watched. Did he have any tissue? Siu Chun joked, "I would use my sleeves, or what the people next to me are wearing!" Lam Hiu Fung also joked, "Some praised that we looked like MISSION: IMPOSSIBLE. We didn't need Tom Cruise, Cheng Yi Kin was all we needed. It's because of the brotherhood in the film and also Director Chin!"
As for a sequel, Ka Lok hoped that they would be able to. Yet he did not dare to calculate the current box office. Because Chi Wai spoiled him he finally went over budget by tens of millions. He pointed out that Chi Wai seemed to have issued a royal edict to try to please the director as much as he could. "I don't know if I loaned him a lot of money in the previous life! However this time I am confident that we would make it back!" Would he ask their wives and children to perform in the sequel? Ka Lok said that the hardest would be Siu Chun, mainly because he objected to his son being in the business. Siu Chun admitted that he would like the children to put education first.
Producer and star Tsang Chi Wai was on hand. Nat Chan Pak Cheung joked that he was not invited. Chi Wai said that earlier he asked the producer to personally call Ah Lek, because when he did not have time he would say no one invited him. Ah Lek also revealed that Chi Wai's Hengdian hotel investment would be worth of tens of billions. Chi Wai said, "This is just like his horseracing tips, untrustworthy!" Has he truly become Hengdian's richest? Chi Wai said, "I am just an employee! If it's true would I still have to work, still sit here? It's just a little share. Because everyone has to stay somewhere for work, I bought one or two!"